Written By

last updated

01/18/2022
Today's Best Online Master's Degrees in Psychology
Psychologists play key roles in a variety of careers, from mental health counseling to brain research to marketing. A top-notch education is the first step toward attaining a satisfying, well-paying psychology career. We've compiled the best in class of online psychology master's degree programs to help you get started on your search for a high quality psychology education. These three schools stand out in 2022 for affordability, flexibility and accreditation.

Arizona State's online master's in psychology is open to full- and part-time students who want to learn about different roles and career paths for psychologists. Those enrolled full-time can complete this 36-credit program in as few as 18 months.
ASU's online format allows students to access course materials on their own and interact with peers in real time. Coursework focuses on research and aims to prepare students for a wide range of psychology careers and roles in non-profit, mental health and marketing settings. Students can tailor their studies through electives in social psychology, developmental psychology, legal psychology, affective science, behavior analysis and others. Students may complete a three-credit capstone in general psychology, but it is not required.

Pepperdine University offers three flexible online master's degrees in Psychology: an MA in Psychology, an MA in Clinical Psychology and an MS in Applied Behavior Analysis (ABA).
The Master of Arts in Psychology can be completed in 12-24 months. The program combines psychological science, theory and training to help prepare students for a range of psychological practice careers. There are no internship or practica requirements, so it can be completed 100% online.
The Master of Arts in clinical psychology is a good option for those who want to pursue their licensed marriage and family therapist (LMFT) or licensed professional clinical counselor (LPC) credentials. The program offers two paths to help prepare students for their licensure exams. The program can be completed in as few as 24 months and requires a clinical practicum.
The Master of Science in Applied Behavior Analysis (ABA) takes between 15 and 21 months to complete and focuses on evidence-based study in behavior patterns and strategies for behavior change. It's aimed toward students who want to specialize in the analysis and treatment of people with developmental disabilities. The core ABA courses are verified by the Behavior Analyst Certification Board (BACB). These courses meet the requirements to sit for the Board Certified Behavior Analyst (BCBA) exam and include a clinical practicum component.
Pepperdine's psychology programs feature small seminar-style classes of about 12 students. Seminars are once a week, and all other coursework is delivered through self-paced videos, live video sessions and Pepperdine's virtual campus.

The Chicago School of Professional Psychology is an accredited nonprofit school specializing in psychology studies. The school offers 18 different online psychology master's degree programs, most of which can be completed either full time or part time. This wide range of degree programs can help students gain specialized knowledge in various aspects of psychology, like business psychology, behavioral sciences, mental health counseling and international psychology.
Students can access their coursework online at any time, and they may also participate in video conferencing. Some programs do require a residency, but the Chicago School residency requirements are online. In these virtual residencies, students must participate in one synchronous meeting with their peers per term. These sessions typically last one to two hours.
Prospective students can preview an online class to get a feel for the format before enrolling in the Chicago School.
In Focus: The Online Master's Degree in Psychology
Psychology students should be no strangers to careful research and assessment before drawing conclusions. This practice applies to choosing the right online psychology master's program, too. Getting familiar with program curricula, available specializations, learning outcomes, cost and other important factors before applying to a program is key to finding the right program for you. These questions and answers can help you weigh your options and make an informed decision.
What do you learn in an online master's program in psychology?
Because studies in psychology can be applied to a wide range of careers and advanced degrees and areas of study, there can be significant variety in online psychology master's degree program content. However, many programs have core learning outcomes courses and areas of focus that students can generally expect to see or experience in their program, such as behavior analysis, practical application of theory and developing research plans.
Each program is different, but there's a good chance that students will be exposed to these common learning outcomes in their psychology master's degree programs:
Research practices and techniques: In-class study of social science and behavioral science research techniques, including research design and quantitative and qualitative methods, can be put into practice during internships, culminating research projects and professional research work.
Clear communication: Strong written and oral communication skills are used to clearly communicate and explain complex psychological concepts to peers, researchers and clients.
Ethics in psychological practice and research: A solid understanding of common and difficult ethical dilemmas and best practices in psychology can serve students throughout their research, clinical and consulting careers.
Creative thinking and problem solving: Whether in marketing, behavioral analysis, social services, clinical counseling or other psychology roles, assessing problems and working through them to find solutions is key.
Theory and application: A variety of psychological theories may be explored along with how those theories may be applied in different practical settings, like clinical practice and marketing. These can vary by specialization.
Common Master's Courses in Psychology
Cognitive Psychology and Processes
Study how people process information and how that affects learning, attention, memory, language, perception and decision-making. This course may use cultural-historical, information-processing and behaviorist assumptions as frameworks upon which students can assess mental processes and engage with different theories of cognition.
Psychology of Personality
This course aims to enhance students' creative and critical thinking about human behavior through study of major personality theories. Students may learn about and discuss elements that create personality, personality assessment approaches and research methods. Students can explore differences in personality based on culture, gender and other factors and connect personality theory and research to other aspects of psychology, like humanistic, biological and existential psychology.
This course may introduce students to a variety of different research methods and ways to use them in academic and applied settings, including business. Students may learn how and when to use qualitative and quantitative data gathering and research methods and analysis. Students can expect to apply learned concepts in research projects for this class.
The psychology capstone gives students the chance to apply what they've learned throughout their program to a research project related to their specialization or area of interest. Students may work with a mentor throughout the process and defend their capstone project at the end of the term.
What specializations are available for a psychology master's?
Psychology master's degree programs are excellent for delving deeper into psychology related topics that interest you. Master's degrees are available for general psychology, but those looking to specialize their studies to pursue specific career paths can look for schools that offer specialized tracks and programs of study for psychology students.
A nice option for students looking to work with Autistic clients and people with other developmental disabilities, an ABA concentration can help prepare students to sit for the Board Certified Behavior Analyst (BCBA) exam, gain deep insights into analytic behavior health and assessment techniques and effectively use ABA therapy in practical settings.
An educational psychology track may be well-suited for students looking to apply psychological concepts and practices in classroom and other educational settings as well as those interested in education research. This concentration may cover lifespan development, motivation and learning in different populations, like high achieving or special education students.
Those interested in exploring the individual's place in society and how they affect communities may choose to specialize in social psychology. This concentration is often focused on addressing social issues and improving the wellbeing of individuals and communities. It can help prepare students for a wide range of research and leadership positions in public health, education, government, healthcare and others.
Studies in developmental psychology typically focus on psychological processes and growth from infancy through adulthood. This concentration may explore topics like learning, biology and behavior and psychopathology. This may be a good route for those who want to pursue careers in social services, healthcare or education.
Students in this concentration can gain a solid understanding of psychology and human behavior in workplaces and other organizations. Training, leadership, morale and work-life quality, organizational development and performance assessment may all be covered. This may be the right fit for those who want to apply their psychology backgrounds to business, marketing, human resources and consultation careers.
Psychologists play a key role in the criminal and juvenile justice systems. A forensic psychology concentration can help students develop human behavior research and assessment methods that can be applied to criminal justice. Study may include mental health, trauma and crisis intervention, criminal personality, risk assessment and substance abuse treatment.
How long it takes to earn your online master's degree in psychology
Online master's degrees in psychology can typically be completed in about two years, although some programs offer accelerated tracks, giving students the option to earn their degree in a little over a year. Students who want a lighter per-term course load can expect their degree to take longer. Certain specialties and tracks that prepare students for professional certifications can take longer to complete as well. Keep in mind that not all degree programs offer both full-time and part-time options.
Some schools require students to finish their psychology master's within a certain period of time, like five years, so be sure to check with your program when determining the right course load for you. Also consider how long your capstone or any required internships and practica might take, as this can extend your degree's completion time.
Can you get into an online psychology master's program?
Admissions requirements for psychology master's degree programs can vary by school, but there are typically some common requirements to look for:
A 4-year bachelor's degree from a regionally accredited school
An application with an application fee
Transcripts showing coursework and GPA
Minimum GPA requirements
A 3.0 is a common minimum GPA requirement for online psychology master's programs, but this can vary, so be sure to check for school- and program-specific requirements. In addition, psychology programs may only allow you to apply after you've been accepted at the institutional level and have taken a specified number of courses. This means you would need to apply to the school and submit a separate application to your master's program.
If you don't have a background in psychology, you may be required to take foundational courses in areas like statistics, research methods and general psychology before being fully admitted into an online psychology master's program. Some programs also require GRE scores and letters of recommendation, so be sure to check application requirements in advance so you have time to gather all of the necessary materials.
The cost of an online master's in psychology
Multiple factors can affect the cost of an online master's in psychology. The per-credit price tends to hover between $450 and $650, but financial aid, program location and your course load can all have an impact on the bottom-line cost of earning your degree.
Prospective students should be sure to check whether or not their online psychology program differentiates between in-state and out-of-state students. Some schools have separate price tiers, even for online programs.
Here's a sample of online master's in psychology program costs:

MS in Psychology (General)
Total Credits: 48
$535/credit

Master of Arts in Psychology
Total Credits: 36
$470/credit

Master of Liberal Arts in Psychology
Total Credits: 48
$710/credit
Can you earn an online master's degree completely online?
Most online master's degree programs have required internship or practica components that give students hands-on experience in applied research or applied psychology. These typically must be completed in-person but do not necessarily require campus visits. However, some programs do require residencies, where students must complete some of their credit hours in person with other members of their cohort. Students may also need to present their culminating research or capstone projects in person at their school's campus.
Does an online master's in psychology prepare you for state licensure?
Some online psychology master's programs prepare students to sit for state licensure exams, but not all of them. Because licensure requirements vary by state, it's difficult for online programs to build their curricula around every state's requirements. However, some indicate which licenses their programs focus on and which states accept their curricula. Students looking for licensure preparation should read program descriptions carefully, as they will indicate whether or not the program prepares for state licensure.
How to Fund Your Online Master's in Psychology
Before enrolling in an online psychology program, students should make sure they have a solid plan for financing their education. Costs can vary between programs and specializations within the same school, so careful research can help, as can taking advantage of financial aid resources on and off campus.
Students should look for scholarships and grants first, as these forms of aid do not need to be repaid. See if your school or psychology department offers any scholarships, and check with local, state and national psychology organizations, as they tend to offer scholarships to psychology students of different specialties and career goals. Our scholarships guide can help you get started in your search.
Your school may offer subsidized and unsubsidized loans, which have different repayment rules and interest rates. You can apply for loans at any time, but it may be better to apply for them early so you have a safety net if other funding falls through. For additional guidance, check out our student loan handbook, which breaks down student loans and answers the most frequently asked student loan questions.
While work study and assistantships may be hard to come by for online students, those earning their degree remotely can still get creative when pinning down other sources of funding. Employers may offer tuition assistance if you can convince them your advanced degree will benefit them, and that you'll stay with them long enough for them to see that benefit. Since psychology master's students also need hands-on experience, they can seek out paid internships early in their program, securing funding and for-credit experience at once.
Accreditation for Online Master's Degrees in Psychology
Students should make sure the school offering their psychology master's degree is accredited. Attending an accredited school is important for psychology students who may need to have an accredited education in order to pursue licensure or apply for advanced degrees.
Accreditation is an optional review process that assesses a school's quality and efficacy based on a board-determined set of standards. Accreditation can be institutional or programmatic. While there is no widely recognized accrediting body for psychology degrees at the master's level, students can check to see if the school offering the program is regionally accredited at the institutional level. Regional accreditation by CHEA is one of the most widely recognized forms of accreditation in higher education.
What's Next? After Your Master's in Psych
Because master's level work in psychology goes deeper than undergraduate study and allows for specialization, an online master's in psychology can lead to a huge variety of careers. Those who want to pursue clinical practice will need to take state licensure exams, but plenty of other career paths are also available to those who want to use their psychology knowledge outside of clinical practice and aren't seeking licensure.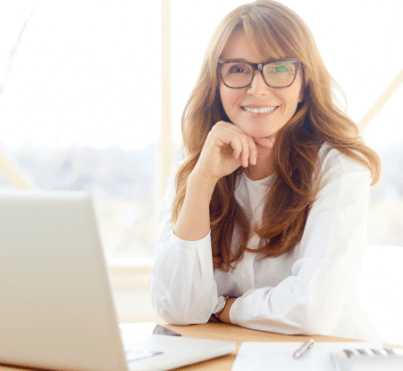 What can you do with an online master's in psychology?
While a bachelor's in psychology can provide a good foundation in psychology theory and practice, many more career options open up with a psychology master's degree. As more people and industries realize the significant role psychology plays in health, education, workplace efficiency and social services, psychology careers will continue to be in demand. Between 2018 and 2028, psychology careers across all specializations are expected to increase 14 percent, which is considerably faster than the national average.
Specific demand will depend on your specialty, research and work experience, location and prospective industry. For instance, industrial and organizational psychology is a growing field, but because of the high number of qualified candidates, competition for jobs will likely be tight. On the other side, an aging population lends good opportunities for psychologists who work with the elderly, and those professionals are expected to be in high demand.
Because job prospects for psychologists are generally good, there are many different career and educational paths students can research and explore.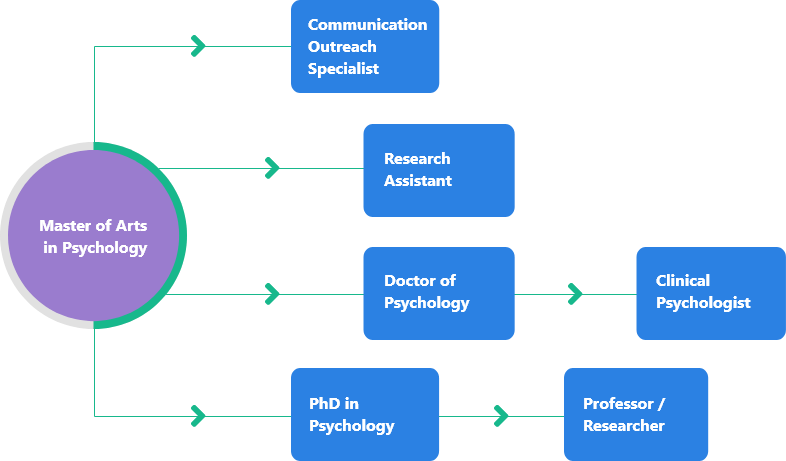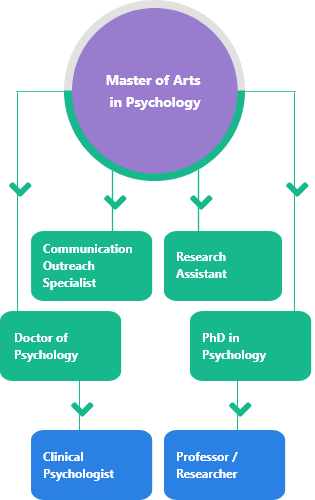 What can you earn with a psychology master's?
The earning potential for those with master's degrees in psychology is wide-ranging and depends on specialty, location and experience. In general, earnings for psychology and related careers are good, and high wages can be had in unexpected places. Clinical, counseling and school psychologists, for instance, can find the highest paying positions at child day cares centers.
The following table can give an idea of the variance in earnings for different areas of psychology.

*Salary information from BLS entry: "Psychologists, All Other"
Continuing Education & Related Degrees
Psychology programs attract people with a wide range of academic and professional interests, but it might not be the best fit for everyone. Whether you're looking to further your career with more in-depth study, pivot into a related field or explore psychology-adjacent academic programs, there are plenty of degrees to consider. The options below may be better suited to your goals and interests.
Continuing Education for Master's Graduates
Students and professionals looking to advance their education to pursue psychology research and education careers or further their expertise for clinical applications may consider enrolling in a psychology PhD program. This terminal, research-oriented degree lends opportunities to gain in-depth knowledge on specific topics in psychology, such as cognitive psychology or counseling psychology.
A PsyD can be an excellent option for psychology professionals who want to advance their knowledge and skills for professional practice. Like the PhD, the PsyD is a terminal doctoral degree, but rather than a strong focus on research and theory, the PsyD tends to take a hands-on approach and focuses on practical applications.
Related Degrees to Check Out
Students who are interested in working with communities and vulnerable populations may consider earning a master's degree in social work. These programs tend to incorporate psychological theory and practice but may focus more heavily on advocacy, inciting systemic change, client management and connecting populations to community and government resources to make sure their needs are met and their issues are addressed.
A master's in counseling can be a great degree for students who want to learn how to help clients work through their problems and make positive behavior changes. Counseling programs often contain elements of psychological study, but they may focus less on why a person feels or behaves in a certain way and more on the actionable solutions and improvements that can alleviate those feelings and behaviors.
Resources for Master's Psychology Students