Written By


last updated

09/06/2023
You're passionate about supporting women and newborns through a holistic and patient-centered approach. You want a healthcare career that allows for both autonomy and team collaboration and you're determined to land a lucrative position. If this sounds like you, becoming a certified nurse-midwife is an excellent way to thrive professionally while working with the population you're most passionate about. With the Bureau of Labor Statistics projecting that CNM roles will grow by 12% by 2029, there has never been a better time to get started.
As more students are becoming interested in certified nurse wife careers, schools are creating additional programs to keep up with the demand. With so many education options, choosing the online CNM program that's right for you will take some research, but we're here to help. Keep reading to learn how you can become a certified nurse-midwife from reviewing top programs to finding the answers to your most common questions.
Top Online Certified Nurse Midwife Programs for 2024
As the number of online certified nurse-midwife programs continues to grow, doing research is an important step to beginning your journey. Because not all CNM programs are created equally, you need to find one that matches your academic, career, and financial needs. Because many students work while enrolled, finding time to conduct extensive research can be a challenge. That's where we come in. We've vetted the top online certified nurse-midwife programs across the U.S. with the accreditation that employers want and the affordable price tag that you need. Check out some of the top options below.
or
About the ranking
X
Base Methodology for EduMed's Best Online College Rankings for the '23-'24 school year.
One: Create list of Eligible Schools and Programs
To be eligible, schools were required to meet the following criteria based on data pulled from The Integrated Postsecondary Education Data System (IPEDS), which was self-reported by the schools themselves.
Institutional accreditation from an organization recognized by the U.S. Department of Education.
At least 1 online component in a program within the ranking-subject area.
Two: Assign Weighting
After creating the list of eligible schools, EduMed data scientists assigned weights and ranked schools based on a mix of metrics, which were all self-reported by the schools themselves to the U.S. Department of Education and IPEDS.
The metrics are listed below in order of most- to least-heavily weighted.
Online Programs – Number of online programs in the relevant subject area.
Online Student % – Number of total students who are enrolled in at least 1 distance-learning course in the relevant subject area.
Tuition – The average in-state tuition for undergraduate students studying full-time, as self-reported by the school.
Academic Counseling – Existence of this service on campus or online.
Career Placement Services – Existence of this service on campus or online.
Student/Faculty Ratio
About Our Data: EduMed's rankings use the latest official data available from The Integrated Postsecondary Education Data System (IPEDS). Most recent data pull: July 2023
#

School Name

Type

Tuition

Online Programs

More Details

School Information

Online Students

Academic Counseling

Career Placement

Students w/Institutional Aid

Median Earnings 10yrs After Entry

Accreditation

1

Bethel University

Saint Paul, MN

Private not-for-profit

$$

1

The Master of Science in Nurse Midwife at Bethel University is notable for its emphasis on holistic care that begins at conception and extends well past childbirth. As part of this philosophy, students will also develop skills to practice in rural, urban, home, and underserved settings worldwide. Bethel's online delivery method makes the program accessible to students nationwide, one-week in-person intensives each year are designed to be a manageable face-to-face learning commitment for online students.

Program Feature:

Nurse Midwifery MS

Credits 57
Length: 2-3 years
Cost: $48,621 total
Mode: Hybrid
Accreditation: CCNE, ACME

Academic
CounselingYes
Career
PlacementYes
Student/
Faculty Ratio11/1
Online
Student %76%

2

University of Cincinnati-Main Campus

Cincinnati, OH

Public

$$

1

The University of Cincinnati graduates nurse midwives are required to have a BSN prior to application, and they must be committed to excellence, equity, respect, and accountability. The school's commitment to these core values translates into a rigorous program that prepares students to work with diverse patients to provide culturally competent care. While students' classes are online, they also complete upwards of 750 in-person clinical hours at a healthcare center near their homes. This in-person experience is enhanced by a one-time intensive site visit to the UC campus.

Program Feature:

MSN Nurse-Midwifery

Credits: 57
Length: Two years
Cost: $907
Mode: Hybrid
Accreditation: CCNE, ACME

Academic
CounselingYes
Career
PlacementYes
Student/
Faculty Ratio19/1
Online
Student %65%

3

Thomas Jefferson University

Philadelphia, PA

Private not-for-profit

$$$$

1

The rigorous nurse midwife program at Thomas Jefferson University has a proven track record for effective education. In 2020, 100% of the school's graduates passed their American Midwifery Certification Board Exam. The program takes a unique approach of requiring full-time study during the final year of classes. This requirement allows students to commit fully to their clinical hours and maximizes learning potential. As part of the school's inclusive mission, Thomas Jefferson also offers an advanced placement track for NPs, midwives educated abroad, and other health professionals to avoid redundancy and accelerate their graduation.

Program Feature:

MS -- Midwifery

Credits: 62
Length: 2-3 years
Cost: $1,071
Mode: Hybrid
Accreditation: ACME

Academic
CounselingYes
Career
PlacementYes
Student/
Faculty Ratio13/1
Online
Student %65%
George Washington University
GWU's School of Nursing provides this online MSN program fully accredited by the Accreditation Commission for Midwifery Education. The school also partners with nearby Shenandoah University to provide a post-master's certificate in nurse-midwifery. Students who already possess a BSN complete 47 hours while those on the RN-to-BSN path complete 52 credits. They must also undertake 720 clinical hours.
Students can choose from full- and part-time options to fit with their schedules. Once enrolled, topics covered include genetics for healthcare providers, primary care of women, comprehensive antepartum care, and comprehensive perinatal care. Applicants should possess at least a 3.0 GPA, but the program does not require GRE scores at this time. Students work with faculty and staff at Shenandoah University to locate a suitable clinical experience near their home.
Required coursework includes studies in foundations of nurse anesthesia, theories of leadership and organizational management, and co-existing disease and anesthetic implications. The degree culminates with a senior seminar and final project.
FAQs About Online Certified Nurse Midwife Programs
As you decide whether to invest your time, energy, and money into an online CNM program, it's natural for you to have lots of questions about the process and what to expect. The following section highlights some common questions and provides the answers you need to get started.
What are the different types of CNM programs?
Online CNM programs come in varying types and degree levels to meet the individual needs of students. Whether you already hold a bachelor's or master's degree, options exist. Review the available types of programs below to find the one that best serves your needs.
MSN Programs: MSN programs in nursing midwifery support working registered nurses who already possess a BSN and want to specialize their knowledge via a graduate degree. These programs usually take two years to complete and can be done in person or online.
DNP Programs: DNP programs support students with both bachelor's and master's degrees, though the timeline for graduation varies. While MSN programs are still accepted in the industry, some employers may look for candidates with a doctorate – especially for leadership roles.
Post-Master's Certificate Programs: These programs best serve nurses who already possess an MSN but lack specialized training in nurse-midwifery. Most require students to complete 30-36 credits and take between 18-24 months to graduate.
ADN/RN to CNM Bridge Programs: Designed for registered nurses who lack a bachelor's degree, bridge programs help them earn master's or doctorate level qualifications through a specialized nurse-midwifery program. These can take anywhere from three to five years depending on the degree you seek.
BSN to CNM Programs: Created for students who already have a bachelor's degree but in an unrelated subject, these programs help you complete the required undergraduate nursing prerequisites in a shorter timeframe before moving into graduate-level study. Depending on whether you decide to go for an MSN or DNP, they can take between two and four years.
What do you learn in a CNM program?
Every online certified nurse-midwife program will look different, but many also include similar courses and learning outcomes. Carefully reading degree websites to compare and contrast individual programs will help give you a better sense, but you can also reach out to the program administrator to ascertain how two programs differ. Many CNM degrees impress upon students a set of key skills and knowledge needed to thrive after graduating. We look at a few of those below.
Learning Outcome #1
Competence and confidence in serving as a primary care provider to families experiencing childbirth and to women throughout the lifespan.
Learning Outcome #2
Ability to provide culturally sensitive care that follows all protocols and regulations concerning legal, ethical, moral, religious, and diversity issues.
Learning Outcome #3
A commitment to the advancement of nurse-midwifery specifically and nursing generally by staying up to date on changes in the field and following emerging best practices.
Learning Outcome #4
The development of the leadership skills needed to advocate for women and families in your care and to direct others to do the same while in your purview.
Learning Outcome #5
An understanding that your job as a nurse-midwife is to provide respectful care to the individuals in your charge and to advocate for their needs to other healthcare professionals.
---
Common Courses
Advanced Reproductive Dynamics
Typically taken in the first year, this course provides an anatomical and physiological basis for the advanced study of reproductive health and health services. Students consider questions around fetal development as it relates to environmental and maternal factors alongside issues of genetics and reproductive endocrinology.
Healthcare Policy
Designed for students who want to use their skills and knowledge to advocate for mothers, newborns, and families, this course provides an education on the economic, ethical, political, and social forces driving decisions around maternal and reproductive healthcare. Students learn about existing healthcare policies and how to advocate for new policy development.
Antepartum Care in Nurse-Midwifery
This course takes a look at the types of care and services typically provided by nurse-midwives to women during their pregnancy, specifically for those who face at-risk pregnancies. Students learn about the range of interventions available prior to and during delivery alongside details on pharmacological options. An emphasis is placed on holistic, community-based care at every step.
Primary Care of Women's Illnesses
Designed to provide nurse-midwives with general knowledge of how to assess, diagnose, and treat illnesses in women's anatomical systems throughout their lives, this course familiarizes students with both anatomical systems and abnormal health patterns. Students learn how to consider issues such as age, gender, genetics, and other factors when making diagnoses and creating care plans.
Can you earn a CNM degree completely online?
Many programs allow students to complete all coursework online, but clinical hours must be undertaken in person. Some schools may also require you to visit campus for several learning intensives across the span of the degree, so make sure you understand the requirements prior to enrolling.
How long does it take to earn a CNM degree online?
The amount of time you'll spend enrolled in an online CNM program depends on a number of factors. Firstly, you need to consider the level of your current degree. If you have a BSN rather than an ADN, you will finish graduate coursework more quickly. Similarly, if you decide to pursue an MSN rather than a DNP, you will graduate faster.
When looking at your options, consider desired career outcomes and what works with your personal and professional needs. Depending on what you decide, you will likely be enrolled for between two and five years.
How much does an online CNM degree cost?
Costs associated with an online CNM can vary significantly based on several important factors. If you attend a public school, you will likely pay less than if enrolled at a private institution. If you enroll full-time, you'll pay less in semester-based fees by graduating more quickly. The amount of funding you're able to secure in scholarships, grants, fellowships, or work-study funds can also greatly affect your final price tag. We highlight costs for a few top online programs below.
MSN in Nurse-Midwifery
Total Credits: 47 credits
$1,395/credit

DNP in Nurse-Midwifery
Total Credits: 81 credits
$974/credit

MSN in Nurse-Midwifery
Total Credits: 57 credits
$761/credit
How do I get into an online CNM program?
Many schools share common admission requirements to help assess whether prospective students are prepared for the rigor of advanced study. While specifics may vary slightly between institutions, you can usually expect to be asked for:
Evidence of a degree from an accredited institution
Active and unencumbered RN license
Minimum GPA
Letters of recommendation
Resume showing work experience
Personal statement
Prerequisite courses
GRE scores
Competitive programs may also require an interview
International students must supply passing TOEFL scores
Paying for Your Online Certified Nurse Midwife Program
Data from CollegeBoard shows that the price of postsecondary education continues to rise each year. If you're like many students, finding ways to lessen your expenses is an important consideration when considering next steps. Fortunately, many financial aid options exist if you know where to look.
Scholarships & Grants
Because scholarships and grants don't require repayment as long as you meet all conditions of the award, they're a great option for making a dent in the cost of college. Universities, professional associations, government agencies, and medical organizations all provide this type of funding.
Student Loans
After exhausting other funding and savings options, student loans provide the needed funds to bridge the gap between available money and your outstanding balance. Federal student loans offer low, fixed rates and varied options depending on degree level and student classification.
Other Options
At the graduate level, research and teaching assistantships allow you to gain valuable experience while also earning a stipend and/or tuition remission. Fellowships can also provide similar funding, as can some internships. If you qualify under the terms of your FAFSA, you may also be able to do approved work for your school in exchange for an hourly wage via a work-study program.
Accreditation Standards for Certified Nurse Midwife Programs
Because working as a nurse depends so heavily on receiving the proper education needed to gain and maintain licensure, attending an accredited school and program is incredibly important.
Accreditation comes in two forms: institutional and programmatic. In addition to finding a regionally accredited school, it's also important to find a properly accredited program. The Accreditation Commission for Midwifery Education currently accredits 38 programs and provides a database highlighting each.
If you cannot easily find information about institutional and/or programmatic accreditation on a school website, the U.S. Department of Education provides the Database of Postsecondary Institutions and Programs that can be easily searched.
Getting Your CNM Professional License & Certification
Anyone who plans to work as a nurse-midwife must maintain licensure in their state. Each state sets licensure requirements, but these typically include:
An active and unencumbered RN license
A master's degree in nurse-midwifery or higher
A passing score on the American Midwifery Certification Board Exam
An active and unencumbered APRN license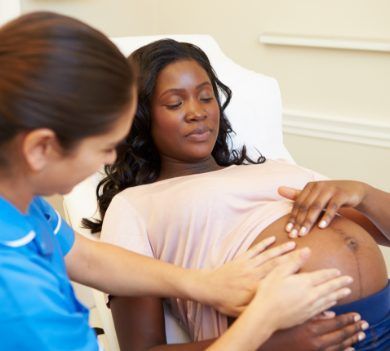 Check with your state's board of nursing to learn about specifics and make sure you meet all the requirements. The American Midwifery Certification Board examination costs $500 and can be scheduled at your local PSI testing center. The board releases scores twice per month. After successfully passing the exam, your certification remains valid for five years.
Careers & Salary Outlook for Certified Nurse Midwives
If you're looking for a solid and secure career path, nurse-midwifery can offer you that. Although a relatively small field – currently there are 7,200 nurse-midwives in the U.S. – the Bureau of Labor Statistics projects that these roles will grow by an impressive 12% between 2019 and 2029, leading to the creation of an additional 800 jobs.
Jobs for CNMs are expected to continue expanding in the coming years due to nurse-midwives' ability to perform many of the same functions as obstetricians, an increased emphasis on and awareness of preventative care, and the retirement of many aging professionals in the field.
How much do CNMs make?
Like other nursing professionals, CNMs earn annual median salaries far above the national average for all occupations. As of 2019, the Bureau of Labor Statistics (BLS) reported that these professionals brought home average wages of $105,030 annually. Earners in the lowest 10% received $82,460 while those in the top 10% commanded salaries of more than $184,180 during the same time frame. The BLS reports that hospitals pay the highest salaries, followed by outpatient care centers and physicians' offices.
Continuing Education & Related Degrees
The field of nurse-midwifery continues to change and evolve as emerging research and findings help push the field forward and improve patient care outcomes. Because of this, CNMs need to stay on top of new practices and approaches. Continuing education helps them do this and can boost salary potential along the way.
Continuing Education
When it comes to continuing education, CNMs should know this will be a career-long commitment. As with other jobs in healthcare and nursing, staying up to date on emerging research, new methodologies, and best practices is incredibly important to competent care and continually improving patient outcomes.
To maintain both certification and licensure, nurse-midwives must complete a minimum number of continuing education credits during each renewal period. The American Midwifery Certification Board requires 20 continuing education credits. Check with your state board of nursing to learn about license renewal mandates around continuing education.
Related Degrees to Consider
MPH in Maternal and Child HealthPursuing a master's in public health in maternal and child health could be a great option if you want to research and address underlying behavioral, developmental, environmental, and epidemiological issues affecting the health and wellbeing of these two groups. Most programs last two years and allow you to work in public, private, and nonprofit settings.
MSN in Women's Health Nurse PractitionerIf you want to support women's health throughout the lifespan but have less interest in labor and delivery, becoming a women's health NP might best support your interests. These programs educate you on women's health issues across the lifespan and how to treat them, with options for leadership roles available. Programs take two or three years to complete, depending on your previous degree.
BSN in Labor and DeliveryA great first step if you're considering nurse-midwifery but want to test the waters, these programs allow you to work under the direction of an obstetrician or nurse-midwife to provide care for both mothers and newborns. Some employers accept an ADN but the BSN route makes you a more competitive applicant. If a first-time student, plan to spend four years enrolled.
Resources for CNM Students & Professionals