Written By

last updated

01/18/2022
2022's Best I/O Psychology Masters Programs Online
When you are choosing an online industrial organizational psychology master's program, you want to be sure the curriculum aligns with your career objectives. You want to know if there's an internship that provides a practical application for your research. But, how will you know if you'll be getting a quality education?
EduMed.org's Best in Class profiles highlight schools that meet our standards for quality online education. This initiative identifies top online I/O psychology master's degree programs that stand out for their flexibility, affordability, and accreditation.
Colorado State University

CSU's online Master of Applied Industrial Organizational Psychology blends self-paced, online learning with the active learning model. Virtual student consulting teams tackle a series of projects that simulate real world applications. Embedded simulations provide students the opportunity to build both their content knowledge and the skills like communication and reasoning that are critical for I/O psychology professionals.
The curriculum is designed by faculty who average 15 years of experience in the field of I/O psychology. It is designed to prepare students to make data-driven decisions through strong foundational coursework in quantitative research methods.
CSU's MAIOP program offers two-year and four-year completion plans that are comprehensive, while providing space within it for students to pursue courses that will further their specific interests and career objectives.
To apply, you will need:
Bachelor's degree with a minimum 3.0 GPA
B or above in undergraduate coursework in:

industrial psychology,
organizational psychology,
human resources management, or
organizational behavior.

GRE
Psychological Subject Test scores (requirement waived if you have a bachelor's degree in psychology)
Golden Gate University

GGU prepares students for leadership roles in industrial organizational psychology. The 42-credit program can be completed entirely online without sacrificing rigor or quality. Online students are paired with a mentor who helps them devise a plan for degree completion that fits your life and commitments.
GGU's program emphasizes the organizational behavior and diversity within I/O Psychology. Students explore topics within the context of our diverse culture and with a global context.
GGU works with students to find the internship program to further their career goals. GGU Career Services works with students to polish resumes and interview skills. Internships are an opportunity for supervised field practice that help you develop as a professional.
To apply you will need:
A bachelor's degree
Demonstrated graduate-level math and writing proficiency
University of Southern California

USC is a leading research university and their I/OP Master of Applied Psychology boasts faculty who have worked at the executive level in their respective fields. This highly selective program pulls from a national and international applicant pool to promote diversity and provide greater global context to learning. The project-based curriculum places classroom topics into real world context. Students can tailor their program to meet individual career goals with concentrations in Organizational Psychology and Consumer Psychology.
USC's Master of Science in Applied Psychology includes an internship, with an option to complete that internship in Dublin, Ireland. This 16-month program is designed to be completed entirely online. Class sizes are kept small to promote individualized support.
To apply you will need:
Bachelor's degree (often with demonstrated background knowledge of social sciences)
GRE
3 letters of recommendation
Resume
Statement of purpose
FAQs About Online I/O Psychology Master's Degrees
Graduate school is a major investment in time and capital. To make sure yours pays off, you want to do some research before you apply. Be sure the curriculum aligns with your interests and career goals. Investigate the program's internship options. Find out what kind of post-degree career support is offered by the school and typical career paths for program graduates. Weigh the program's costs against the potential benefits of job satisfaction and salary potential.
The best decision is an informed decision. Here is what to know before you apply.
What exactly is a master's in I/O psychology?
I/O psychology is where psychology and business meet. I/O programs use a scholar-practitioner model and social science research to address questions of efficiency and effectiveness, health and happiness within organizations. Students may investigate topics like how human cognitive behavioral research can be applied to corporate training and development.
I/O psychology master's programs have distinct personalities. Some may focus more on "I" (industrial) aspects, exploring topics like consumer behavior or labor relations, rather than the organizational aspects such as team dynamics and leadership. Some I/O master's programs are terminal degrees, while others are geared towards doctoral program preparation and emphasize research over applied practice.
Can you earn an organizational psychology master's completely online?
Many online programs allow you to complete your I/O psychology coursework entirely online. Students may be grouped together in online cohorts to promote program cohesion and encourage student interaction. Online learning may be self-paced, though some schools require synchronous learning experiences like online discussions through video conferencing.
Programs may have capstone projects or internships. Students will find or be placed for in-person internships within organizations, research firms or universities, consulting firms, or government agencies. Alternatively, some schools offer 'virtual consulting' options for capstone or thesis projects.
What do you learn in an industrial-organizational psychology program at the master's level?
While the specific course design and structure of programs differs, the Society for Industrial and Organizational Psychology (SIOP) has identified core competencies for graduate level programs. As they are shorter and less broad in scope than doctoral programs, there is a degree of flexibility in master's program content. As a result, some programs may focus more on the industrial versus organizational content.
SIOP has identified 26 areas of competence for I/O psychology programs. The understanding is that no one program will include all of these, especially at the master's degree level. Below are areas of competence and course offerings common across masters programs.
Research methods: Applying the scientific method to the study of individuals. Students learn about inductive and deductive reasoning, crafting problem statements and research questions, generating hypotheses, reviewing scientific literature, and designing studies and assessments.
Statistical analysis: Applying statistical techniques to data gleaned from empirical research. Students learn statistical methods including parametric and nonparametric statistical methods, quantitative and qualitative research methods, and data analysis.
Psychology: Learning key concepts of psychology that study basic processes, individual populations, and behavior so that those concepts can be applied within the context of industry and organizations.
Organizational behavior: Exploring how the structure, culture, and customs of organizations affect small group dynamics and individual behaviors within that organization.
Leadership: Understanding how leadership and management impact the organizational structure and behavior, as well as how it impacts individuals within that organization. It addresses macro level issues like the policies governing the workplace and micro issues like project planning.
Common Courses in I/O Psychology Master's Programs
This course applies behavioral science concepts to organizations. It examines the structure and culture of organizations, the psychology of group behavior, and organizational change and interventions. Students learn how emotions, attitudes, and perceptions affect individual and group behavior. They learn how to apply behavioral science theory to improve performance, teamwork, and motivation.
This course focuses on how to take a systematic approach to leadership and team development within an organization. It may touch on topics like motivation and communication, ethics and power dynamics.
This course teaches basic methods and procedures to design and conduct psychological research. Students are grounded in the scientific method as well as ethics. Students also learn how to analyze and interpret data, evaluate scientific research in media and peer-reviewed publications, and present research findings.
This course covers fundamental statistical concepts and applications, including how statistics are used in research design and decision making. Course topics may include variance, covariance, and correlation; parametric and nonparametric testing; and univariate and multivariate analysis. Students may learn data preparation and analysis using SPSS or Excel.
Capstone projects may be in the form of a research study, internship, or thesis. In the scholar-practitioner model, students apply their learning to real life situations. Projects and conclusions are then presented to a class or faculty panel.
What specializations or concentrations are available in I/O psychology master's programs?
While masters programs are less in-depth than doctoral programs, there are still opportunities for specialization. Some entire programs are geared towards one aspect of the field, industrial or organizational. Other programs will offer non-core courses that allow students to pursue specialty interests such as these listed below.
Industrial or Business Administration
This specialty allows students to focus on business applications of I/O psychology. These may range from foundational courses in economics and finance to courses in industrial relations and management. Schools may offer courses in these courses through their business school. A few schools offer MA/MBA dual degree programs.
You can think of training and development as essentially the teaching arm of I/O psychology. Courses in cognition, behavioral psychology, assessment, and instructional design allow students to specialize in training and development. Sometimes referred to as talent development, this area of study and research deals with systematic workforce education and evaluation.
Psychometrics is the testing branch of I/O psychology. Students learn how to design, administer and evaluate testing. Practical applications can be found in aptitude testing, pre-employment testing, employee evaluations, and performance measurement.
This specialty area focuses on human behavior, attitudes, and cognition as it relates to organizational behavior and development. Students learn how individual and team performance, motivation, and behavior is affected by leadership, climate, and culture. They also learn about systems change, evaluation, and assessment.
How long does it take to complete a master's in organizational psychology online?
As with any graduate degree, how a student approaches the program determines how long it will take.
A full time student can expect to complete an I/O psychology master's program in two years. Part time students may complete the program in four years, with the first two years focusing on foundational topics in psychology. Most programs will include a capstone project or experience. Those may be paid internships in industry, consulting, or government agencies. Accelerated programs are often available as a fifth year (15 months) after completion of a bachelor's of science in psychology.
What are the prerequisites for getting into an online I/O psychology program?
To apply to a master's program with an undergraduate degree in psychology, you will typically need:
Undergraduate transcripts
GRE
Minimum GPA requirements
Personal statement or essay
Letters of recommendation
Resume (if applicable)
If you do not have a bachelor's degree in psychology, you will need to fulfill prerequisite requirements. These courses typically include:
Introductory psychology
Statistics
Research methods
Admission into I/O psychology master's programs can be competitive and schools may have higher GPA and GRE requirements for those without an undergraduate psychology background.
How much does an online I/O psychology master's cost?
Cost can be a driving factor in choosing a master's degree program. When evaluating the cost of a degree, you should consider:
Location: It's important to factor in the cost of living and commuting if you are applying to a campus-based program. However, location can still be a factor for online program costs as those may vary based on where you live.
Length: How long will it take you to complete the program? This is particularly important to consider if you are planning to be a full time student or are taking a leave of absence from a job to complete the program.
Funding: Research scholarship and grant opportunities. Also, consider if the program includes paid internship, fellowship, or research opportunities.
Here is a sample of tuition costs to help you begin your planning:

University of
Maryland
MPS in Industrial Organizational Psychology
Total Credits: 30
$746/credit

Southern New
Hampshire University
Master's in Industrial-Organizational Psychology Online
Total Units: 36
$627/credit

Harvard Extension School
Industrial-Organizational Psychology Master's Degree Program
Total Credits: 48
$710/credit
Where to Find Help Paying for Your Online I/O Psychology Master's
Before you start your degree program, you need to know how you will pay for it. The process may feel overwhelming, but there are a lot of resources available to help if you know where to look. You may even discover financial aid options that you didn't know existed.
Individual schools may offer scholarships and grants based on merit or demonstrated need. Additionally, degree-specific grants, scholarships, and fellowships are available through organizations like SIOP. EduMed's scholarships guide can help you start your search.
The federal government provides over $120 billion each year to help students pay for graduate school. The first step is filling out your FAFSA form by October of the year prior to beginning your program. For more information on financial aid, check out our student loan guide.
It pays to investigate other avenues to help you pay for your graduate degree program. Many students string together multiple funding sources. Other sources to consider are:
Paid Internships, Fellowships, and Grad Assistantships can offset program costs.
Federal work study program includes off campus public interest jobs with nonprofit organizations.
Employer tuition benefits may be available to working students.
States may offer graduate tuition aid.
Learn more about financial aid for your online master's in I/O psychology.
Accreditation for Organizational Psychology Degrees
Accreditation is essentially quality control. It assures students achieve a level of competence in order to receive a degree.
Institutional accreditation means the entire school has met specific criteria for educating students and issuing diplomas. Contrary to what you may think, national accreditation is generally less desirable than regional appreciation. Regional organizations are recognized by the Council for Higher Education Accreditation and regional accreditation is considered more prestigious than national accreditation. Use the U.S. Department of Education's search tool to check institutional accreditation.
While a recognized specialty, I/O psychology programs are generally not accredited by the American Psychological Association. However, there are specific core competencies established by SIOP that provide a guiding principle for I/O psychology programs.
Career Options for Your Online I/O Psychology Master's
Harnessing the power of science to manage talent and improve organizations is at the core of I/O psychology. So, where can this degree take you? What does advancement look like? And, what licenses or certifications do you need to get there? Here are some key things to know about career opportunities in I/O psychology.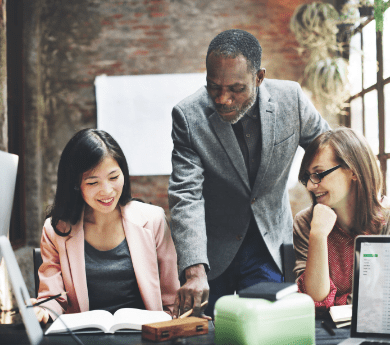 What can I do with a master's in industrial/organizational psychology?
The expertise of I/O psychologists can be applied to all types of work environments from manufacturing to e-commerce, government agencies to educational institutions. Within this broad field, there are certain jobs that are commonly held by I/O psychologists.
Human resources: Addressing issues such as applicant testing, employee performance, and work-life balance at all levels of HR.
Consulting: Providing outside services to organizations, identifying and quantifying organizational challenges and creating solutions based in science and research.
Academia: Conducting research studies that inform and benefit organizations at home and abroad. Teaching and mentoring I/O psychology students at the graduate level.
Government: Applying research-based solutions to agencies within government, serving in a human resources capacity, and informing policy at the state and national level.
With such broad applications, I/o psychology allows your career path to be driven by your own interests and passions. Here are some of the paths it can take.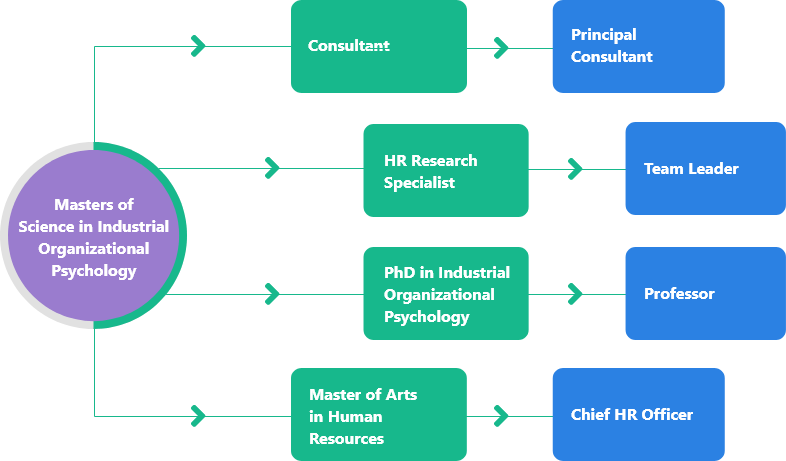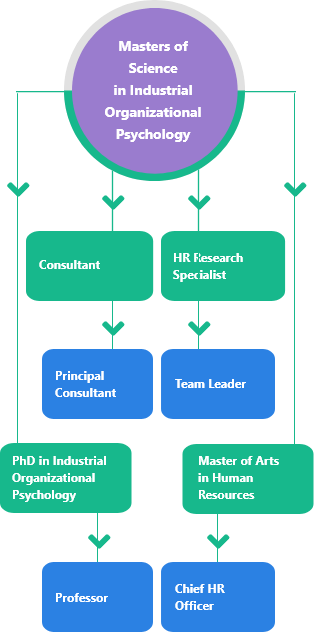 How much can you earn with a master's degree in industrial/organizational psychology?
I/O professionals work in industry, consulting, government, and academia. Organizations are increasingly relying on I/O psychologists to improve their hiring and recruitment, as well as tackling the issues that improve employee performance like work-life balance, ethics, training, and motivation. You'll often find job titles like analyst, consultant, and research scientist. Many I/O psychologists find management and leadership positions within their teams and companies.
Continuing Education & Related Degrees
Continuing education in psychology or human resources allows you to delve deeper into your study and practice.
Some I/O psychology positions require a doctoral degree, this may be especially true for policy level positions in government and industry or for positions that require extensive skills in quantitative research methods. Additional education can also provide an avenue to executive level positions within human resources.
Continuing Education Opportunities
Online PhD in Industrial/Organizational Psychology
Doctoral programs delve deeper into the core competencies identified by SIOP with a greater emphasis on research methods, and statistical analysis. Most, if not all, programs follow the scientist-practitioner model and require applied, supervised practice through internships and research opportunities. Students will be prepared for careers in research, academics, policy and management. Doctoral degree holders alone may use the psychologist designation.
Related Degrees to Consider
Online Master's Degree in Human Resource Management
An HR master's program dovetails well with the I/O psychology background, allowing for further study of strategic management within HR departments. Courses are designed to create effective managers and executives include talent development, workforce planning, human resources law, and ethics.
Online Master's Degree in Consumer Psychology/Behavior
A master's degree in consumer behavior allows you to further understand industry targets. This degree prepares you for positions in market research, marketing and advertising, and management. In this research driven program, you will study the psychology of consumer behavior, principles of marketing, and statistical analysis.
Additional Resources for Industrial Organizational Psychology Students and Professionals