Written By


last updated

09/19/2022
If you're interested in helping couples, spouses, and families have healthier and happier relationships, then a career as a marriage and family therapist can be the perfect choice. Becoming a licensed therapist in this field, however, requires earning either a master's or doctoral degree in marriage and family therapy or a closely-related field. For most people, that will be a master's in MFT.
Fortunately, there are plenty of fully-accredited MFT master's programs available at colleges throughout the U.S. Many of them are also now offered at least partially online, allowing you to continue to work and meet your other obligations while earning your MFT degree.
Choosing the right online program for you can be challenging, though. To help you with your decision, we've researched online MFT master's programs with the goal of finding the ones with the best combination of affordability, flexibility, and quality. We've spotlighted three of the top programs we found below, all of which are accredited by the Commission on Accreditation for Marriage and Family Therapy Education. See which MFT programs stand above the rest in 2023.
or
About the ranking
X
Base Methodology for EduMed's 2023 Online College Rankings
1. Create List of Eligible Schools and Programs
To be eligible for this ranking, schools were required to meet the following criteria based on government data provided by The Integrated Postsecondary Education Data System (IPEDS).
Institutional accreditation from an organization recognized by the U.S. Department of Education.
At least one program in subject area offered partially or fully online.
2. Assign Weightings
After creating the list of eligible schools, EduMed data scientists assigned weights and ranked schools based on a mix of affordability, support services, and online program availability metrics. Online program availability and overall affordability metrics received the heaviest weightings.
Online Program Availability
Number of online programs in subject area reported by school to the U.S. Department of Education.
Affordability
Cost

– Relative cost of attendance compared to peer schools on the list. Based on tuition and fees per academic year.

Students w/ Institutional Aid

– Percentage of students who receive financial aid from the school itself.
Support Services
Academic Counseling

– Existence of this service on campus or online.

Career Placement

– Existence of this service on campus or online.
About Our Data
EduMed's rankings use the latest official data available from The Integrated Postsecondary Education Data System (IPEDS). Most recent data pull: July 2022
#

School Name

Type

Cost

Online Programs

More Details

School Information

Online Students

Academic Counseling

Career Placement

Students w/Institutional Aid

Median Earnings 10yrs After Entry

Accreditation

1

Houston Baptist University

Houston, TX

Private not-for-profit

$$$

1

Houston Baptist University's Master of Arts in marriage and family therapy (LMFT) is for people who wish to work as a licensed marriage and family therapist helping couples and families. Graduates of the HBU program who are from Texas are eligible to sit for their state license as a LMFT. People who live outside the state should check with their state's licensing board to learn if the LMFT program at HBU qualifies them to take their state's exam. In addition, students must also pass the national licensure exam that the Association of Marital and Family Therapy Regulatory Board (AMFTRB) or California's marriage and family therapy licensure exam to become an MFT. The HBU program requires students to complete 60 hours of graduate coursework, and students take core classes in professional counseling and marriage and family. Core courses cover such topics as ethical and legal issues in counseling, multicultural counseling, and substance abuse and addictive disorders. Electives include human sexuality and gender issues and differences. The program includes two 16-week intensive courses, and students must be on campus for one week during each intensive course they take. Graduates must also complete two years of supervised work experience (3,000 hours) in marriage and family therapy before becoming an MFT. MFTs can work in private practice, mental health and counseling centers, hospitals, agencies, and religious organizations.

Program Highlights:

Master of Arts in Marriage and Family Therapy (MA-LMT)

Credits: 60
Cost: $585/credit hour
Length: 3 semesters plus required clinical hours
Mode: partially online

Academic
CounselingYes
Career
PlacementImplied no
Student/
Faculty Ratio16/1

Accreditation

SACSCOC

2

Evangelical Theological Seminary

Myerstown, PA

Private not-for-profit

$$$

1

The Evangelical Theological Seminary offers a Christian MFT program, meaning that it seeks to honor God and Christ in all aspects of learning to be a marriage and family therapist. Christian and Biblical teachings are included in the course material. To qualify for this program, students must have at least a master's degree of 48 semester credits in MFT. Students study a variety of subjects, ranging from topics that are tied to personal growth and insight such as foundations for marriage and family, theories, and practical "how to" skills for conducting therapy. Students also take courses in sexuality, marital therapy, gender and ethnicity, assessment, and more. They have the option of taking their courses through ETS's synchronous online options, and most classes have fewer than 10 students. Many students choose to work part-time while completing the program.

After completing the program's required 65 credits, students must get 300 to 500 hours of supervised clinical practice. The Seminary provides practicum sites for students to accumulate their necessary clinical hours. Graduates can see patients in their own private practices, or they can work for others as a licensed marriage family therapist provided they are licensed to do so.

Program Highlights:

Master of Arts in Marriage and Family therapy (MAMFT)

Credits: 65
Cost: $400/month (Estimated total: ($9,600 to $14,440)
Length: 3.5-4 years; 2.5-3 years accelerated part-time
Mode: online and in-person

Academic
CounselingImplied no
Career
PlacementImplied no
Student/
Faculty RatioNA

Accreditation

MSCHE

3

Capella University

Minneapolis, MN

Private for-profit

$$$

1

Capella University's Master of Science in marriage and family therapy (MFT) is designed for those who wish to work as therapists helping people, couples, and families improve their relationships and lives. The program is accredited by the Commission on Accreditation for Marriage and Family Therapy Education (COAMFTE) and prepares students to sit for their state license as an MFT. Capella's MFT faculty are all practicing clinicians and scholars in their field.

In addition to taking 16 courses, students must also complete two residencies and four quarters of supervised clinical internships (300 hours with direct client contact) in their community. Students are responsible for locating a site but will receive support from the program. Students can work in community-based or private agency programs or in residential facilities in their community. Students will take courses in diversity and social justice in systemic family therapy and the impact of addiction and addictive behavior on family systems and more. Graduates can seek work as therapists who work with families, couples, children/youth, and substance abusers, and may find jobs in community mental health centers, family and social service agencies, residential treatment centers, adoption agencies, employee assistance programs, and private/group clinical practice upon graduation.

Program Highlights:

Master of Science in Marriage and Family

Credits: 72
Cost: $487/credit
Length: part-time about 5 years; full-time 2.5 years
Mode: online

Academic
CounselingYes
Career
PlacementImplied no
Student/
Faculty Ratio32/1

Accreditation

HLC

4

Northcentral University

La Jolla, CA

Private not-for-profit

$$$$

1

Northcentral University's Master of Arts in marriage and family therapy is for people who wish to become a marriage and family therapist. Students who wish to sit for their state's licensing exam may need to take 60 credits, but not all states require 60 hours of credits to sit for their licensing exam. Each course includes lectures combined with different learning activities and assignments and requires textbooks, journal articles, educational videos, and scholarly online information. Courses are between eight and 12 weeks, and students must complete their online assignments within the course period. They are also required to participate in weekly group supervision sessions. Students are responsible for finding their own practicum location, but the MFT clinical coordinator at NCU will help.

Northcentral offers 9 MAMFT specializations including marriage and family therapy for those interested in being licensed in California, couples therapy, LGBTQ couples and family therapy, military family therapy, child and adolescent family therapy, general family therapy, and systemic treatment of addictions. Other specializations include medical family therapy for families facing chronic and acute medical difficulties, trauma informed systemic therapy for helping those cope with traumatic events, and systemic sex therapy for those facing sexual difficulties.

Program Highlights:

Master of Arts in Marriage and Family Therapy

Academic
CounselingYes
Career
PlacementImplied no
Student/
Faculty Ratio3/1

Accreditation

HLC

Antioch University's 33-month, full-time Master of Arts in Couple and Family Therapy program is presented in a hybrid format that combines online didactic coursework with a number of in-person activities. During their first year of studies, students complete the bulk of their core-subject classes in preparation for clinical work. In their second year, students continue their online coursework while participating in a clinical practicum experience in their local area or at the school's Couple and Family Therapy Institute in Keene, New Hampshire. In the program's third year, students complete a 12-month internship at a program-approved practice site near their homes, along with one elective course each semester.
Students have the option to choose elective classes in one of three focus areas: Addictions Counseling, Counseling in Trauma, and Trans Affirmative Therapy. Students additionally participate in six short-term residencies held throughout the three years of the program. Fall and spring residencies are attended in Keene, while winter residencies take place in Los Angeles, California.

Specialized study is a big distinguishing feature of the Master of Arts in Marriage and Family Therapy offered by Northcentral University. Students in the program choose from among 10 specialization tracks: Child and Adolescent Family Therapy; Couple Therapy; General Family Therapy; LGBTQ Couple and Family Therapy; Medical Family Therapy; Military Family Therapy; Systemic Sex Therapy; Systemic Treatment of Addictions; Trauma Informed Systemic Therapy; and an MFT California Licensure Track.
The program's didactic courses are presented in an asynchronous online format, meaning that students can access and complete their coursework at those times most convenient to them. In addition to didactic coursework, students must complete a minimum of 500 direct client contact hours through a combination of a practicum experience and an internship, both of which can be completed at sites in the student's local area. During the first six months of clinical work, students participate in group practicum sessions with their fellow students via video conferencing. Most students complete all degree requirements in two to three years.

With the Fall 2020 term, Syracuse University will begin offering its popular and respected Master of Arts in Marriage and Family Therapy in an online format. As with other COAMFTE-accredited programs, SU's MFT master's curriculum consists of a mix of didactic coursework with an in-person practicum experience. The 60-credit program includes 51 credits of courses core subjects such as family therapy practice, family systems, family therapy across the lifespan, psychopathology, and applied research in social work. Nine elective credits are also completed in subjects such as family violence, addiction, trauma studies, therapy with LGBTQ couples and families, and more. Didactic coursework is presented in an asynchronous format, allowing students to work at their own pace. Students additionally complete a minimum of 500 in-person clinical hours at program-approved sites in their local communities. A short residency on the school's Syracuse, New York campus is also required.
FAQs About Online Marriage and Family Therapy Programs
Choosing to earn an MFT master's degree online is a big decision, both financially and in terms of your time – and you'll want to make sure you understand every little detail before you commit. Below are the answers to some of the most important questions you need to ask about online MFT master's programs:
What do you learn in an online marriage and family therapy master's program?
One thing you'll find during your online MFT master's program search is that every program is different, each offering its own unique blend of program philosophies, curriculum and study formats, practicum and internship opportunities, specializations (if available), student support services, and more. All programs, however, provide foundational knowledge and skills in several key MFT areas, including therapy theory and techniques, research, psychopathology, cultural diversity, and ethics. Here are some of the key learning outcomes you can expect from your MFT master's studies:
A clear understanding of the major theoretical concepts of marriage and family therapy treatment, and the ability to identify and critically analyze theory in its application to the range of mental health issues.
A demonstrated ability to design and conduct effective, evidence-based systemic therapy and counseling treatment to individuals, couples, families, groups, and others suffering from mild and severe mental health issues.
Possession of the skills required for the analysis and application of scientific research relevant to marriage and family therapy practice, including keeping up with the most current research findings.
A demonstrated knowledge of ethnically and culturally sensitive issues (including the engagement and integration of social justice issues) in all practice setting and professional advocacy contexts.
The demonstrated ability to identify legal and ethical standards related to marriage and family therapy practice, and apply them effectively to decision-making across the range of service contexts.
Common Courses in Online Marriage and Family Therapy Programs
Substance Abuse and Addiction
This course provides an overview of substance abuse and addiction from historical and contemporary perspectives. Students learn the theoretical and research foundations used to diagnose and treat substance abuse disorders and behaviors, along with the co-occurring mental health issues that often accompany them. Students additionally learn to identify and analyze the features of relapse.
Cultural Diversity and Social Justice in Marriage and Family Therapy
An introduction to the theories, research, and models concerning social and cultural diversity, and their implications in understanding human development as applied to MFT practice. Students gain knowledge of the diversity of mores and values, social conditions, interaction patterns, and social trends as they relate to the therapeutic process.
Ethics in Marriage and Family Therapy
Exploration of the legal and ethical principles, guidelines, and responsibilities of the MFT regarding professional practice based on the AAMFT Code of Ethics. Topics covered include proper standards of care, ethical decision-making, collaboration, and practice reimbursement. Students additionally learn to analyze the impact of their own personal values on their clinical practice.
All accredited MFT master's programs require completion of practicum and/or internship experiences in which students develop basic therapy and counseling skills through direct supervised client contact. These experiences are typically aligned with COAMFTE certification guidelines which require a minimum of 500 clinical hours, at least 200 of which are relational.
What specializations or concentrations are available in marriage and family therapy programs?
In addition to their core subject course requirements, MFT master's programs often provide students the ability to additionally focus on one of a number of specialized areas of study, either in the form of a specialization or concentration track or, more commonly, through the student's elective course choices. Below are a few examples of popular specializations or elective subjects you might be interested including in your MFT master's academic studies:
Addiction/Substance Abuse/Chemical Dependency
A focus on addiction and substance abuse provides students with a foundational understanding of how to treat chemical abuse issues and co-occurring disorders within the marriage and family therapeutic context. Students are taught the theoretical and historical foundations of addiction, as well as various evidence-based models for treatment.
The trauma therapy specialization offers students an in-depth examination of the causes and effects of traumatic events, and the models for their treatment. Topics covered include: the theoretical foundations of trauma; family violence; the impact of psychological trauma on individuals families and groups; PTSD; grief; and the ability to heal.
While same-sex couples and their families encounter many of the same relational challenges as heterosexual couples and their families, there are other challenges unique to LGBTQ patients. This specialization focuses on those unique challenges, which include understanding sexual orientation and gender identity, coming out to family members and others, coping with homophobia, parenting (for both LGBTQ parents and children), and many others.
Systemic sex therapy refers to a systemic approach to treatment that integrates components of emotion, cognition, and behavior concerning sexual function and disorders (as opposed to treatment based on only one component). Coursework in this specialization includes such topics as the history and foundational theories of systemic sex therapy, assessment and treatment, and how culture, society, and religion influence sexual behaviors.
Can you earn a marriage and family therapy degree 100% online?
No. Online MFT master's degree programs describe themselves in one of two ways: fully-online or partially-online (hybrid). What this means is that didactic coursework for their programs is accessed and completed either entirely or partially online. It does not mean, however, that all degree requirements can be completed online. All MFT master's degree programs leading to professional certification and license eligibility include practicum experiences and/or internships that require in-person participation.
Additionally, some online programs include one or more short-term on-campus residencies that allow students to attend seminars and workshops, and to meet face-to-face with program faculty members and fellow students.
How long does it take to complete an online MFT program?
The exact number of credits you'll need to earn, as well as how long it will take you to complete your entire online MFT master's program, depends on the specific program you choose. However, most programs require 60 to 66 total credit hours for graduation. That includes all didactic coursework and credits awarded for practicum and internship work. Some programs do not award credits for required practicums or internships. In those cases, the total credit requirements will fall into the 45-55 credit hour range. As for program length, you can expect to devote two to three years of full-time study to your MFT master's program. Students in part-time formats should expect to complete all degree requirements in three to five years.
How do I get into an online marriage and family therapy master's program?
Admission requirements vary somewhat from program to program. However, you can expect the following requirements for any MFT master's program you apply to:
Bachelor's degree: All MFT master's programs require a bachelor's degree from a regionally accredited college or university. In most cases, programs admit students regardless of their bachelor's degree major. Minimum GPA requirements (typically between 2.7 and 3.0) almost always apply.
Standardized test scores: GRE or GMAT test scores may or may not be required, and the current trend for online programs is away from standard test scores. Those that do require them may state a minimum score for admission or may consider any score as one factor in a competitive admission process.
Official transcripts: From all postsecondary institutions where the applicant has earned a degree or certificate.
Letters of recommendation: Two or three letters of recommendation are typically required, written by persons able to speak to the applicant's academics and professional background.
Interview: Programs may require an interview, normally with the program's department head or a faculty member. Interviews may be conducted in person, over the phone, or via videoconferencing.
Additional requirements: Other possible admissions requirements include: a statement of purpose or personal statement, and CV or resume. International and non-native English speakers will likely be required to submit proof of English proficiency.
How much does an online MFT master's program cost?
The total price tag for your particular online MFT program will depend on several factors, chief among them total program length, your choice of full-time or part-time curriculum, and whether your program is offered by a public or private school. The following are the current (2020) tuition costs for three online MFT master's programs to give you an idea of what you can expect to pay. And if low cost is the most important factor you're looking for in your MFT program, check out our list of top most of affordable online MFT programs.

Antioch
University
MA in Couple and Family Therapy
Total Credits: 61
$1,016/credit

Liberty
University
MA in Marriage and Family Therapy
Total Credits: 60
$565/credit (full-time); $615/credit (part-time); $275/credit (military discount rate)

Touro University
Worldwide
MA in Marriage and Family Therapy
Total Credits: 72 (clinical track); 54 (non-clinical track)
$500/credit
Finding Help Paying for Your Online MFT Degree
Given the substantial expense involved in earning any college degree, you may want to put off thinking about the cost as long as possible. Don't let that happen. It's critical that you develop a funding plan well before you begin your studies. Fortunately, there are several resources you can take advantage of to help pay for college. Here's a look at the most popular:
Scholarships and grants are attractive sources of college funding because, as you probably know, scholarship and grant awards do not need to be paid back. What you might not know is that there are hundreds of different awards, many of which you could be eligible for. Keep in mind, though, that scholarships are usually competitive, with awards made based on given criteria such as exceptional academic achievement, or academic or artistic talent. Other possible factors include community volunteer work, minority group membership, and financial need. Grants, on the other hand, are almost always made based primarily on financial need. You can find out more about scholarships and grants at EduMed's online scholarships guide.
The most popular resource for college funding, student loans, like any other type of loan, must be paid back. They are more accessible than most other funding sources, however. Student loans are available from several sources, including private lenders and state governments. But the largest source by far is the federal government, who sponsors grad student loan programs such as Stafford Loans and Direct PLUS Loans. The federal student loan process starts with filling out and submitting the FAFSA application. To learn more about student loans, visit EduMed's student loan handbook.
Additional funding sources include:
Assistantships and Work Study: These programs are often less accessible to online students than their on-campus counterparts. Nevertheless, online opportunities are not entirely unheard of. So, be sure to contact your degree program's department or school's financial aid office for availability.
Employer Tuition Reimbursement: A funding source that is becoming more and more popular is employer tuition reimbursement. That's because employers are finding out that helping their employees pay for college is a great recruitment and retention incentive. Check with your HR person to see if tuition reimbursement is available from your employer.
G.I. Bill: The G.I. Bill remains a great source of educational funding benefits for both those currently serving in the armed forces and military veterans.
Accreditation for Online Marriage and Family Therapy Degrees
When searching for an MFT master's program, the first thing to consider is proper accreditation. Accreditation is the means by which colleges and their degree programs are investigated and determined to meet important minimum academic standards. In short, accreditation is your first way of being confident a program you choose is worth your time and money and will be recognized by licensing and certification boards.
There are two types of accreditation: institutional and programmatic. Institutional accreditation has to do with the college or university itself. Institutional accreditation in the United States is carried out by several regional and national agencies approved by the U.S. Department of Education.
Programmatic accreditation refers to the vetting of individual degree programs. The primary accrediting organization of master's marriage and family therapy programs in the U.S. is the Commission on Accreditation for Marriage and Family Therapy Education (COAMFTE). You can find current information on institutional and programmatic accreditation status by checking degree program websites, or by searching this Department of Education database.
Getting Your Marriage and Family Therapist License and Certification After Graduation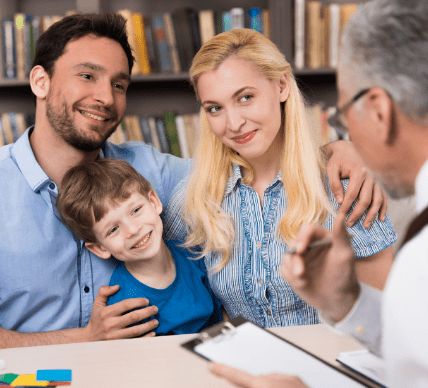 Licensure to practice as a marriage and family therapist is required in all U.S. jurisdictions. However, specific licensing (education, training, examination, etc.) requirements vary, sometimes substantially, from state to state. For example, some states require applicants Licensed Marriage and Family Therapist (LMFT) applicants to hold a degree from a COAMFTE-accredited program, while many others require applicants to meet certain COAMFTE academic and training standards for licensure, whether their degree programs are COAMFTE-accredited or not. And eligibility for LMFT licensure in some states is additionally open to holders of non-MFT master's degrees from programs accredited by the Council for Accreditation of Counseling and Related Educational Programs (CACREP).
Confusing? You bet. That's why it is absolutely critical that you understand in detail the licensure requirements for any and all states in which you intend to practice before enrolling in any degree program. Contact information for licensing boards in all 50 states and the District of Columbia can be found on this Association of Marital & Family Therapy Regulatory Boards webpage.
While there are no professional certifications specifically designated for marriage and family therapists, there are a number of certifications in closely-related practice areas that MFTs may qualify for, including National Certified Counselor, Certified Addiction Specialist, Certified Sex Therapist, and Board Certified Specialist in Couple and Family Psychology. You can learn more about these and other possible professional certifications at this U.S. Department of Labor sponsored website.
Career and Salary Outlook for Marriage and Family Therapists
An interest in helping couples and families resolve their problems is great, but it can't be the only reason for pursuing an MFT degree. You also have to be practical. That means going into your degree program with a good idea of what you can expect in terms of job opportunities and pay on the back end. Let's take a closer look:
Are marriage and family therapists in high demand?
When it comes to employment opportunity, MFT degree seekers can take heart. According to data from the U.S. Bureau of Labor Statistics Occupational Outlook Handbook, demand for MFT professionals is expected to grow 22% between 2018 and 2028, much faster the 5% rate for all occupations taken as a whole during the same time period. Why the strong demand? According to the BLS, expected growth in the MFT field is due to an increasing patient use of integrated care, meaning MFTs coordinating treatment with other healthcare (substance abuse, mental health, behavior disorder) professionals. Other factors that will impact job opportunities for you will include where you live, the setting in which you work, and your level of professional experience.
How much do marriage and family therapists make?
According to the most current figures (May 2019) from the BLS, the national median annual wage for marriage and family therapists is $49,610, with those in the lowest 10% bracket earning $32,070 and highest 10% bracket earning $87,700. What you will earn as an MFT will depend on many of the same factors influencing demand. For example, BLS data also provides MFT median wage figures for the following practice settings:
State government (excluding education and hospitals): $72,520.
Outpatient care centers: $58,170.
Residential intellectual and developmental disability, mental health, and substance abuse facilities: $55,280.
Individual and family services: $50,780.
Offices of other health practitioners: $50,590.
Further Education & Related Degrees
As discussed above, earning an MFT (or closely-related) master's degree is a must for anyone interested in pursuing a career as a licensed marriage and family therapist. And for many MFTs, the MFT master's degree will satisfy all of their professional academic needs. Others, however, will be interested in expanding their knowledge and skills into other areas, or advancing their careers into top-level MFT education, research, administrative, or clinical practice positions. Below are a few examples of degrees available to do just that, along with some related degree opportunities that may be worth considering.
Continuing Education Opportunities
PhD in Human Development and Family Studies
Human development and family studies is a multi-disciplinary field that concerns how individuals develop across the lifespan, and in a range of contexts that include couples and family relationships, and in communities, schools, workplaces, and more. The PhD in Human Development and Family Studies prepares graduates for positions in research, postsecondary teaching, and the administration of public and private practice programs.
Doctorate in Social Work
Doctorate in social work (Doctor of Social Work or PhD) degrees are designed for current working professionals in the field, providing students with advanced skills to develop practical solutions to large-scale social problems. DSW degree holders work in advanced practice as licensed clinical social workers, and as social services administrators and consultants. Those earning a PhD in Social Work are typically employed as researchers and as teachers in postsecondary education settings.
Related Degrees to Consider
Online Master's Degree in Social Work (MSW)
The Master's of Social Work degree prepares students for advanced practice as licensed clinical social workers. MSW degree programs often feature specialization options and/or coursework in clinical practice, administration and management, research and policy, and more. Programs also typically offer advanced track (for students entering with a previously-earned BSW degree) and traditional track (for students with a previously-earned non-BSW bachelor's degree) options.
Online Master's Degree in Counseling
A master's in counseling degree is a good choice for individuals interested in providing support services to individuals, and family and group members to help them lead healthier and more productive lives. Counseling master's degrees are available in a range of specific major titles, including Child and Adolescent Counseling, Clinical Mental Health Counseling, Marriage and Family Counseling, Rehabilitation Counseling, School Counseling, and Substance Abuse and Addiction Counseling.
Additional Resources for MFT Students and Professionals