Written By


last updated
01/18/2022
2022's Best Online Bachelor's Degrees in Psychology
When you begin your search for an online bachelor's degree in psychology, you have a number of school options from which to choose. It can be tough to compare all the differences when it comes to flexibility, affordability, and accreditation. To help, we've profiled three of today's best online psychology programs at the bachelor's level, which includes detailed information on the information you need to make a decision: courses offered, costs encountered, and career prospects once you graduate. See which schools are making a difference in 2022.
Drexel University Online

The online Bachelor's Degree in Psychology program at Drexel University focuses on rigorous, evidence-based methodologies to prepare graduates to move directly into the field of their choice that requires a strong background in understanding human thought and behavior. This Bachelor of Science research-based degree organizes the 180 required quarter credits into four 10-week quarters, thus allowing students to take more courses in a shorter period of time. The result can be completing the program in much less time; how much less depends upon the credits transferred in from other work. Students can transfer up to 135 quarter credits (the equivalent of 90 credit hours) into the program, mostly in general education requirements.
Drexel University makes it easy to apply with a simple application, requiring only standardized test scores and transcripts. Rates for online courses are $530 per credit for the 2020-2021 school year, which is a substantial savings from the usual $883 per credit.
Penn State World Campus

The Bachelor of Arts in Psychology program through Penn State World Campus requires 123 credits, with the core courses focused on the broad principles of psychology, preparing students for work in business, education, rehabilitation therapy, and more. Of those 123 credits, 39 are in general education, 13 are in electives, and 50 are required for the major (with three internship credits optional). Basic research methods are driven home in this program, and a capstone is required to complete the degree.
Once admitted to the school, students begin work on their Entrance-to-Major (ETM) requirements, which includes certain prerequisite courses that prepare them to declare psychology as their major. For transfer students or those who already have some college under their belt, their work will be assessed; some might meet the ETM requirements immediately, and move directly into the major. Rates for Fall 2020 admission are $576 per credit (please note this is a discounted rate due to the financial strain of COVID-19 on many students).
Oregon State University

Oregon State University offers numerous degrees through the ECampus, including the choice of a B.A. or B.S. in Psychology. Accredited by the Northwest Commission on Colleges and Universities, students learn the core of psychology study, theory and research, including the finer points of personality, abnormal psychology, human development throughout the lifespan, cognition, behavior modification, health psychology, and the relation of brain to behavior.
Each program requires 180 credits at a rate of $318 per credit, making for an affordable option. Students have a choice in delivery; they can take the program fully online or opt for a hybrid or in-person delivery. With four start dates each year, asynchronous classes, and the potential for additional internships, OSU ECampus intends to make their program flexible for those who are working or otherwise engaged in life outside of their education.
Inside the Online Bachelor's Degree in Psychology
Before diving into a psychology program at the bachelor's level, you want to understand what you're getting into. Learning outcomes, common courses, and concentration options can help you determine your direction. Let's take a look at everything from the starting curriculum to what you can expect to make when you graduate and move into your chosen position in the field.
What you learn in an online psychology program at the bachelor's level
Though each program is different, many of the topics and courses may be very similar; those who study psychology need a certain base of knowledge and skills to successfully perform their jobs or move into a higher educational level. Here are five core learning outcomes you'll encounter in many four-year psychology programs.
A Strong Base of Knowledge and Skills: Students should be familiar with the major concepts of psychology, as well as theory, important research findings, and the historical trends in psychology overall. They should have the ability to look at evidence from an objective point of view, reflect on values that are inherent to psychology as a discipline, and be open to exploring the questions we still have about the brain and human behavior.
Critical Thinking and Application: Students hone their critical thinking and creative thinking skills, learn the art of skeptical inquiry, learn how the scientific approach can be used to find solutions to problems relating to behavior and mental health, and apply what they've learned to personal, social, and organizational issues.
Communication Skills: Students develop solid communication skills, including the art of writing, public speaking, talking to groups, handling tense situations, and crafting everything from patient reports to public statements. They also demonstrate significant confidence and competence in the use of technology for communication purposes.
Broader View of Values and Ethics: Students understand and embody the ethical principles of the field, as well as learn to weigh evidence, tolerate ambiguity, uphold legal standards and best practices, and appreciate that not all cultures are the same in their boundaries of ethics and law. They should also be able to look objectively at differences as they examine sociocultural and international diversity.
An Understanding of Influences: Throughout their degree pursuit, students learn about the various influences on human behavior, including sensation and perception, consciousness, sexuality, gender and diversity, intelligence, memory, stress and health, traumas, disorders, treatments and their outcomes, and social considerations, among others.
Popular Courses in Psychology
Advanced Research Methods in Psychology
Students learn to design research programs, understand research purposes, evaluate the data that comes from that research, and learn about the proper ways to collect that data. They perform data analysis as they master the various formats in which to deliver the results to peers, clients, and the public.
Psychology: Science and Profession
This course look sat psychology from a scientific standpoint, including the history of it, how we came to understand the human mind and behavior as we do now, and how the scientific method fits in with solving problems in counseling. This course also looks at psychology as a profession, including the application of solutions and treatments, and ethical and legal issues in the field.
Industrial/Organizational Psychology
This course dives into the world of business, organizations, government, and more – anywhere that a group of people work together. Students examine the act of selecting, training, supervising, and motivating individuals within an organization, all within the framework of psychological theories and research.
Students perform group and individual work on experimentation, collection of data, analyzing their findings, and understanding the parametric and nonparametric statistical topics that they encounter during their work in the psychology field. They also learn how to convey the statistics for both peers and those who are not in the field.
Abnormal Psychology in Children and Adolescents
This course looks at the abnormal psychology of young people as it develops, including the theoretical perspectives – including psychodynamic, humanistic, physiological, sociocultural, and behavioral. Students learn about the etiology, classification, treatment, and assessment of mental health and disorders in young people.
What concentrations are available for a psychology bachelor's?
At the bachelor's level, there are numerous paths toward specializations presented to you. These concentrations allow you to better tailor your educational experience to earn the knowledge and skills you need to steer your career in the direction you choose. Here are some of the common ones:
Those who intend to move forward with their education and earn the doctorate in order to become a psychologist should consider this concentration, which focuses on the mental health professions, counseling, client-therapist interactions, assessment and diagnosis, interventions, treatments, and how these can be different for each individual based not only on their personal needs, but on their cultural beliefs as well.
Learn more about online psychology degrees specializing in clinical psychology.
This program prepares students to work with those who have substance and other addictions, various treatment settings that are designed to keep those addictions in check, methods to teach individuals to stay on track with recovery, and a deep understanding of addictive behavior and behavioral training. In some states, this concentration might prepare students to work as addition counselors.
Industrial/Organizational
Students study workplaces, organizations, and businesses, including the individuals who keep those institutions moving. They learn about hiring and firing, training employees, theories on how to keep employees happy, employee motivation, health and well-being, organizational leadership and that leadership's relationship to the employees, and much more. This is an ideal concentration for those who intend to go into human resources.
Learn more about online degrees in industrial organizational psychology and see if this specialization is right for you.
This concentration focuses on working with groups, rather than individuals, and seeing how people interact in those group settings; the give-and-take of interactions, the hierarchy that naturally emerges, and how these things can affect the mental health of a person and the collective health of a group. These students often work in healthcare, criminal justice, community centers, and the like.
Child and Adolescent Psychology
This focuses on the unique ways that behavior emerges and changes during childhood and adolescence, while looking at the wide-ranging ways different experiences, environments, traumas, and the like affect the mental health of children as they age. There might be a special emphasis on special needs children, childhood traumas, terror-related traumas, issues with abandonment and parenting problems, and more.
Learn more about child psychology degree programs available through online or blended study.
Students in this concentration learn about the various behaviors to expect from students in a school setting, including the basis of the issues and solutions that can lead to better mental health, for the student and for the school population as a whole. Even within this concentration, students can drill down further to work with elementary, secondary, or special needs education, or focus on certain points, such as bullying, mental health crisis, peer influence, and the like.
Learn more about online school psychology programs and find top colleges offering them.
How long does it take to earn an online bachelor's degree in psychology?
Earning the bachelor's in psychology typically takes four years of full-time study; however, the time can be longer or shorter, depending upon certain factors. Those who choose to study part-time could see the degree pursuit last longer than four years. Those who take an accelerated program, however, could finish within a matter of three years. Those who have already earned an associate degree in psychology or a different field can complete their bachelor's degree in a year or less, given transfer credits and an accelerated schedule. Check with your potential school to learn what options are available to you.
Can I get into an online psychology bachelor's program?
Getting into the bachelor's program in psychology can vary from one school to another, but all will have some admissions criteria that remain the same. What you'll need depends greatly upon whether you already have an associate degree, and if your college has an articulation agreement with the school you intend to earn your bachelor's degree from; if that's the case, then you might be able to simply present a transcript and an application to earn a smooth transition into the bachelor's program.
If you're approaching the bachelor's program without an associate degree under your belt, you'll need the following:
Official transcripts from high school and any college courses
A minimum GPA (usually 2.0)
Letters of recommendation
A personal statement or essay (if required)
Standardized test scores, such as those from the ACT or SAT
A completed application
Some programs might require other items; check with the school to be sure before you begin the application process.
How much does an online bachelor's degree in psychology cost?
The costs of a program will vary depending upon a variety of factors. How long the program will take – and how many credits you bring to the table – can make a difference. There's also the question of where you live, as even online schools can sometimes base their tuition on in-state versus out-of-state. There's also the question of how much funding you have to cover the costs. Here are a few schools and their tuition costs, to give you an idea of what you're looking at in terms of that all-important bottom line.

Ashworth
College
Total Credits: 120
$93/credit

University of
Missouri
Psychology: Online Bachelor's Degree
Total Credits: 120
$299/credit
Paying for Your Online Psychology Degree
Before moving into any sort of degree program, it's important to figure out how you're going to pay for it. Tuition can be a meaningful expense no matter where you go, but the good news is that financial aid can help you meet that need. Here are some ways to fund your online bachelor's degree in psychology:
Scholarships and grants are the most popular among financial aid options, mostly because they don't have to be paid back. This free money for school can come from a variety of places, from federal and state government to schools to local organizations. To get started finding scholarships and grants for your psychology degree, check out our scholarships and resources guide for psychology students.
Scholarships and grants might not cover the total cost of tuition, fees, and any additional costs. Student loans are a good option to cover the shortfall. In many cases, student loans come along with low interest rates that don't accrue as long as you're in school, as well as delayed repayment for up to six months after graduation. To learn more about loan options, visit our student loan guide.
There are other options that can help you pay for the bachelor's in psychology degree. For instance, an employer might offer to pay your tuition in exchange for your agreement to work for their company for a certain period of time. Or you might snag a work study program that allows you to put your paycheck toward tuition. Internships are also a potential option. Check with your school for a few more out-of-the-box ideas.
Learn more about securing financial aid for your bachelor's in psychology degree
What's After Your Bachelor's Degree in Psych?
When you move into the working world, some careers in psychology require a license or certification. The bachelor's degree opens doors to some of those, so it's important to understand exactly what you can do with your degree – and which careers might require you to go a bit further with your education.
What can you do with an online bachelor's in psychology?
An online bachelor's degree in psychology can open doors to careers in human resources, counseling, corrections, social work, human services, and much more. In fact, a psychology degree can serve as the basis for any number of jobs, as it provides such a broad understanding of human behavior and how to communicate with others. Some of the careers available to those with a psychology degree pay a higher than average wage, and have a higher than average expected job growth; for instance, jobs for substance abuse counselors are expected to grow by 22% between 2018 and 2028, while jobs for community service workers should increase by 12%. Let's take a look at the variety of jobs and their potential pay.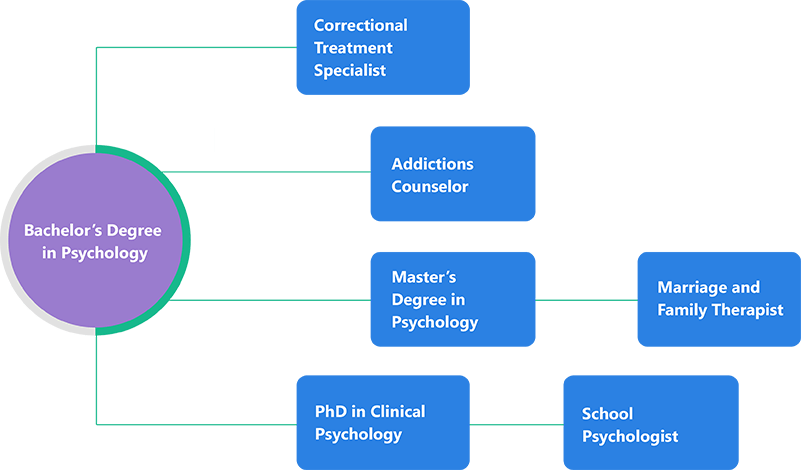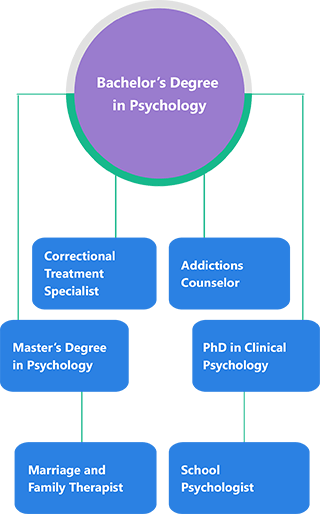 How much can you earn with an online bachelor's in psychology?
What you can earn after graduation with an online bachelor's in psychology depends upon a number of factors, including your geographical location, which career path you choose, the availability of jobs in the profession, and much more. However, it's important to remember that those who earn their bachelor's degree historically make more than those who hold an associate degree. Let's take a look at some of the common career options after the bachelor's and the pay you might expect from each.
Continuing Education & Related Degrees
Once you've earned the psychology bachelor's degree, you might be considering moving forward with your education. The bachelor's is a great start in psychology, but if you want to work as a therapist or a psychologist, most states require you to obtain further education and training. In addition, take a look at related degree programs, such as those in sociology or social work, that might suit your career goals just as well as the bachelor's degree in psychology. Let's take a look at the options.
Continuing Education Opportunities
Those with a master's degree can move into areas that might require a license or certification, such as work as a marriage and family counselor. Supervisory roles could open up as well, in areas like human resources, human services, higher education, market researcher, project coordinator, and the like. It can also prepare students to continue on to earn their PhD while working in the field, as many master's degrees in psychology are delivered entirely online.
Those who want to become fully licensed and earn the right to be called a "psychologist" must first earn their doctoral degree. The PhD opens up doors to research in private organizations, colleges and universities, government programs, and more. But it can also allow graduates to work directly with clients in clinical settings. This degree often takes between four and seven years to complete if coming into the program with a bachelor's degree.
Related Degrees to Consider
Bachelor's Degree in Social Work
This degree offers students a foundation in broad social work practice. The degree pursuit will focus on policies, research, theories, and the hands-on work involved in social work positions with clinics, agencies, private organizations, and more. This degree is great for those who want to get started in social work as they gradually work their way through the master's program and gain more responsibility.
Bachelor's Degree in Human Services
The degree in human services contains elements of psychology, sociology, criminal justice, and social work – and opens doors to work in any of those four fields, among others. Those in human services might work as case managers, social workers, assistants to those in counseling services, corrections, and more. This degree can be what drives a person to their dream career, and can also serve as the basis of numerous directions a person can take with a master's degree.