Written By


last updated
09/06/2023
Best Online PhD Programs in I/O Psychology: 2024
As online PhDs in I/O psychology become more widely available, finding the one that meets your educational and professional needs can take time. While you may value the flexibility of a degree above all, others may need a program that's more affordable. EduMed's rankings provide information on the top I/O psychology PhDs for 2024 and highlight what you should look for when creating and narrowing down your school list. Review some of the best programs in the field today.
or
About the ranking
X
Base Methodology for EduMed's Best Online College Rankings for the '23-'24 school year.
One: Create list of Eligible Schools and Programs
To be eligible, schools were required to meet the following criteria based on data pulled from The Integrated Postsecondary Education Data System (IPEDS), which was self-reported by the schools themselves.
Institutional accreditation from an organization recognized by the U.S. Department of Education.
At least 1 online component in a program within the ranking-subject area.
Two: Assign Weighting
After creating the list of eligible schools, EduMed data scientists assigned weights and ranked schools based on a mix of metrics, which were all self-reported by the schools themselves to the U.S. Department of Education and IPEDS.
The metrics are listed below in order of most- to least-heavily weighted.
Online Programs – Number of online programs in the relevant subject area.
Online Student % – Number of total students who are enrolled in at least 1 distance-learning course in the relevant subject area.
Tuition – The average in-state tuition for undergraduate students studying full-time, as self-reported by the school.
Academic Counseling – Existence of this service on campus or online.
Career Placement Services – Existence of this service on campus or online.
Student/Faculty Ratio
About Our Data: EduMed's rankings use the latest official data available from The Integrated Postsecondary Education Data System (IPEDS). Most recent data pull: July 2023
#

School Name

Type

Tuition

Online Programs

More Details

School Information

Online Students

Academic Counseling

Career Placement

Students w/Institutional Aid

Median Earnings 10yrs After Entry

Accreditation

1

Alliant International University-San Diego

San Diego, CA

Private for-profit

$$$

1

The PhD in Industrial and Organizational Psychology at Alliant University is offered online, in a hybrid format, or in person with classes at the Los Angeles campus. In this program, you'll acquire competence in multiple aspects of organizational psychology, including consultancy, analytics, theory, organizational intervention, and business skills. You'll also engage in original research by completing a dissertation with the aid and supervision of a faculty mentor.

Program Highlights:

PhD in Industrial and Organizational Psychology

Credits: 66
Length: 3 Years
Cost: $1,270 per credit
Mode: In person, hybrid, and online
Accreditation: WASC Senior College and University Commission (WSCUC)

Academic
CounselingYes
Career
PlacementYes
Student/
Faculty Ratio5/1
Online
Student %100%

2

The Chicago School of Professional Psychology at Los Angeles

Los Angeles, CA

Private not-for-profit

$$$$

1

The PhD in Business Psychology with a focus on industrial and organizational psychology at the Chicago School of Professional Psychology is flexible to best meet your circumstances. It can be completed post-bachelor's or post-master's and online or in person at one of several campuses. Whatever mode and timeline you choose, expect a comprehensive curriculum in organizational and business psychology. If you're studying online, you'll also complete a residency for face-to-face experience. Applicants need an undergraduate GPA of 3.0 or higher, and those who have not completed a master's must submit GRE scores with their applications.

Program Highlights:

PhD in Business Psychology: Industrial and Organizational Track

Credits: Varies
Length: 3-5 Years
Cost: $1,703 per credit
Mode: In person and online
Accreditation: WASC Senior College and University Commission (WSCUC)

Academic
CounselingYes
Career
PlacementYes
Student/
Faculty Ratio5/1
Online
Student %90%

3

Keiser University-Ft Lauderdale

Fort Lauderdale, FL

Private not-for-profit

$$$$

1

Keiser University offers a fully online PhD in Industrial and Organizational Psychology. You'll take foundational courses in graduate-level psychology and relevant research ethics in addition to courses on organizational applications of psychology and research design. A large portion of the degree takes the form of original research as you design and complete your dissertation project. Applicants are strongly encouraged to hold a master's degree from an accredited institution in a relevant field before applying, but no GRE is required.

Program Highlights:

Industrial and Organizational Psychology, PhD

Credits: 60
Length: 36-48 months
Cost: $35,212 total
Mode: Online
Accreditation: Southern Association of Colleges and Schools Commission on Colleges (SACSCC)

Academic
CounselingYes
Career
PlacementYes
Student/
Faculty Ratio16/1
Online
Student %63%
Adler University

Adler University's PhD in industrial and organizational psychology exists fully online, never requiring you to visit the Chicago campus for residencies. Designed to support working students, the university uses a cohort model whereby newly admitted learners start and progress through the program together. The online learning management system, Canvas, makes it possible to engage in video lectures and presentations, contribute to discussion boards, play interactive games, and take part in simulations and role-playing.
The PhD in industrial and organizational psychology requires the completion of 75 credits, 12 of which relate to the dissertation. Mandatory coursework includes studies in advanced talent management and motivation, advanced research methods and design, advanced training and development training, and attitude theory, measurement, and change. To cap off their time at Adler, learners participate in a social justice practicum. Faculty members all possess doctoral qualifications alongside substantial industry experience.
Liberty University

Liberty University offers a PhD in psychology with an emphasis in industrial/organizational psychology. This degree can be completed fully online in an average of three years. All told, students must pass 60 credit hours in topics such as organizational behavior and development, psychological research and biblical worldview, and theories and research in industrial/organizational psychology. Each class lasts eight weeks, making it possible to move through material more quickly than a semester-based schedule. Learners may also transfer up to 50% of required credits from a previous program.
Applicants must possess a 3.0 GPA or higher, 12 hours of undergraduate psychology coursework, and departmental approval. They'll need to submit two letters of recommendation, a statement of purpose, and an application fee. Learners who are current members of the military or veterans receive a discount, paying only $300 per credit. Liberty University's evangelical Christian beliefs inform every aspect of the institution's policies, from hiring practices to curriculum.
FAQs About Earning Your PhD in Industrial Organizational Psychology Online
Before committing yourself to years of studying – not to mention the financial responsibilities that come with a graduate degree – it's important to do your research. Learning about factors such as cost, curriculum, career prospects, and faculty can help you make an informed educational decision. Here are key answers to questions that many prospective students ask before pursuing an I/O psychology PhD.
Can you earn an organizational psychology PhD completely online?
Because every online PhD in industrial organizational psychology is different, the answer to this question will vary by school. Some offer fully online programs that never require learners to visit campus. Others host several short residencies that mandate attendance. Regardless of how your chosen school handles the coursework component, all learners enrolled in these programs must participate in one or two practica to build experience in a professional setting. Internship advisors usually work with students to find a suitable business near where they live.
What do you learn in an industrial-organizational psychology program at the PhD level?
No two industrial organizational psychology online doctorate programs are the same, but they should have some similar courses and learning outcomes. As you continue reviewing potential programs, you will get a better sense of these commonalities while also identifying how each program differs. All programs will have some element of study on organizational behavior and mindsets while also emphasizing the development of research methods. Some of the other top learning outcomes include:
An in-depth knowledge of industrial organizational psychology's origins as well as an appreciation for the tasks and responsibilities of professionals in this field.
The ability to identify and implement processes and policies that help create a supportive work environment while training leadership on how to use them properly.
A full grasp on how human behaviorism informs the discipline and how data can be used in hiring, training, and management practices to create greater employee satisfaction.
The ability to appreciate and prioritize the benefits gained, both in terms of company culture and output, by creating and implementing hiring practices that support diversity.
Create programs and address workplace issues brought forth in multigenerational groups of staff, with emphasis on conflict management and improved efficiency and effectiveness.
Common Courses in Online I/O Psychology PhD Programs
Leadership and Management
This course examines prevailing theories and systems used in creating effective leaders and managing staff in a caring and informative way. Much of the course focuses on reviewing literature on the topic, but students also perform self-assessments to better understand how they function as leaders.
Understanding Professional Motivations and Attitudes
Many leaders and managers spend their days trying to learn how to improve motivation and attitudes of staff within their companies. This course looks at common strategies for accomplishing these goals while also looking at tools for managing workplace conflict and misbehavior.
Organizational Development
This survey course provides an overview of theories, frameworks, and practice models for both helping organizations develop and guiding them through times of growth and change. Students consider how leadership strategies and approaches can help or hinder development.
Industrial Organizational Consulting
Because many industrial organizational psychologists function in a consultancy role rather than working in-house at a single company, this course explores the tools they will need to be successful in these roles. Learners consider techniques for providing consultative services and how to grow your business.
Usually taken in the first year of studies (with additional classes throughout the degree, research methods provides an overview of the qualitative and quantitative data analysis tools commonly used within industrial organizational psychology. Subjects reviewed in the class include data collection and analysis alongside theories of qualitative methods.
What specializations or concentrations are available in I/O psychology PhD programs?
Industrial organizational psychology, while already a subfield under general psychology, still functions as a large discipline. Because of this, some schools provide additional specializations for students who want to focus their studies in a niche area. We look at a few common options below.
This subdiscipline and specialization focuses on individuals in an organization versus the organization as a whole. Students look at the structure and requirements of individual jobs and how those can be restructured or changed to create greater synergy, productivity, or satisfaction within the overall workforce.
Organizational Psychology
Organizational psychology, unlike industrial, looks at companies and businesses as a whole to assess how it can be improved. Organizational psychologists consider how systems, policies, and procedures contribute to overall goals and the mission of a company.
Students who select this concentration examine how human factors affect the overall functioning of professional businesses. Taking into consideration the studies of human engineering, ergonomics, and systems management, learners consider how to structure companies in a way that leads to better outcomes.
How long does it take to get a PhD in industrial organizational psychology online?
Before embarking on your path to an online PhD in industrial organizational psychology, it's worth getting to grips with the various timelines available. On average, most students spend between four to five years completing coursework requirements, practica/internships, and their dissertation. Motivated learners who enroll in an accelerated program may graduate in as few as three years, as may those who already completed credits at a previous institution. Those studying on a part-time basis may need up to seven years to meet all requirements for graduation.
What do I need to get into an online I/O psychology PhD program?
As with other components, the admission requirements for an online PhD in industrial organizational psychology are set by individual schools and can vary substantially. Doctorate programs, in general, tend to be highly competitive, as most departments only accept a few students each year. Some of the components you'll likely be required to submit as part of the application process include:
Official transcripts demonstrating a minimum GPA and evidence of completing all prerequisites
GRE or GMAT scores
Professional and academic letters of recommendation
Statement of purpose
Faculty member interview
How much does an online organizational psychology PhD program cost?
The cost of online PhD in industrial organizational psychology programs varies substantially based on several factors. In-state tuition is almost always cheaper than out-of-state or private school fees, while the amount of time taken to graduate is also a factor. Many schools charge semester-based fees that can quickly add up. Lastly, financial aid also plays a big role. Learners who secure scholarships, grants, and other types of support can dramatically offset the final price tag.

PhD in Industrial Organizational Psychology
Total Credits: 60 credits
$695/credit

PhD in Industrial Organizational Psychology
Total Credits: 104 credits
$540/credit

PhD-B.A. in Industrial/Organizational Psychology
Total Credits: 60 credits
$1,131/credit
Funding Your Online I/O Psychology PhD
Given that the cost of higher education continues to rise each year, lining up funding before starting a degree can make or break your experience. If you're not sure where to start, that's okay. The following section looks at the different types of financial aid available.
Pursuing scholarships and grants is a great decision given that these types of funding don't need to be repaid. Many universities and psychology departments offer scholarships and grants, as do government agencies, professional associations, and grantmaking foundations.
Student loans offered by the federal government offer fixed interest funding that can help bridge the gap between available funds and cost of attendance. These should usually be your last option given that both the principal and accrued interest require repayment.
At the graduate level, it's not uncommon to find research and teaching assistantships offered by schools. While highly competitive, they often provide tuition remission and/or a stipend. Internships and fellowships sometimes also offer funding in exchange for work on a project. These are also quite competitive, so it's best to start your search early. Lastly, some students qualify for federal work-study funds that allow them to work at the school in exchange for funding.
Learn the ins and outs of financial aid for your online PhD in I/O psychology.
Reviewing Accreditation for PhD I/O Psychology Degrees
Finding an accredited online PhD in industrial organizational psychology is incredibly important given that licensure boards, hiring managers, and admissions panels all look for this detail when making decisions about your future. Accreditation divides into two types, institutional and programmatic. You'll likely come across both national and regional accreditation when looking at schools as a whole and should select contenders that hold regional accreditation. This signals a more rigorous vetting process than national.
The American Psychological Association doesn't accredit industrial organizational psychology programs at this time, making institutional accreditation all the more important. You can use the U.S. Department of Education's Database of Accredited Postsecondary Institutions and Programs to research potential schools.
Career Opportunities for Industrial Organizational Psychology PhDs
Plenty of career opportunities can be found after you graduate. Because industrial-organizational psychology spans so many different industries and employer types, take time to consider the type of setting that works best with your professional and financial needs.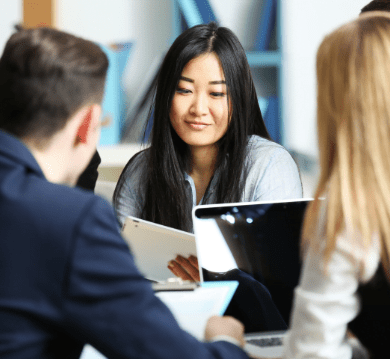 What can I do with PhD in industrial/organizational psychology?
Once you graduate from a PhD in industrial organizational psychology, your career prospects look good. While some alumni decide to work in consultancy roles, partnering with a bevy of clients to troubleshoot lingering organizational issues, others decide to work in-house at a single company. Others decide to use their talents and knowledge of human resources issues to help improve staffing.
As a doctorate holder, you also qualify for several high-level academic and research roles. If you want to study the trends and data involved in organizational development, working for a think tank or other research facility may best suit your needs. If you like the thought of helping the next generation of industrial organizational psychologists learn about the discipline, consider pursuing a job as a university professor.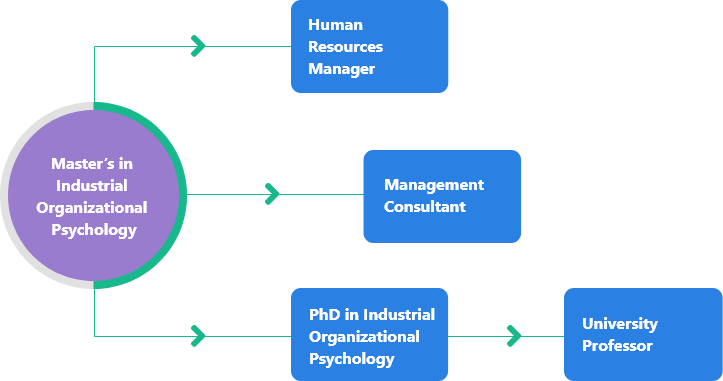 How much can you earn with a PhD degree in industrial/organizational psychology?
Graduating from an online PhD in industrial organizational psychology puts you on the path to earning a substantial salary, though actual figures vary based on your chosen career. Have a look at the table below to get a better understanding of what to expect in terms of pay.
Do I need professional certification or a state license to work as an industrial organizational psychologist or similar roles?
Some but not all states require industrial organizational psychologists to receive and hold licensure when practicing. Attaining a license often requires the candidate to hold an accredited PhD or PsyD, complete supervised experience, pass the EPP exam, and pass any state-level examinations. You should check with your local state board of psychology to learn about the specific steps in your area.
The Society for Industrial and Organizational Psychology also regularly shares updates in the field, including licensure and continuing education requirements. Certification is not typically required, but it can help you stand out from other job-seekers and demonstrate knowledge in a particular area of the discipline.