Written By

last updated

09/15/2022
2023's Best Online PhD Programs in Psychology
Psychologists are important figures in a range of professional fields: social work, education, research, and in psychology itself. They need a high-caliber education to meet the demands of these careers. There are multiple online psychology PhD programs from which to choose, but when accounting for flexibility, cost, and online degree options, the following programs stand above the rest.
or
About the ranking
X
Base Methodology for EduMed's 2023 Online College Rankings
1. Create List of Eligible Schools and Programs
To be eligible for this ranking, schools were required to meet the following criteria based on government data provided by The Integrated Postsecondary Education Data System (IPEDS).
Institutional accreditation from an organization recognized by the U.S. Department of Education.
At least one program in subject area offered partially or fully online.
2. Assign Weightings
After creating the list of eligible schools, EduMed data scientists assigned weights and ranked schools based on a mix of affordability, support services, and online program availability metrics. Online program availability and overall affordability metrics received the heaviest weightings.
Online Program Availability
Number of online programs in subject area reported by school to the U.S. Department of Education.
Affordability
Cost

– Relative cost of attendance compared to peer schools on the list. Based on tuition and fees per academic year.

Students w/ Institutional Aid

– Percentage of students who receive financial aid from the school itself.
Support Services
Academic Counseling

– Existence of this service on campus or online.

Career Placement

– Existence of this service on campus or online.
About Our Data
EduMed's rankings use the latest official data available from The Integrated Postsecondary Education Data System (IPEDS). Most recent data pull: July 2022
#

School Name

Type

Cost

Online Programs

More Details

School Information

Online Students

Academic Counseling

Career Placement

Students w/Institutional Aid

Median Earnings 10yrs After Entry

Accreditation

1

Liberty University

Lynchburg, VA

Private not-for-profit

$$

2

Liberty University offers an online PhD in psychology. With this program, students learn more about human behavior in a unique learning format. The program is 100% online and courses are eight weeks long. The short course length allows students to finish their degree faster, sometimes as little as three years! While all classes are online, there's optional in-person networking events to develop community among students and the department's faculty. Additionally, students are trained in psychiatry as well as psychology.

Program Highlights:

PhD in Psychology

Credits: 60
Cost: $595/credit
Length: 3 years
Mode: Online

Academic
CounselingYes
Career
PlacementYes
Student/
Faculty Ratio19/1

Accreditation

SACSCOC

2

Walden University

Minneapolis, MN

Private for-profit

$$$

5

Walden University offers a versatile PhD in psychology that's perfect for the 21st century. The curriculum is designed to not only help students develop a doctoral skill set, but to also adapt those skills to modern context. Because of this devotion to a 21st century education, the program is offered fully online. Classes are collaborative and on a synchronous schedule. They also offer three lengths of the program, depending on if applicants have their bachelor's, master's, or want to do a fast-track option. For added flexibility, students can take electives in six specializations: educational psychology, health psychology, research in psychology, social psychology, teaching in psychology, and self-designed.

Program Highlights:

Doctorate in Psychology

Credits: 70
Cost: $600/credit
Length: 3-8 years
Mode: Online

Academic
CounselingYes
Career
PlacementImplied no
Student/
Faculty Ratio32/1

Accreditation

HLC

3

Capella University

Minneapolis, MN

Private for-profit

$$$

3

With Capella University, students can get their doctorate in psychology online without sacrificing the quality of their education. There are four online degree programs for students to choose from: a PhD in general psychology, educational psychology, organizational psychology, or developmental psychology. Since all the courses are designed to be taken online, the program is optimal for online learners. Plus, the program's course schedule and flexible learning format is perfect for working professionals. While classes are synchronous, the dissertation is not and classes are offered at a variety of times throughout the day.

Program Highlights:

PhD in General Psychology

Credits: 87
Cost: $545/credit
Length: 4-6 years
Mode: Online

PhD in Educational Psychology

Credits: 87
Cost: $545/credit
Length: 4-6 years
Mode: Online

PhD in Organizational/Industrial Psychology

Credits: 87
Cost: $545/credit
Length: 4-6 years
Mode: Online

PhD in Developmental Psychology

Credits: 87
Cost: $545/credit
Length: 4-6 years
Mode: Online

Academic
CounselingYes
Career
PlacementImplied no
Student/
Faculty Ratio17/1

Accreditation

HLC

4

Northcentral University

La Jolla, CA

Private not-for-profit

$$$$

1

Northcentral University hosts one of the most flexible PhDs in psychology. Not only are all classes online, many are asynchronous and can be taken at a student's own pace. Additionally, they can start the program whenever works best for them as the program has a weekly start date each Monday instead of on a semester-by-semester basis. Along with weekly course starts, students can also customize their electives to fit their interests. Students can choose from a variety of electives and specializations including industrial psychology, gerontology, trauma and disaster relief, counseling psychology, health psychology, and more.

Program Highlights:

PhD in Psychology

Credits: 60
Cost: $1,114/credit
Length: 46 months
Mode: Online

Academic
CounselingYes
Career
PlacementImplied no
Student/
Faculty Ratio3/1

Accreditation

HLC

Walden University's PhD in Clinical Psychology combines online and in-person experiences to help prepare graduates for research, academic and practitioner careers. For instance, Walden's Academic Year in Residence (AYR) gives students the chance to put their knowledge in practice over a four-term period working with peers and faculty. This is an excellent opportunity to build a professional network and gain the necessary hands-on experience to thrive in the psychology field. Residencies, practica and internships throughout the PhD program also work to support in-class knowledge and offer opportunities to apply that knowledge in practical, real-world settings.
Students can tailor their experience through four specialization tracks—forensic psychology, health, teaching and industrial and organizational psychology—or they can take the general clinical psychology route. Up to 45 credits can be transferred, but a master's degree is not required for admittance. Walden has flexible start dates and regularly offers scholarships and limited-time savings to help offset tuition costs.

Northcentral University offers a highly flexible online PhD in Psychology, with eight specializations and start dates every week. NCU does not require any in-person residencies, either, so it's a great option for people who can't travel to campus for extended periods of time. Northcentral is also unique in its program delivery: classes are taught one-on-one with students working with mentoring professors, all of whom hold doctoral degrees. Five full-tuition scholarships are available to new students.
While most of NCU's specializations do not prepare for licensure, they do offer a licensure track for counseling psychology students looking to practice in California. Along with their licensure and non-licensure counseling psychology specializations, Northcentral offers tracks in addictions; gender and sexual fluidity; gerontology; health psychology; industrial and organizational psychology; mental health policy and practice; and trauma and disaster relief.

Capella University offers a competency-based online psychology PhD program comprising both online learning and in-person experiences. Their GuidedPath program structure helps keep students on track with their education while providing flexibility in both cost and course load. Students take 1-3 courses per quarter depending on what their schedule and finances can handle. They still get to engage in online discussions with peers and have deadlines set for them. It's customizable without being fully self-paced, and students have a support system of peers and professors throughout their whole program.
Specialization and elective courses allow students to tailor their degree to their interests, and students begin working on their dissertations right away rather than in the last few terms of the program. This allows for extra time to understand the dissertation process and work with faculty on the project itself. Capella also offers scholarships and discounts to help curb tuition costs.
Understanding Online PhDs in Psychology
Weighing your online psychology PhD program options is critical when choosing a degree program for you and your professional goals. Programs can vary widely in the courses and specialties they offer, licensure preparation, in-person components, and cost. Here are some key things to look at when comparing online psychology PhD programs and deciding where to apply.
What you learn in your online psychology PhD program
No two online psychology PhD programs are the same, and even more variety in curricula pops up when factoring in specializations. That said, there are some common academic focus areas that tend to show up consistently in different psychology PhD programs online, as well as skills and areas of knowledge that many programs expect students to gain by the time they complete their degrees.
Advanced Research: A solid understanding of both basic and advanced research methods and a highly-developed ability to critique and evaluate research can help students engage in scholarly pursuits and conduct independent research.
Multicultural Awareness and Training: Working effectively with diverse populations is aided by trauma-informed and multicultural training in clinical, consulting and supervisory settings. Students should develop an understanding and be able to describe the impacts of race, culture, socioeconomics, age, gender, sexual orientation and disability on different aspects of psychology.
Discipline-specific Science and Theory: Students should understand and be able to explain key scientific and theoretical components of their particular area of focus, including the history and development of that discipline and its impacts on research and clinical practice.
Ethics and Cultural Sensitivity: Laws, ethics and cultural awareness in psychology research and practice are necessary for successful client and peer relationships and impactful, useful research in psychology.
Self-Reflection: Engaging in regular self-reflection during research and practice helps psychologists check their own biases and assumptions, which is necessary not only in personal improvement but in developing impartial research and providing aid without judgement.
---
Common Psychology PhD Courses
Psychology and Social Change
This course focuses on both social and personal change, including the impact of various social change theories on different populations. Power dynamics, social and ethnic inequalities, gender and sexism issues and other topics may be explored, as will the role of the psychologist as a catalyst for change.
Advanced Qualitative Analysis
Students can hone their skills in various qualitative research methods, like case study and ethnography, and gain a deeper understanding of when to use various qualitative research methods. This course can aid in dissertation research and research beyond graduation.
Psychology Systems and History
This course aims to provide students with an understanding of the history of psychology, including the systems that played into its development, like structuralism, gestalt and psychoanalysis. Students may explore the role of psychology in light of different philosophical movements and perspectives and gain a deeper understanding of psychology's place in human culture.
In this course, students may focus on a single research topic specific to their specialization. In the process, they can learn how to effectively develop a research plan, apply research methods and adhere to ethics through individual and group tasks.
Students can explore in depth a research topic in a particular area of interest and specialty. Throughout their dissertation course, students will work with a mentor to develop and execute their projects. Upon completion, they must defend their dissertation and get approval from a committee.
What PhD specializations are available in psychology?
Psychology PhD programs are excellent opportunities to delve deeper into specific topics in psychology. Depending on your school, specialties may be listed as full degree programs or as specialized focus tracks within a general psychology PhD program. The following list is non-exhaustive but can give prospective PhD students an idea of how they can tailor their academic and professional development through their online psychology degree programs.
Ideal for mental health practitioners who want to further develop their clinical skills and knowledge, a counseling psychology specialization combines theory, research and practical application to help push licensed professionals further in their careers. Students may develop skills in psychopharmacology, cognitive and personality assessments and clinical supervision.
The Industrial/Organizational concentration gives students insight into workplace and leadership psychology and is a great option for students who want to apply their knowledge and research to businesses, education, government and other organizations. Topics can include leader-and-group dynamics, organizational design and development, influence, conflict management and professional development.
Specializing in cognitive psychology can help graduates pursue or further their careers in education, among other fields, as this concentration often focuses on how cognitive development and processes inform teaching methods and learning outcomes. Some programs focus their cognitive specialties on specific populations, like adult learners or learners with cognitive disabilities.
Psychology of Gender and Sexuality
In this specialization, students can explore sexuality, sexual orientation, gender, identity and expression along with the various factors from which they stem. Students may also learn about different ways to use their research and knowledge to positively impact their communities, apply their knowledge to mental health and counseling positions or become effective educators on the subject.
Psychology students who want to pursue careers in criminal justice may find forensic psychology to be of particular interest. Students can gain a greater understanding of the psychologist's role in the justice system and learn about risk assessment, testimony, profiling and legal and ethical issues in forensic psychology.
Psychology Education and Teaching
Teaching psychology at the postsecondary level requires knowledge and skills in teaching and psychology alike. Students may learn about and assess various instructional methods, techniques and designs and will explore teaching and instruction through a psychological lens. Use of technology, assessment and online course delivery may be addressed.
How long it takes to earn your online PhD in psychology?
Two main factors affect how long it can take to complete your PhD in psychology: your previous education and your dissertation. Students who enter their online PhD programs with a completed master's in psychology can usually complete their PhD in five to six years. Those who have earned a bachelor's degree or a master's degree in an area outside of psychology can expect their degree to take an additional two years or so, depending on their per-term course load.
Online psychology PhD programs typically require internships or practica and a research-based dissertation. Completion times for these components can vary widely depending on your personal schedule and the scope of your research project. Be sure to consider this and talk to a counselor to help you determine how long your PhD may take to complete.
Can you get into an online psychology PhD program?
Admissions requirements can vary between schools, so it's always a good idea to read through your school's admissions page and ask an advisor or specialist to clarify anything that seems unclear. Psychology PhD program admissions requirements generally include:
A bachelor's degree or higher from a regionally accredited school
A completed application with a fee
Official transcripts from all previously attended institutions
Minimum GPA requirements
It's important to note that some programs require that applicants hold a master's degree from a regionally accredited school while others accept bachelor's degrees as well. Those who already hold doctoral degrees may be restricted from applying, too, so check with your prospective school if anything is unclear.
Some programs also require GMAT or GRE scores, letters of recommendation, writing samples, a resume or curriculum vitae and a statement of purpose.
How much does an online psychology PhD cost?
The cost of an online PhD in psychology can depend on multiple factors, like the school, what level of education you have going into your program, any financial aid you secure, program duration and whether you receive in-state, out-of-state or special online tuition. The schools below help illustrate the wide range of pricing schemes and credit loads you may find in an online psychology PhD program.

PhD in Clinical Psychology
Total Credits: 179
$647/credit*

Doctor of Philosophy in General Psychology
Total Credits: 60
$695/credit

PhD in Psychology
Total Credits: 68-83
$1,470/credit
*Fielding lists tuition as $9,700/term and offers five- and six-year completion plans, so the number of terms required can vary.
Do you need to complete a residency?
In-person residencies are common requirements of psychology PhD programs, even ones delivered online. Prospective students should make a point of noting how many residencies their program requires and how long each residency lasts beforehand to make sure their program of choice is doable. For instance, some programs require multiple residencies that last only a few days each while others may require one residency that lasts a whole year.
Does an online PhD in psychology prepare for licensure?
Some online psychology PhD programs prepare students to sit for their state licensure exams, but not all of them do, so students should read their program descriptions carefully and ask for clarification if needed. Because licensure is state-specific, programs that do have licensure tracks may not offer preparation that meets the requirements of every state. Students seeking licensure preparation should make sure their program and their state's licensing requirements are in alignment before enrolling.
How to Pay for Your Online PhD in Psychology
Earning a PhD in psychology online is a significant step toward an advanced career in psychology, but it's also an investment not to be taken casually. Thoughtful financial planning before applying to an online PhD program can help ensure that you finish your degree on time with as little damage to your wallet as possible. Financial aid options are out there, so do your research early to offset the costs of your psychology degree.
Because scholarships and grants do not need to be repaid, prospective PhD students should dedicate a good amount of time to searching and applying for these types of aid. Your school or psychology department may offer scholarships, and you can also check out professional psychology associations, like the APA, and other organizations at the national, state and local levels to find scholarship opportunities. Our scholarships guide can also point you in the right direction.
If gift aid like scholarships and grants won't cover your tuition, you can apply for loans through the FAFSA or directly through your school's financial aid office. Private loans are also available, but they tend to have higher interest rates, making them less desirable for students. For more information about which loans to get and how, take a look at our student loan guide.
Students may be able to find paid internships that can double as their required practicum experiences or fellowships to fund their research projects. Schools may also offer financial aid for residencies. Residencies are required by most online psychology PhD programs, so this is worth looking into. Depending on their workplace and position, students may also be able to talk to their employer about sponsoring their education. Some employers have funds to use for employee education if their degree can enhance their job skills and potentially yield a profit for the employer.
Learn more about securing financial aid for your online psychology PhD
The Online Psychology PhD and Accreditation
Accreditation indicates that a school or program of study has undergone a voluntary quality assessment based on standards set by a board of experts. At the institutional level, students should make sure their school is regionally accredited by one of CHEA's seven designated accrediting bodies. These organizations assess schools holistically and are the most widely regarded accrediting bodies for higher education in the U.S.
The American Psychological Association (APA) accredits doctoral level psychology programs. Schools must be regionally accredited in order to receive accreditation from the APA. There are currently 395 APA-accredited doctoral programs in the U.S.
Your PhD program page may indicate which accreditations the school or program of study have, but if it's not clearly stated, the school's website should have an accreditations page that you can browse through. You can also call the school or search for the school on the CHEA and APA websites.
What's After Your Online PhD in Psych?
Psychology PhDs can help students gain advanced, specialized knowledge and prepare them to become independent researchers and important assets in a wide range of professional capacities. In clinical practice and research, a higher level of education tends to yield a bigger paycheck, so those with PhDs in psychology can seek out lucrative and fulfilling careers in their areas of expertise.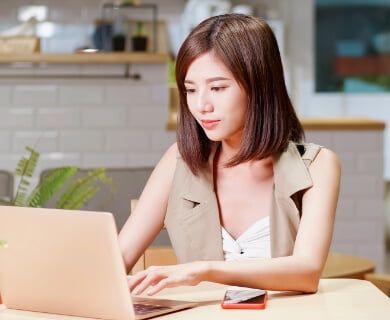 What can you do with an online PhD in psychology?
Career prospects for psychologists may vary by specialty, but in general, demand for psychologists is high, and the field is expected to grow by 14 percent between 2018 and 2028, according to the Bureau of Labor Statistics (BLS). This is significantly higher than the average growth rate for all occupations, which hovers around 5 percent.
There are two major routes psychology students can pursue: research and practice. From these routes stem many more paths for PhD graduates to explore. In both research and practice, advanced education, knowledge and skills typically open doors to highly sought specialty positions. For instance, the BLS notes that those seeking practitioner positions will have better job prospects with a doctoral degree and postdoctoral experience. Furthermore, some positions, particularly in research and higher education, require a PhD. However, psychology offers great career flexibility, so there are many options to explore.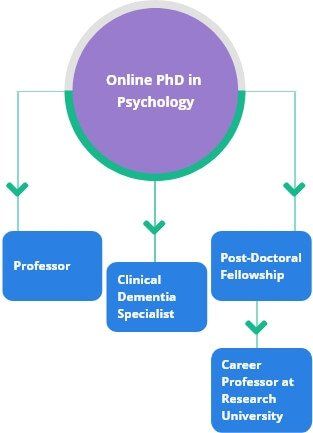 What you can earn with a psychology PhD?
Earnings for psychologists can vary widely depending on specialty, experience, location and education level. As of May 2019, average earnings for psychologists across all industries, specialties and degree levels is $80,370. However, as the table below illustrates, there can be a considerable spread between earnings within the same specialty.
Related Degrees & Continuing Education
After learning more about psychology PhDs, you might wonder if it's the best fit for you or if anything comes after. It's good to explore other degree options to make sure you pursue the degree that best meets your needs and goals. There are tons of degrees related to psychology PhDs that may be worth looking into. While PhDs are terminal degrees, there are some options for those who want to extend their education even further after completing their doctorate programs.
Related Degrees to Think About
A Doctorate in Psychology, or PsyD, is a relatively new degree that focuses less on research and more on practical work. It's a great option for psychology practitioners who are looking to enhance their knowledge and skills and gain deeper insights into a particular aspect of their field.
If an advanced degree in psychology sounds like the right direction but a doctorate doesn't seem like a good fit, a master's in psychology could be a great alternative. Master's degrees in psychology offer specialized tracks so students can tailor their studies to their personal and professional interests. While doctorates tend to provide more in-depth knowledge and hands-on application, a psychology master's takes less time and can be used to scaffold into a doctoral program later if desired.
PhD in Social and Behavioral Science
Students looking to combine psychology, human development and public health may be interested in a PhD in Social and Behavioral Science. These programs are research-focused and often provide opportunities to explore behaviors as they pertain to children, families, addiction and health. They may be well-suited to people seeking research and leadership roles in social services, public health and other interdisciplinary fields.
Continuing Education for PhD Graduates
Postdoctoral Fellowship
PhD graduates can pursue postdoctoral fellowships, which help them engage in research projects, gain practical job skills and connect with other professionals in the field. Postdoc fellowships are short-term, mentored positions. Sign up for your department's email listserv to find postdoc opportunities or look for opportunities on industry job boards.
Teaching Credential
Psychology professionals who want to teach don't necessarily need to pursue a second degree in education, but they will need a state teaching credential. Licensure exam preparation courses can give prospective educators foundational knowledge in education to help them work in classroom settings with different types of students.
Resources for PhD Psychology Students
American Psychological Association (APA)
American Psychological Association of Graduate Students (APAGS)
APA's Database of Scholarships, Grants & Awards for Postdocs
Ethnic Minority Psychological Associations