Written By


last updated

09/06/2023
With a variety of online clinical psychology master's degrees available, finding the right program may seem difficult. Many schools have affordable tuition, top-notch professors, or flexible course delivery. Some have all three. The following schools have online clinical psychology master's programs that offer students a combination of quality, affordability, and flexibility worth exploring when considering a degree in the field. Open the door to your future by seeing who made our list of the best online clinical psychology master's degrees for the '23-'24 school year, followed by getting an inside look at popular programs for other students just like you.
or
About the ranking
X
Base Methodology for EduMed's Best Online College Rankings for the '23-'24 school year.
One: Create list of Eligible Schools and Programs
To be eligible, schools were required to meet the following criteria based on data pulled from The Integrated Postsecondary Education Data System (IPEDS), which was self-reported by the schools themselves.
Institutional accreditation from an organization recognized by the U.S. Department of Education.
At least 1 online component in a program within the ranking-subject area.
Two: Assign Weighting
After creating the list of eligible schools, EduMed data scientists assigned weights and ranked schools based on a mix of metrics, which were all self-reported by the schools themselves to the U.S. Department of Education and IPEDS.
The metrics are listed below in order of most- to least-heavily weighted.
Online Programs – Number of online programs in the relevant subject area.
Online Student % – Number of total students who are enrolled in at least 1 distance-learning course in the relevant subject area.
Tuition – The average in-state tuition for undergraduate students studying full-time, as self-reported by the school.
Institutional Aid – Percent of full-time undergraduate students who are awarded institutional grant aid, as self-reported by the school.
Academic Counseling – Existence of this service on campus or online.
Career Placement Services – Existence of this service on campus or online.
Student/Faculty Ratio
About Our Data: EduMed's rankings use the latest official data available from The Integrated Postsecondary Education Data System (IPEDS). Most recent data pull: July 2023
#

School Name

Type

Tuition

Online Programs

More Details

School Information

Online Students

Academic Counseling

Career Placement

Students w/Institutional Aid

Median Earnings 10yrs After Entry

Accreditation

1

Faulkner University

Montgomery, AL

Private not-for-profit

$$$$

1

Students interested in exploring psychology from a Biblical worldview can earn a Bachelor of Science in General and Clinical Psychology from Faulkner University. Courses explore multiple facets and specializations in the field, and you can tailor your degree to your career interests with 18 credit hours of free electives. While this program is entirely online, you may need to complete internship requirements in person.

Program Highlights:

Bachelor of Science in General and Clinical Psychology

Credits: 121
Length: 4 years
Cost: $155-$325 per credit
Mode: Fully online
Accreditation: Southern Association of Colleges and Schools Commission on Colleges (SACSCOC)

Academic
CounselingYes
Career
PlacementYes
Student/
Faculty Ratio13/1
Online
Student %54%
Pepperdine University
Pepperdine University's Graduate School of Education & Psychology supports distance learners via an online master's in clinical psychology. Completed in as few as 24 months, this interactive degree comprises between 62-68 credits and takes place over 8-12 sessions. In addition to coursework, plan to participate in four field placement sessions while enrolled.
Upon graduating, alumni can pursue licensure as either a licensed professional counselor (LPC) or licensed marriage and family therapist (LMFT). If studying outside California, be sure to check if both of these license types are available in your state. The path you chose will in part dictate the type and number of classes you complete. Courses taught in Pepperdine's program include diagnosis and treatment of mental health disorders, theories of counseling and psychotherapy, and trauma in diverse populations.
The school is currently waiving GRE requirements and allowing those who submit their paperwork early to avoid application fees.
Capella University

The master of science in clinical psychology at Capella University exists fully online, making it easy for students from across the country to gain a quality education. Capella's offering can help you build skills in areas of research methods, psychological testing, and group counseling, among others. The program comprises 75 quarter credits and is usually completed in two years. While all classes take place online, you should plan to take part in three, six-day residencies over the lifespan of the degree.
Topics you'll encounter include introduction to psychopathology, ethics and multicultural issues, and career counseling theory. The practicum/internship component ensures you gain the direct contact hours required for licensure while the school's license support team helps you walk through the application and examination process.
Application requirements include an accredited bachelor's degree and a 2.3 or higher GPA. Capella does not require GRE/GMAT scores and is currently waiving application fees.
Palo Alto University

Palo Alto University in California offers an online master's in psychology with a Ph.D. preparation track for students looking to become licensed psychologists. The program requires the completion of 47 credits; it takes most students 2.5-3 years to graduate. Some learners decide to stay at the university, apply to the Ph.D. program, and enter as a second-year student. Others decide to pursue doctoral studies at a separate institution.
Live synchronous classes take place in the evening via Zoom but students must also visit the Palo Alto course during the spring break of their second year to participate in a week-long learning intensive. Some of the courses you will take include research methods and statistics, ethics in clinical psychology, and cognitive/affective bases of behavior.
The school accepts applications twice annually for spring and fall start dates. Applicants should possess a 3.3 GPA or higher, demonstrate completion of prerequisite courses, and submit a resume, letters of recommendation, official transcripts, and a statement of purpose. They must also participate in a 30-minute online interview with a faculty member.
FAQs About Online Clinical Psychology Master's Degrees
Pursuing a master's in clinical psychology online takes discipline and determination. Before making the commitment, it's important to learn both the basics and the details of a school and a program. The following section takes a look at some of the most common questions asked by prospective students in the field.
What do you learn in online clinical psychology master's?
Every master's in clinical psychology is structured differently and appeals to different student needs, but many include similar courses, topics, and learning outcomes. Core topics generally focus on building research skills, understanding the role of the clinical psychologist, and instilling competencies related to counseling and psychology techniques. Want to know more about some of the key skills and knowledge you may gain? Check below.
A comprehensive knowledge of the ethics of psychology and an understanding of how those ethics must guide their practice in order to receive and maintain licensure.
The ability to bring together research, practical experience, and theory when assessing patients and creating effective treatment plans.
An understanding of how to support and work effectively in multicultural settings, with specific emphasis on using sensitivity and awareness in supporting those with diverse backgrounds and experiences.
A thorough knowledge of how the field of clinical psychology began, why that history is still important, and how the discipline continues to evolve in the 21st century.
The ability to use both quantitative and qualitative research to further the field, including a thorough understanding of accepted statistical procedures for collecting and analyzing data.
Common Courses in a Master's in Clinical Psychology Program
This class brings together the psychology and pharmacology disciplines to give learners an in-depth understanding of how the two intersect and interact. Materials cover each class of psychotropic drugs, how they can be used when handling behavioral, cognitive, and mental health issues, and when and how they should be prescribed.
Lifespan and Developmental Psychology
Clinical psychologists work with clients of all ages, making it important that they understand how biological, cognitive, and social factors affect their development. In this class, students learn about theories around early childhood development, the role of trauma, and how cultural and societal differences affect development.
Group Counseling Techniques
Students consider both the benefits and drawbacks of group counseling sessions, with focused study given to topics around group dynamics, the roles of group members, and creating a safe, beneficial space for all participants. Learners look at existing research on group counseling and roleplay different techniques throughout the semester.
With a focus on ensuring students understand how the field initially developed and where it has gone since that time, this class provides a detailed timeline from creation to present day. Students learn about core tenets of the field, including ethics, behavioral treatment techniques, psychological disorders, and the evolution of core tenets over time.
Clinical Psychology Practicum
Typically completed in the final year of studies, the practicum gives learners the opportunity to apply their newfound knowledge of theory in practical settings. Working in a clinical environment under a licensed supervisor, students begin developing real-world skills. The practicum is usually complemented by a weekly class where learners can compare their experiences.
What concentrations are available in clinical psychology master's programs?
For students who wish to specialize, clinical psychology offers a wide range of sub-specialties from which to choose. These may be related to certain skills or to the application of a clinical psychology skill set within a particular career or academic area. If you're considering a master's in clinical psychology, these concentrations may be worth looking into.
Students who plan to pursue a PhD or PsyD after graduating often pursue this specialization, as it gives them the research and practice skills needed to make the leap into doctoral studies. Coursework emphasizes studies in research methods, ethical decision-making, assessment methodologies, and psychological theories.
Learners who want to work directly with clients via individual or group therapy often select this traditional specialization. Coursework emphasizes clinical work and helps students build skills in identifying behavioral, cognitive, and mental health issues, creating treatment plans, and working with clients to overcome challenges.
Whether looking to work as a clinician or within the legal system, a forensic psychology concentration gives learners the skills needed to professionally speak to the mental health and behavioral issues present in those in the criminal justice system.
This specialization allows students to explore how clinical psychology and neuropsychology overlap, with emphasis on brain function and dysfunction, brain behaviorism, and current trends and issues. Degree seekers also become competent in administering neuropsychological tests for patients.
How long does it take to earn an online master's in clinical psychology?
Online master's in clinical psychology typically require between 45-60 credits depending on the specialization or track you choose and the graduation requirements. Clinical psychology master's designed for working directly with clients often require extended practica/internship requirements while those that lead to a Ph.D. or Psy.D. mandate a thesis. Most students graduate in two to three years of full-time study, though alternate options exist. Part-time students may need three to five years to finish while those who select an accelerated pathway may graduate in as few as 18 months.
How do I get into an online clinical psychology master's program?
Admission requirements vary by school, with top programs often setting more stringent demands on students' academic and professional records. While you should always check the admission mandates of every school, you will likely find these frequently look similar across departments. While master's in clinical psychology programs are competitive, the admission process is far less demanding than a doctorate. Common components include:
Official transcripts showing completion of an accredited bachelor's degree
Minimum GPA
Curriculum Vitae including professional and academic accomplishments
Letters of recommendation
Personal Statement
GRE/GMAT scores
Interview with faculty member
How much does it cost to earn an online clinical psychology master's degree online?
The amount of money you spend on an online master's in clinical psychology can vary substantially based on several key factors. Location, even when studying online, often plays a role given that states schools offer both resident and non-resident tuition rates. The amount of time you spent enrolled can also impact cost, as schools typically charge semester-based fees. Lastly, funding plays a big role. The more scholarships, grants, and financial aid packages you can secure, the less you'll pay.

M.S., Clinical Psychology
Total Credits: 36-60 credits
$990/credit

M.A., Clinical Psychology
Total Credits: 44 credits
$424/credit (resident); $636/credit (nonresident online)

M.S., Clinical Psychology
Total Credits: 75 quarter credits
$485/credit
Paying for Your Online Clinical Psychology Master's Degree
As mentioned earlier, finding funding for your online clinical psychology master's degree can greatly impact your out-of-pocket expenses. Financial aid comes in several forms and it's important to understand each type so you know where to look.
This type of funding is ideal in that it does not need to be repaid, unlike student loans. Scholarships and grants come from a variety of sources. Both universities and individual departments offer them, as do local, state, and federal governments, professional associations, and foundations.
After exhausting your other funding options, student loans are a good option for covering any outlying balance on your account. While private organizations offer these, it's best to use loans provided by the federal government as these are secure and the interest rates are non-variable, meaning they cannot go up.
Several other options exist at the graduate level to help offset costs. Internships and fellowships often offer a stipend or wages in exchange for work, while assistantships may provide funding in exchange for supporting a faculty member with teaching and/or research tasks. These tend to be highly competitive, so start your search early. Lastly, many schools offer federal work-study funds that can be either disbursed directly to you or used towards your balance. Ask the Registrar about this option when enquiring about other financial aid programs.
Read about financial aid opportunities for your clinical psychology master's.
Accreditation for Online Clinical Psychology Master's Degrees
Failing to attend a properly accredited college or university for your master's in clinical psychology can result in substantial issues when it comes to seeking licensure, applying to doctorate programs, and finding work. Two types of accreditation exist: institutional and programmatic.
Institutional accreditation further divides into two types: national and regional, the latter of which is seen as the more rigorous to achieve. Four-year colleges usually seek regional accreditation while trade and vocational schools more commonly apply for national accreditation.
Programmatic accreditation looks at individual degree paths. The American Psychological Association only accredits doctorate programs, but you may find some degrees accredited by The Council for the Accreditation of Counseling and Related Educational Programs.
What's After Your Online Clinical Psychology Master's
Graduates of online master's in clinical psychology can choose from two different paths: professional or academic. If you want to work as a counselor or other type of clinical therapist, life after your master's degree will involve completing licensure steps. If you want to work as a clinical psychologist, you'll need to continue in education and earn a doctorate.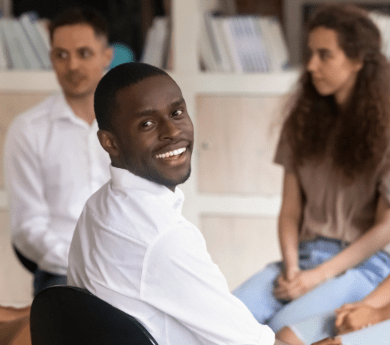 Do I need certification or licensure to work in clinical psychology?
Licensure and certification requirements depend on the title you plan to hold, but in general most psychology jobs require one or the other. If you want to call yourself a clinical psychologist, you must hold a doctorate and seek board certification.
That being said, several clinical positions exist that require only a master's degree but most still mandate licensure in individual states to practice. Industrial-organizational psychologists do not need to be licensed, but they do need at minimum a master's degree.
Voluntary certifications exist that can help you demonstrate topic mastery, stand out from other job competitors, and earn higher salaries.
What can you do with a clinical psychology master's degree?
After graduating with a master's in clinical psychology, you can pursue several different career paths. Common titles of graduates include mental health counselor and marriage and family therapist. According to the Bureau of Labor Statistics, roles for both of these professionals are set to grow by an impressive 22% between 2018-2028. Aside from leading to multiple opportunities for employment, these figures also demonstrate the continued need for these workers over the coming decade. Whether working at a government agency, therapist's office, or in private practice, these roles offer tangible ways of making a difference. Check out the visual below to see how your degree can translate into meaningful work.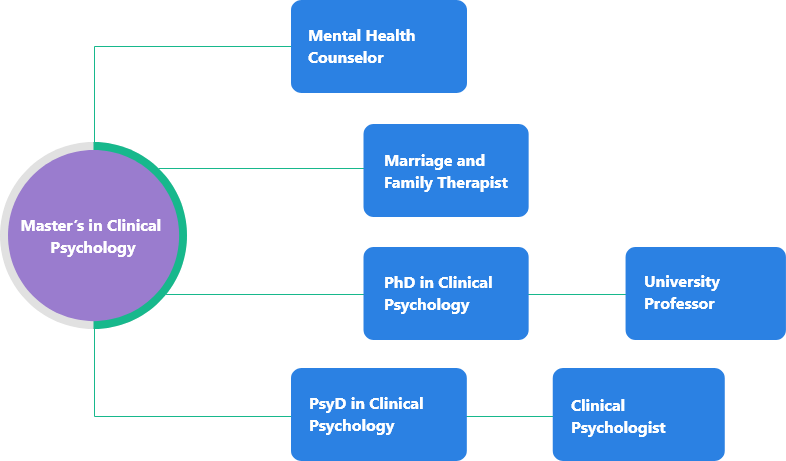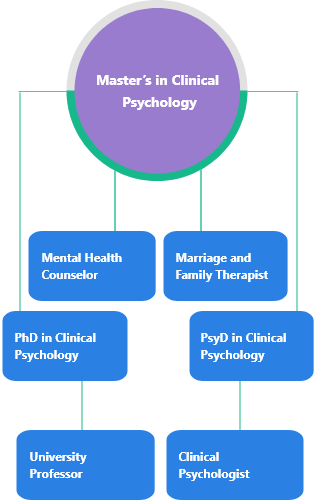 How much can you earn with a clinical psychology master's degree?
As the table below demonstrates, earning a master's in clinical psychology can help you earn a great job that offers a reasonable salary. While positions that mandate a doctorate typically pay more, making your way to the upper echelon of earnings for a marriage and family therapist can still result in a substantial salary.
Continuing Education & Related Degrees
After earning a master's degree in clinical psychology online, you may decide to pursue a doctorate, or perhaps you'll want to enroll in a second master's program. Plenty of opportunities exist to advance your education and open more professional doors. The following section takes a look at the paths you may take after graduating.
Continuing Education Opportunities
Online PhD in Clinical Psychology
Earning a PhD in clinical psychology gives you the qualifications needed to work in both research-based and academic postings. These programs tend to be highly competitive, with each school admitting only a handful of students each year. They take between 5-7 years to complete.
Online PsyD Degree (Doctor of Psychology)
A PsyD in clinical psychology is best suited to students who know they want to work directly with clients on the clinical side of things. These programs are still competitive when it comes to admissions, but are slightly easier to get in. You should plan to spend between 4-6 years meeting all requirements.
Related Degrees to Consider
Online Mental Health Counseling Master's Degree
These programs, which require two or three years to complete, give graduates the skills needed to fill a variety of general counseling roles. Common job titles include substance abuse, behavioral disorder, and mental health counselor, school counselor, and health educator.
Marriage and Family Therapy Master's Degree
Marriage and family therapy master's degrees require approximately two years of study and provide learners with an understanding of the theories and practical skills needed to support families, couples, and individuals. They must receive licensure before beginning their practice.
Master's Degree in Social Work (MSW)
An MSW serves as a great generalist degree if you want to work in a clinical counseling role. These programs usually take two years to complete and can lead to careers as a substance abuse counselor, mental health counselor, school counselor, and myriad other roles. The vast majority of MSW positions require licensure.