Written By


last updated

09/15/2022
2023's Top Online PhDs in Social Work
As the number of online social work PhD programs continues to expand, having a clear understanding of what you're looking for in a degree becomes more important than ever. Whether you value affordability above all else or convenient class times is what you want most, multiple online programs exist to help you earn a degree in a way that works for your needs. To get you started in your search, we've ranked high-quality, accredited online PhD social work programs on affordability, flexibility, and program quality. As you read the profile of each, consider how it stacks up to what you're looking for and use the information to help you find your perfect program.
or
About the ranking
X
Base Methodology for EduMed's 2023 Online College Rankings
1. Create List of Eligible Schools and Programs
To be eligible for this ranking, schools were required to meet the following criteria based on government data provided by The Integrated Postsecondary Education Data System (IPEDS).
Institutional accreditation from an organization recognized by the U.S. Department of Education.
At least one program in subject area offered partially or fully online.
2. Assign Weightings
After creating the list of eligible schools, EduMed data scientists assigned weights and ranked schools based on a mix of affordability, support services, and online program availability metrics. Online program availability and overall affordability metrics received the heaviest weightings.
Online Program Availability
Number of online programs in subject area reported by school to the U.S. Department of Education.
Affordability
Cost

– Relative cost of attendance compared to peer schools on the list. Based on tuition and fees per academic year.

Students w/ Institutional Aid

– Percentage of students who receive financial aid from the school itself.
Support Services
Academic Counseling

– Existence of this service on campus or online.

Career Placement

– Existence of this service on campus or online.
About Our Data
EduMed's rankings use the latest official data available from The Integrated Postsecondary Education Data System (IPEDS). Most recent data pull: July 2022
#

School Name

Type

Cost

Online Programs

More Details

School Information

Online Students

Academic Counseling

Career Placement

Students w/Institutional Aid

Median Earnings 10yrs After Entry

Accreditation

1

The University of Tennessee-Knoxville

Knoxville, TN

Public

$$$

1

At The University of Tennessee-Knoxville, the Doctor of Social Work (DSW) is an accelerated program that may be completed in as few as three years. The DSW is focuses on advanced clinical practice and leadership. Coursework tallies 48 credits, and graduation requirements include a comprehensive exam and a dissertation. DSW curriculum centers on clinical science, evidence-based practice, clinical leadership, and applied research. Online courses are delivered in synchronous and asynchronous formats. Studies include coursework like neuroscience, psychopathology and psychopharmacology, cognitive behavioral therapy, clinical management, advanced EBP for addictions and dual diagnosis, and trauma focused interventions. Applicants to the DSW program must hold a master's degree from a social work program accredited by the Council on Social Work Education and have three years of post-MSW experience. Financial aid includes graduate research assistantships, teaching assistantships, departmental scholarships. UT Knoxville also offers a campus-based PhD in social work degree.

Program Highlights:

Doctor of Social Work Degree in Clinical Practice & Leadership Program

Credits: 48
Cost: $6,278/semester
Length: Three - 5 years
Mode: Partially online (campus session in the summers)

Academic
CounselingYes
Career
PlacementYes
Student/
Faculty Ratio17/1

Accreditation

SACSCOC
Our Lady of the Lake University

This private Catholic university offers campuses in Houston, the Rio Grande Valley, San Antonio, and online to meet your learning needs. The institution offers an online PhD in social work focused on helping you become a practitioner-scholar able to meet the needs in both research and practice. Designed as a full-time program, the degree takes four years and requires students to participate in a one-week residency each summer of enrollment.
The curriculum consists of 54 credits, including four research courses to help you prepare for the dissertation. Other notable classes include epistemology and theories, pedagogy of distance education, scholarship writing and publishing, and culturally informed pedagogy. Students can apply for a teaching assistantship that allows for mentorship from a qualified faculty member, practice in the classroom, and a $2,500 stipend per course. Our Lady uses a cohort model and engages in both synchronous and asynchronous learning methods.

The College of Social Work at the University of Utah will begin offering a distance-delivered PhD in social work starting in the fall of 2021. Rather than calling it an online program, UU prefers distance-delivered for this synchronous program that allows distance learners to attend classes simultaneously with campus-based students through videoconferencing.
The curriculum consists of 36 credits and takes three years of full-time study to complete. Topics explored during the program include advanced research and grant-writing, scholarly writing workshop, substantive area research, and statistics. Students are also encouraged to gain some teaching experience while enrolled. Applications are due December 15 and must include evidence of an accredited MSW, a 3.0 or higher GPA, at least two years of post-MSW social work experience, a statement of purpose, three letters of recommendation, and a writing sample. Students may also engage in a Skype interview, if requested. UU no longer requires GRE scores.

Walden University's online PhD in social work supports professionals aiming to become practitioners, researchers, academic faculty, and administrative leaders alike. You can choose from specializations in addictions and social work, clinical expertise, criminal justice, family studies and interventions, medical social work, policy practice, social work administration, or disaster, crisis, and intervention.
The core curriculum emphasizes studies in history and development of social work, program and practice evaluation, and advanced social work theory and practice. All told, expect to complete 63 quarter credits. Most students graduate in three or four years but the school allows up to eight years for completion. Learners must also participate in four PhD residencies while enrolled, two of which can be done virtually. The other two must be done at the Minneapolis campus. Walden offers several different start dates throughout the year, making it easier for you to begin your studies at the time of year that works best.
About the Online PhD in Social Work
Not all online PhD social work programs are created equally, making it important to spend time familiarizing yourself before making a decision. Factors such as faculty advisors, available specializations, and graduation requirements can all affect your decision. The next section looks at a few questions common to the decision-making process.
What do you learn in an online PhD in social work?
Every online social work PhD program is different, but as you research multiple options, you will start to notice some similarities. Courses, topics, and learning outcomes often share themes across departments, especially core topics such as social welfare policy, research methods, and contemporary trends in the discipline. Many social work departments also share learning outcomes; these are important to review as they will help you understand how the degree can shape your future professional endeavors.
The ability to harness historic and current research, methodologies and frameworks, and best practices within the field to support your research and address social issues.
A comprehensive understanding of research models alongside quantitative and qualitative statistical tools used in collecting data and extrapolating it in meaningful ways.
A knowledge of the history of the social work field, including how it has evolved, where it is now, and how current trends and issues in societal, cultural, and political arenas influence the discipline.
An understanding of how factors such as race, ethnicity, socioeconomic status, and location play a part in the human experience, and how to address these with compassion and evidence-based approaches.
The ability to use established ethical guidelines in all work that you do, especially when working directly with clients. This philosophy will help guide decision-making throughout your career.
---
PhD Courses in Social Work
Conceptual Foundations of Social Work and Social Welfare
This multidisciplinary course examines how social work as an academic discipline developed, with emphasis on historical accounts of social welfare accomplishments and structures. Students read several historic accounts of social work, including those of Jane Hull. Discussion is also given to the current state of the field and how it may evolve.
This course helps students learn about the local, state, and federal policies governing the field of social work, with emphasis on how existing social welfare policies contribute to addressing social problems. Case studies are utilized to help draw out the benefits and weaknesses of existing policy and students are given the chance to consider what new policies could improve current outcomes.
Because the field of social work depends heavily on grantmaking foundations for funding, this course helps familiarize students with the proposal process. You will gain insight regarding budgetary needs, request for proposals, contacting grant managers, walking through the process, and writing an attractive grant request.
Human Behavior and the Social Environment
This course leans heavily on the analysis of biopsychological and sociocultural factors within the social environment that play a part in shaping human behavior. Students consider how systems such as family structures, neighborhoods and communities, education systems, housing areas, and healthcare facilities all affect the way we behave.
Usually taken in the second or third year of studies, this course focuses on preparing students to begin their dissertation. The syllabus gives ample time to crafting a dissertation proposal, gathering primary and secondary sources, conducting interviews, creating outlines, and the craft of writing.
Should you specialize during your online PhD in social work?
Social work encompasses a wide-ranging discipline, creating demand for online PhD in social work programs that offer specializations. Every school will be unique in its offerings, so make sure you look at several departments to find ones that cater to your academic interests. Here's a closer look at a few common specializations below.
This specialization takes a macro approach to the field and best serves those who want to influence how policy is shaped at the governmental level. Students learn how to promote policies that move the field forward while using evidence-based arguments for the new approaches.
This umbrella specialization is popular due to it translating to many different areas of the discipline. The curriculum instills an understanding of historic and contemporary public welfare initiatives as well as skills needed to address emerging social work challenges through both clinical and academic pathways.
Designed for those who want to move the discipline forward through data and evidence, this specialization builds the skills needed to design and implement small- and large-scale research projects, implement measurement tools, and work in academic settings.
Developmental Disabilities
This important specialization focuses on helping students build the skills and understanding needed to support clients with developmental disabilities. Students learn about federal laws governing mandated accommodations, build competencies in client advocacy, and develop an awareness of their rights and protections.
The child welfare specialization supports future practitioners, scholars, and administrators by giving them an understanding of the role of child and youth social workers. Courses emphasize teaching in legal and regulatory requirements for minors, educate students on issues around domestic violence and neglect, and familiarize them with state and federal child welfare systems.
Designed for individuals who want to fight on behalf of others, this specialization provides the skills needed to organize communities to fight against injustices, build coalitions that can make change, and galvanize others to make the world better using social work practices.
How long does it take to finish a social work PhD online?
Timelines for online social work PhD programs vary based on many different factors. Some schools offer accelerated programs allowing you to finish both coursework and dissertation requirements in only three years. Others provide part-time options designed for busy students who need six or seven years to graduate. The majority of programs take four to five years if following a traditional, full-time schedule. If the amount of time spent earning a degree ranks high in your list of needs for a degree, make sure you speak to admissions coordinators to find the program that lines up with your scheduling needs.
Can you get into an online PhD program in social work?
As with other components of a social work online PhD program, admission requirements vary by school but usually you'll notice commonalities among them. Some of the requirements you're likely to see on multiple applications include:
Official transcripts from any schools previously attended
GRE scores
Curriculum vitae outlining both professional and educational accomplishments
Letters of recommendation
Personal essay
Information on plans for financial support during the program
TOEFL scores if classified as an international student
Any additional information required when applying for an assistantship, scholarship, or grant
What does an online PhD in social work cost?
Cost often plays a big factor in deciding on an online social work PhD, and for good reason: few students want to take on substantial loan debt in pursuit of a degree. Many factors play into the final cost of a doctorate. Attending a public versus private school is often less expensive, as are accelerated programs that allow you to skip out on additional semester-based fees. Funding also plays a substantial role. Scholarships and grants also help lower costs. We look at tuition for a few schools below.

Institute for Clinical
Social Work
Total Credits: 48 credits
$783/credit

Howard
University
Total Credits: 48 credits
$1,700/credit

University of
Pittsburgh
Total Credits: 50 credits
Fully covered by assistantships
Funding an Online PhD in SW
Knowing how you're going to pay for your degree starts is important, with some schools even asking for a written statement on the funding you've lined up. Plenty of options exist for covering costs; a few of the most popular are outlined below.
Scholarships and grants are a perennially popular choice for all students as these types of funding do not require repayment so long as you meet all requirements of the funding. Scholarships can be found at colleges, academic departments, professional organizations, and government agencies.
Student loans often help bridge the gap between available funding and final cost. The federal government offers several different types of student loans; these are seen as a better idea than private loans and should be your first choice when possible.
Internships, fellowships, and graduate assistantships are all popular – and sometimes required – options when completing your social work doctorate. Some of these offer tuition remission and stipends in exchange for work. If you qualified for federal student aid, you may also be able to take advantage of work-study funding.
Accreditation and the Social Work PhD
Finding an accredited online social work PhD is one of the most important steps you can take, as failing to do so can result in issues transferring credits, seeking licensure, and competing for jobs. Accreditation comes in two types: institutional and programmatic. The Council on Social Work Education, the primary accreditor for social work programs, currently accredits only bachelor's and master's level social work degrees, making it all the more important to find a properly accredited institution.
School-wide accreditation exists in two forms: regional and national. Regional accreditation, seen as the more prestigious of the two, is typically favored by four-year institutions. If unsure whether a school you're considering holds accreditation, use the U.S. Department of Education's Database of Accredited Postsecondary Institutions and Programs.
What's After Your Online PhD in Social Work
You'll have many options once you finish your online PhD in social work. Some students decide to go straight into the workforce while others seek out a post-doctoral program. If unsure about your next steps, review a few options below to get ideas.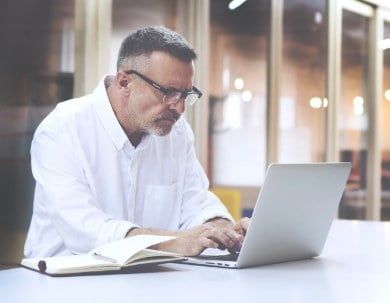 Do you need licensure with a social work PhD?
Licensure requirements vary based on the type of role you hope to attain after graduating. Clinical positions require a license, regardless of the state in which you practice. Academic and research positions are less likely to mandate this step but may look for candidates who completed mandatory and/or optional certifications that help demonstrate their mastery in a particular area. The National Association of Social Workers offers a bevy of certifications designed to meet individual professional needs.
What can you do with an online PhD in social work?
Several career paths exist at this level. While the DSW supports students looking to work in more clinically based practitioner roles, PhD holders are better prepared for roles in academia, research, policy, and advocacy. These roles tend to be housed at colleges and universities, nonprofit organizations, state and federal government agencies, and research groups. Most positions are office- or classroom-based, but researchers may also engage in some travel to collect data and conduct interviews. Careers for these professionals should remain in-demand for the coming years. For example data from the Bureau of Labor Statistics projects that roles for postsecondary professors will grow by 11% between 2018-2028 – much faster than the national average for all occupations.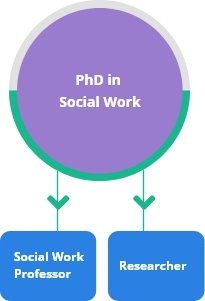 How much can you make with a social work PhD?
While few if any individuals enter social work to become millionaires, those with a PhD can earn substantial salaries. Factors affecting salary include amount of experience, type of employer, job title, and location. A few options are highlighted in the table below.
Beyond the PhD in Social Work
While the PhD in social work is a terminal degree, that doesn't mean there aren't additional learning opportunities. Plenty of options exist to advance your knowledge and continue building your understanding of best practices throughout your career.
Post-doctoral fellowships are a popular option for those looking to work under university supervision for a year longer, while certifications can also help you build niche knowledge in a particular area. And if you feel the PhD in social work doesn't quite match your ambitions after reading this guide, check out the related degrees below.
Continuing Your Education with a Post-Doctoral Fellowship
University of Maryland Post-Doctoral Fellowship
The School of Social Work offers four post-doctoral fellowships annually for students who recently completed their PhD in social work. The position is paid and allows recent graduates to continue building their research and/or teaching skills under the mentorship of qualified university faculty.
National Institute of Mental Health Postdoctoral Intramural Research Award Program
Operating as part of the NIH, this post-doctoral fellowship makes it possible for newly minted graduates to conduct research in world-leading laboratories and facilities. They should possess both interest and training in mental health to apply.
Related Degrees
Online Doctor of Social Work (DSW)
The DSW may be a great fit if you see yourself working more on the clinical side of the field rather than the academic or research side. These programs usually take three years to complete and require a culminating project rather than a full-length dissertation.
If the counseling side of social work speaks to you most, a PhD in psychology may best serve your interests. These programs usually take between five and seven years to complete and emphasize studies in human behavior, psychological tendencies, and growth and development.
PhD in Public Policy Administration
This degree is a great option if you want to use your skills and knowledge to change the trajectory of social welfare. The course of study gives you the skills needed to influence policy decision-makers, create evidence-based policy proposals, and manage policy analysts and researchers.