Written By


last updated

01/18/2023
Social workers today offer a variety of counseling services and care for children, families, individuals, elderly populations, and the mentally ill. Your first step toward a career in this field is to earn a bachelor of social work degree. Below we include a vetted list of some of the top BSW programs today. We picked these schools due to the quality of education they offer, but also because they are accredited and affordable programs in a flexible online format. We've spotlighted high-quality programs below to help get you started on your school search. See which schools and social work programs stand out in 2023.
or
About the ranking
X
Base Methodology for EduMed's 2023 Online College Rankings
1. Create List of Eligible Schools and Programs
To be eligible for this ranking, schools were required to meet the following criteria based on government data provided by The Integrated Postsecondary Education Data System (IPEDS).
Institutional accreditation from an organization recognized by the U.S. Department of Education.
At least one program in subject area offered partially or fully online.
2. Assign Weightings
After creating the list of eligible schools, EduMed data scientists assigned weights and ranked schools based on a mix of affordability, support services, and online program availability metrics. Online program availability and overall affordability metrics received the heaviest weightings.
Online Program Availability
Number of online programs in subject area reported by school to the U.S. Department of Education.
Affordability
Cost

– Relative cost of attendance compared to peer schools on the list. Based on tuition and fees per academic year.

Students w/ Institutional Aid

– Percentage of students who receive financial aid from the school itself.
Support Services
Academic Counseling

– Existence of this service on campus or online.

Career Placement

– Existence of this service on campus or online.
About Our Data
EduMed's rankings use the latest official data available from The Integrated Postsecondary Education Data System (IPEDS). Most recent data pull: July 2022
#

School Name

Type

Cost

Online Programs

More Details

School Information

Online Students

Academic Counseling

Career Placement

Students w/Institutional Aid

Median Earnings 10yrs After Entry

Accreditation

1

The University of Alabama

Tuscaloosa, AL

Public

$$$

1

The University of Alabama's Bachelor of Social Work (BSW) is primarily online, with some in-person field education and a few required weekend skills labs. There is a mandatory one-day in-person orientation at the start of the program. Students will need to complete their 450 hours of fieldwork under the supervision of an experienced social worker either within the state of Alabama or through the school's Washington, DC or International Field Programs. By the end of the program students will be prepared to serve clients of all ages in health care settings, mental health and substance abuse centers, and school and family settings. Upon graduation, students can choose to pursue higher education through the University of Alabama's online Master of Social Work (MSW) or Doctor of Social Work (DSW).

Program Highlights:

Bachelor of Social Work (BSW)

Credits: 120
Cost: $385/credit
Length: four years
Mode: mostly online, some in-person work required

Academic
CounselingYes
Career
PlacementYes
Student/
Faculty Ratio20/1

Accreditation

SACSCOC

2

University of Utah

Salt Lake City, UT

Public

$$

1

Academic
CounselingYes
Career
PlacementYes
Student/
Faculty Ratio17/1

Accreditation

NWCCU

3

University of Nebraska at Kearney

Kearney, NE

Public

$$

1

Academic
CounselingYes
Career
PlacementYes
Student/
Faculty Ratio13/1

Accreditation

HLC

4

Colorado State University-Fort Collins

Fort Collins, CO

Public

$$

1

Academic
CounselingYes
Career
PlacementYes
Student/
Faculty Ratio16/1

Accreditation

HLC

5

Northwestern State University of Louisiana

Natchitoches, LA

Public

$$

1

Academic
CounselingYes
Career
PlacementYes
Student/
Faculty Ratio19/1

Accreditation

SACSCOC

6

Missouri State University-Springfield

Springfield, MO

Public

$$

1

Academic
CounselingYes
Career
PlacementYes
Student/
Faculty Ratio20/1

Accreditation

HLC

7

Angelo State University

San Angelo, TX

Public

$

1

Academic
CounselingYes
Career
PlacementYes
Student/
Faculty Ratio21/1

Accreditation

SACSCOC

8

University of Alaska Fairbanks

Fairbanks, AK

Public

$$

1

Academic
CounselingYes
Career
PlacementYes
Student/
Faculty Ratio11/1

Accreditation

NWCCU

9

Jackson State University

Jackson, MS

Public

$$

1

Jackson State University provides multiple avenues for students to complete their MSW online. The first option is the Advanced Standing MSW which lets students who've already received a bachelor's degree in social work (BSW) complete their masters in just two semesters. Masters students without a BSW will need to take more classes than their Advanced Standing peers and can complete their degree in two years. For those who so choose, a three-year, part-time MSW is also available. All online classes in the CSWE-accredited master's program will be accessed through the Canvas online learning system. Upon graduation, students will be prepared to take on leadership roles in the social work profession; identify patterns, dynamics, and consequences of social, economic, and political discrimination and oppression; and work with children, youth, and families in diverse settings, systems, and situations.

Program Highlights:

Master of Social Work - Advanced Standing

Credits: 36
Cost: $548/credit (resident); $1,048 (non-resident)
Length: 2 semesters
Mode: online

Master of Social Work - Non-Advanced, Full-Time

Credits: 60
Cost: $548/credit (resident); $1,048 (non-resident)
Length: 2 years
Mode: online

Master of Social Work - Non-Advanced, Part-Time

Credits: 60
Cost: $548/credit (resident); $1,048 (non-resident)
Length: 3 years
Mode: online

Academic
CounselingYes
Career
PlacementYes
Student/
Faculty Ratio14/1

Accreditation

SACSCOC

10

West Virginia University

Morgantown, WV

Public

$$

1

Academic
CounselingYes
Career
PlacementYes
Student/
Faculty Ratio21/1

Accreditation

HLC

11

Northern Arizona University

Flagstaff, AZ

Public

$$$

1

Academic
CounselingYes
Career
PlacementYes
Student/
Faculty Ratio22/1

Accreditation

HLC

12

Washburn University

Topeka, KS

Public

$$

1

Academic
CounselingYes
Career
PlacementYes
Student/
Faculty Ratio15/1

Accreditation

HLC

13

University of Cincinnati-Main Campus

Cincinnati, OH

Public

$$

1

Academic
CounselingYes
Career
PlacementYes
Student/
Faculty Ratio19/1

Accreditation

HLC

14

Troy University

Troy, AL

Public

$$

1

Academic
CounselingYes
Career
PlacementYes
Student/
Faculty Ratio18/1

Accreditation

SACSCOC

15

Fort Valley State University

Fort Valley, GA

Public

$

1

Academic
CounselingYes
Career
PlacementYes
Student/
Faculty Ratio24/1

Accreditation

SACSCOC

16

Metropolitan State University of Denver

Denver, CO

Public

$$

1

Academic
CounselingYes
Career
PlacementYes
Student/
Faculty Ratio18/1

Accreditation

HLC

17

University of Louisville

Louisville, KY

Public

$$$

1

Academic
CounselingYes
Career
PlacementYes
Student/
Faculty Ratio19/1

Accreditation

SACSCOC
University of Louisville

U of L is a public research institution with regional accreditation from the Southern Association of Colleges and Schools Commission on Colleges (SACSCOC). Founded in 1798, the school today serves approximately 21,500 students. Distance learners can take advantage of its entirely online bachelor's degree in social work.
This BSW program features an optional concentration in drug and alcohol counseling. Required courses include social justice practice, human behavior in the social environment, and issues in policy and service delivery.
This degree requires 120 credit hours for graduation and typically takes students four years to complete. Incoming students can transfer up to 60 credit hours from a community college or 90 credit hours from a regionally accredited four-year institution towards the BSW degree. Recent U of L graduates have moved on to careers in charitable organizations, nonprofits, police departments, hospitals and nursing homes, and public school systems.
Ohio University

OU is a public research institution located in Athens. Established in 1804, the school today offers an online bachelor's degree in social work. The school prides itself on offering a liberal arts program with a diverse curriculum focusing on social welfare policy, research methods, field education, social work methods, and human behavior in the social environment.
This program features an entirely remote curriculum that prepares students to become generalist social work professionals who can serve their communities by increasing clients' access to local resources. Students can also focus on providing support for rural communities, although it is not an official concentration.
Students need at least 120 semester hours for the bachelor's degree, including two senior field practicum courses and two field seminars. Additional required classes include research methods in social work, social welfare policy, dynamics of human behavior, and social welfare overview and trends.
To gain acceptance of the social work program, OU undergraduate students need to achieve "pre-major" status. In order to do so, learners must complete a variety of introductory social work and non-social work courses while maintaining at least a 2.5 or higher GPA.
University of Cincinnati

Established in 1819, UC is a public school with regional accreditation from the Higher Learning Commission (HLC). The school today serves approximately 38,000 students and is the second largest higher-education institution in Ohio. Most learners complete this online bachelor's in social work degree in four years.
Prospective BSW students need to have completed at least 60 credit hours of social work, pre-social work, and other prerequisite classes with a 2.75 or higher GPA for consideration. UC offers learners the chance to take a free, introductory social work class to determine whether or not the major is a good fit for them while earning a prerequisite credit.
Required classes for the major include human diversity and generalist social work practice, human behavior in the social environment, and mental health perspectives in social work. Learners also need to complete two capstone courses and a total of 448 hours of field education. BSW degree-seekers need to maintain a cumulative 2.75 GPA to remain in good standing with the department.
FAQs About Online Bachelor's Degrees in Social Work
As you search for online BSW programs, it is important to get to know information about a school before you spend time working on an application. You should look into the department's course offerings and tuition costs as well as what career paths that this particular program will prepare you for. Here are some answers to frequently asked questions by prospective BSW students.
What do you learn in an online BSW program?
Colleges and universities offer classes and degree paths that reflect their particular strengths. In this way, you will find that all BSW programs are unique. Although course offerings will vary among schools, many departments will offer similar foundational classes that allow BSW students to obtain the necessary skills and knowledge to be successful in the field. Here are some of the more common learning outcomes and key skills you can expect to gain from an online social work program.
Apply standard and ethical social work principles in the field: BSW students learn how to conduct themselves as professionals in the field and in their one-on-one work with clients. This includes following ethical decision-making and abiding by the necessary laws.
Apply critical-thinking to help clients and communicate your professional evaluations: With the ultimate goal of helping clients and their communities, social work graduates are able to think through complex issues and communicate to clients their professional advice and assessments.
Support and celebrate diversity: BSW graduates embark on careers wherein they work with a diverse body of clients from all backgrounds. You will gain the skills to provide unbiased care and celebrate the uniqueness of your client base and community.
Further advanced economic justice and human rights: Social workers advocate on behalf of their clients, especially when it comes to gaining fair access to resources. As a social work degree-holder, you are prepared to take advantage of opportunities to fight for human rights in all categories.
Create and engage with thoughtful research and practice methods: Social workers commit to providing the best support and care for their clients. In this way, graduates know how to conduct meaningful research to ensure their social work practice reflects the latest advancements and methods in the field.
Ready to make the most out of your online education? Check out these 6 tips for success in your online social work program.
---
Courses in Social Work Bachelor's Programs
Modern Issues in Social Welfare
Students in this class examine social welfare services and policies and how they affect clients' access to support and care today. Learners also consider the history of social welfare policies and learn about the cultural factors and powers that shape social services in the modern U.S.
Human Services and Child Abuse
BSW students study family systems and theories surrounding child neglect and abuse. Faculty ensure that learners understand how to recognize harmful situations and are able to provide effective and thoughtful treatment or intervention. The class by default helps reinforce the historical traditions and ethics of social work and child welfare practices.
Behavioral Issues and Social Dynamics
This course helps undergraduate students develop the necessary assessment and observation skills to understand those influential factors that affect human social behavior. Learners typically explore a wide range of significant aspects of the human experience including ethnicity, gender, class, sexual orientation, and culture.
Social Work Research Methods
As a foundational skill for both new and advanced students, learners in undergraduate social work programs engage with a variety of research methods courses. This introductory course helps BSW students understand valuable tools to be used in the classroom and in the field, including effective research design, group evaluation techniques, quantitative and qualitative research methods, report writing, and data collection methods.
Social Work with Aging Populations
As a social worker, you will likely encounter clients of all ages. This class helps provide you with the essential skills to provide support and counseling for older populations. The class focuses on helping students explore the types of programs and social welfare services that are designed to meet the needs of elderly individuals from all walks of life.
Can you specialize in an online social work bachelor's degree program?
Some bachelor's programs in social work today allow undergraduate students to take classes in a predetermined concentration area or a series of designated electives. With these classes, you can further define your skill set and stand out from the crowd in the competitive job market. Additionally, a social work specialization can help you hone in on particular careers upon graduation.
Direct Practice and Case Management
Social workers who specialize in direct practice often find careers working one-on-one with individuals, children, or families. They are often the first point of contact for clients and are tasked with assessing client needs for social services. This concentration helps BSW learners develop interpersonal, data collection, and communication skills.
BSW students can specialize in providing support and care for younger clients and children. Sometimes these programs are collaborative efforts between a college or university and its state department of child safety. Graduates of these programs understand how to provide effective advice and guidance for at-risk populations, vulnerable families, and children.
Bachelor's degree-seekers can prepare for careers working with clients who suffer from addictions, behavioral problems, and mental health issues. This concentration allows learners to develop sharp assessment and evaluation skills in order to provide clients with referrals to health professionals and related services as needed. They also learn how to educate their clients and clients' families about how to access resources, support groups, and job placement services.
With this specialization, you will learn how to provide emotional, spiritual, and social support for clients suffering from serious illnesses and debilitating conditions. BSW students develop a skill set that helps them assist clients in managing feelings of anxiety, depression, anger, and social isolation. Additionally, courses in this area may include training on how to assist clients with physical discomfort or pain, financial hardships, and family conflict.
Gerontology Social Work or Aging Services
A concentration in aging services will help you develop an understanding of the needs of elderly populations. You will prepare for extensive one-on-one time with clients, as well as how to navigate social work positions in nursing homes, community centers, in-home care, and more. BSW learners in this concentration focus on communication skills and learning how to help older populations access the necessary resources to live a full life.
Some undergraduate programs offer concentrations in school social work. These curricula help prepare BSW learners to work with students, teachers, and parents in the school setting. You will learn how to deal with behavioral issues, students emotional problems, bullying, social problems, and more. Additionally, students in this concentration also prepare to support special education students and ensure their needs are met on both an educational and emotional level. Learners interested in this concentration may need to earn an MSW to qualify for many school social workers positions, however.
How long does it take to earn an online bachelor's degree in social work?
Most online bachelor's degree-seekers in social work need four years to complete their degrees. There are, however, several factors that can significantly affect the amount of time you spend in school. Not all online students have the option to become full-time students, often due to financial concerns, familial obligations, or a job. In these cases, enrolling as a part-time student can extend your tenure by an extra year or two. For those learners who are able to enroll full-time, keep an eye out for accelerated BSW programs. Students can often complete accelerated BSW degrees in two or three years. Lastly, your BSW program may require in-person practicums or internships. Depending upon the practicum's location or availability, these obligations may affect the length of your degree.
How do I get into an online BSW program?
BSW programs today are competitive. Similar to other bachelor's degree programs, you will need to submit a handful of documents as part of your application to make sure you stand out. This may include:
Official high school transcripts
Standardized test scores for the ACT or SAT
Personal statement
As an applicant for a BSW, however, you may need to submit additional materials so the admission committee can better determine your qualifications for the major. You may also need to meet certain academic standards that are higher than other majors at this level. Schools might ask for:
Proof of a completed course history of prerequisite classes with acceptable scores
Transcripts reflecting a minimum required GPA, often at least a 2.5 or higher
A letter or statement of intent that outlines your career goals and why you wish to attend a particular social work program
Participation in an admissions interview with faculty
How much does it cost to earn a bachelor's in social work online?
The overall cost of your program depends on several factors. First, tuition costs are greatly affected by whether or not your school is public or private. Second, your expenses are also tied to how long it takes you to finish your degree and what types of financial aid you've secured to put toward your education. Last, your location can also affect your tuition rates, even in a fully online program. Here's a look at the cost of three top online BSW programs today.

University of Louisville
Online Bachelor of Social Work
Total Credits: 120
$539/credit

Brandman University
Online Bachelor of Arts in Social Work
Total Credits: 120
$500/credit
King University
Online Bachelor of Social Work
Total Credits: 124
$305/credit
What are the "field education" requirements for a BSW?
BSW students typically complete their field education or practicum during their senior year while they take classes. These experiences are designed to help you apply what you've learned in class in real-world situations with clients. Field education specifics and requirements vary among schools, and some may be in-person or online. Most of the time, learners spend two days a week throughout their fall and spring semesters completing practicum or field education requirements. Learners often complete approximately 480 clock hours of hands-on work at an approved location. Alternatively, some schools today allow learners to complete their "hands-on" field education remotely through client simulations. Check with your prospective department to see if there are remote field options available to BSW students.
Is it possible to finish the BSW entirely online, with no on-campus or in-person obligations?
Yes. You can find BSW programs with in-person, hybrid, and fully online learning formats. You may also be able to complete field education requirements online. Whether or not your desired school offers virtual field education opportunities, the good news is that nearly every social work bachelor's program with remote offerings features fully online classes.
Paying for Your Online Social Work Degree
Paying for college is a significant financial undertaking for just about anyone. It may seem like a complicated process but it's not too difficult to sort through your financial aid options if you know where to look. Here's some quick tips to get you started.
Scholarships and grants are essentially free money for your education that you don't have to repay. These financial words can come through your college university as well as public and private sources outside of school. Sources include rotary clubs, research organizations, nonprofit organizations, and individuals. For more information on some of the top scholarships out there, check out our scholarship guide for social work students.
Student loans are another popular way that undergraduate learners get money for their education. Loans need to be repaid, plus interest. There are both Federal and private loans available to you. In most cases Federal loans offer better deals and interest rates then private lenders. To learn more about loan refinancing, repayment, and applications, have a look at our student loan guide.
Even if you don't think you need the financial assistance, you should fill out a Free Application for Federal Student Aid (FAFSA) to see if you qualify for funding from the federal government. You don't have to consider yourself or your family to be in a "low income" bracket to be able to receive this money. There is no application fee, so you have nothing to lose. Just by filling it out and submitting it, the FAFSA automatically qualifies you for a $1,000 scholarship opportunity.
Accreditation for Online Social Work Bachelor's
One of the more important things you should consider when looking for a social work program is whether or not the school has the appropriate accreditation. Accreditation ensures that an institution meets certain standards for a quality education and provide its graduates with worthwhile credentials.
There are two types of institutional accreditation: national and regional. National accreditation is typically awarded to vocational and trade schools that are highly career-focused. Regional accreditation often goes to academically focused schools that offer a wide range of degrees and traditional majors. Social work happens to be one of those fields where you should attend a school that holds regional accreditation.
Not all schools with regional accreditation will seek out programmatic accreditation. However, most reputable social work programs will hold programmatic accreditation from the Council on Social Work Education (CSWE). This is a nonprofit national organization that ensures social work programs in colleges and universities meet the established educational standards for the field.
What's After Your Online BSW?
Once you've earned a degree that prepares you to help individuals, families, and groups cope with daily challenges and gain access to essential resources, where do you begin to look for a job? Given your training, what jobs are available to you? Here are some key things you need to know as you approach the competitive job market.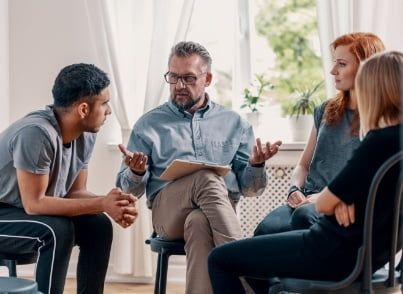 Do I need certification or licensure in social work?
Not all positions or states require social workers to hold licensure in order to work. There are, however, many careers in social work that do require licensure. Regardless of your location, students interested in acquiring licensure as a licensed social worker (LSW), licensed independent social worker (LISW), licensed clinical social worker (LCSW), or independent clinical social worker (LICSW) will need to hold a master's degree in social work.
With a BSW, you can earn your licensed bachelor of social work (LBSW) certification. After you finish your degree, you'll need to sit for the Association Social Work Board bachelor's licensure exam. With this credential, you can find entry-level careers in the human services that don't involve providing clinical services to clients. Higher level licensure beyond the LBSW requires you to hold a master's degree.
What can you do with an online social work degree?
The bachelor's degree in social work prepares you for many entry-level careers in the human services and puts you in a good place to pursue further education. Whether you are working for a nonprofit organization, local, state, or federal government entity, community center, or school system, your income level can vary greatly between positions. Broadly speaking, however, the Bureau of Labor Statistics reports that many careers in social work today pay quite well. As of May 2019, social workers earn approximately $11,000 more per year than the median annual wage for all other occupations in the U.S. Let's take a look at some prospective career and education paths for social workers today.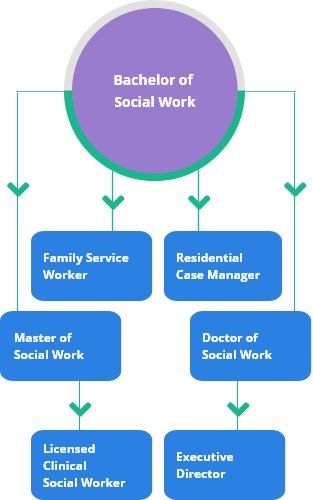 Salaries with a social work bachelor's degree
| Career | Median National Annual Salary (2019) | 10th Percentile | 90th Percentile |
| --- | --- | --- | --- |
| Social and Community Service Manager | $67,150 | $41,220 | $112,480 |
| Substance Abuse, Behavioral Disorder, and Mental Health Counselors | $46,240 | $29,520 | $76,080 |
| Probation Officer and Correctional Treatment Specialist | $54,290 | $36,370 | $94,860 |
Continuing Education & Related Degrees
We all want different things out of a career, and sometimes we have to change course to find what we need. You might be in a job where continuing education would help bolster your resume and position you for a promotion. Alternatively, maybe you want to go back to school and pursue a master's degree in a related find so you can jumpstart a new career. Here are a few educational options to consider for those of you who might want to branch out into other areas.
Continuing Education in Social Work
The master of social work can be an excellent choice if you would like to pursue a more specialized area of the field. Also, as mentioned earlier, the master's degree positions you for a much wider selection of licensure opportunities. A master's degree increases your employment options and your earning potential. It usually takes two years to complete master's coursework.
Doctor of Philosophy in Social Work (PhD)
Beyond a master's degree is the PhD. Like all PhDs, this is a research-focused credential that prepares students for top jobs in education at the university level or in research institutions. Most college professors, particularly those in tenure track positions, possess a PhD. This degree allows you to become an expert and authority on a particular topic. PhD-holders produce educational materials and research related to that area to further advance the field and benefit students. You can expect to spend 3-5 years completing a PhD.
Degrees Related to the BSW
In public health programs, you will study socioeconomic and socio-cultural aspects of health policy and public health. Depending on the program, core classes for this major typically include specialized coursework in biology, behavioral sociology, health informatics, and even chemistry. Public health degree holders often find jobs as healthcare consultants, nutritionists, public health officers, clinical researchers, and infection control officers.
In this major, you will study human behavior and emotions. Coursework covers areas such as general psychology, behavioral disorders, experimental psychology, statistics, and the history of psychology. The bachelor's degree in psychology helps graduates pursue a wide number of careers, including jobs as case workers, childcare workers, market researchers, teachers, and social service specialists.
Bachelor of Sociology
Majoring in sociology gives you the chance to study the complex structures and systems that influence the ways of society, affect communities, and play a role in our individual lives. You will also explore the ecological, cultural, religious, and political factors that make up our daily lives as part of a community. Upon graduation, you can pursue careers as a market research analyst, human resources representative, guidance counselor, management consultant, media planner, and much more.
Additional Resources for Social Work Students
National Board for Certified Counselors (NBCC)
National Association of Social Workers
The American Professional Society on the Abuse of Children
The National Association of Black Social Workers
Society for Social Work Leadership in Healthcare
Association for Gay, Lesbian, and Bisexual Issues in Counseling
Society for Social Work and Research
Substance Abuse and Mental Health Services Administration (SAMHSA)