Written By


last updated
09/06/2023
Online doctoral programs in counseling are a smart way for busy professionals to earn their PhD on a flexible timeline. But which ones are the best? That can be a hard question to answer, especially because every student has different needs. By considering important factors like affordability, accessibility, and access to student services, we made our list of the top programs going into 2024. See if one of these programs meets your career and academic goals, or simply use them as a springboard for researching additional programs.
or
About the ranking
X
Base Methodology for EduMed's Best Online College Rankings for the '23-'24 school year.
One: Create list of Eligible Schools and Programs
To be eligible, schools were required to meet the following criteria based on data pulled from The Integrated Postsecondary Education Data System (IPEDS), which was self-reported by the schools themselves.
Institutional accreditation from an organization recognized by the U.S. Department of Education.
At least 1 online component in a program within the ranking-subject area.
Two: Assign Weighting
After creating the list of eligible schools, EduMed data scientists assigned weights and ranked schools based on a mix of metrics, which were all self-reported by the schools themselves to the U.S. Department of Education and IPEDS.
The metrics are listed below in order of most- to least-heavily weighted.
Online Programs – Number of online programs in the relevant subject area.
Online Student % – Number of total students who are enrolled in at least 1 distance-learning course in the relevant subject area.
Tuition – The average in-state tuition for undergraduate students studying full-time, as self-reported by the school.
Academic Counseling – Existence of this service on campus or online.
Career Placement Services – Existence of this service on campus or online.
Student/Faculty Ratio
About Our Data: EduMed's rankings use the latest official data available from The Integrated Postsecondary Education Data System (IPEDS). Most recent data pull: July 2023
#

School Name

Type

Tuition

Online Programs

More Details

School Information

Online Students

Academic Counseling

Career Placement

Students w/Institutional Aid

Median Earnings 10yrs After Entry

Accreditation

1

Regent University

Virginia Beach, VA

Private not-for-profit

$$$

1

Learners seeking an advanced degree in psychology with a research focus should consider the counseling and psychology doctoral program at Regent University. Courses cover topics like Christian leadership, statistics, research, and psychometrics. To gain deeper expertise, students concentrate on an area of psychology, which includes biblical studies, grief counseling, addiction counseling, human service for student affairs, human service counseling, industrial-organizational psychology, life coaching, family and marriage, pastoral counseling, and trauma and crisis counseling. Students in the program are required to complete a dissertation prior to graduation.

Program Highlights:

Doctor of Philosophy in Counseling & Psychological Studies

Credits: 51
Length: about 3 years
Cost: $695/credit
Mode: Online
Accreditation: Southern Association of Colleges and Schools Commission on Colleges

Academic
CounselingYes
Career
PlacementYes
Student/
Faculty Ratio21/1
Online
Student %94%

2

Hampton University

Hampton, VA

Private not-for-profit

$$

1

If you're consiering a PhD in psychology but want to get your degree quickly, you should consider the accelerated program from Hampton University. In three and a half years, students complete core coursework, a dissertation, and electives in their chosen concentration. Concentrations include school counseling and community mental health counseling. The program is specifically designed for students interested in psychology in clinical, academic, or research settings. Since the program is fully online and flexible, students can earn their degree in this program from anywhere in the United States.

Program Highlights:

Doctor of Philosophy in Counselor Education and Supervision

Credits: 64
Length: 3.5 years
Cost: $695/credit
Mode: Online
Accreditation: Southern Association of Colleges and Schools Commission on Colleges

Academic
CounselingYes
Career
PlacementYes
Student/
Faculty Ratio13/1
Online
Student %46%

3

Western Michigan University

Kalamazoo, MI

Public

$$

1

Students interested in becoming licensed psychologists in Michigan should consider the flexible program at Western Michigan University. The coursework can be divided into five parts: scientific core coursework, specialized classes in counseling psychology, electives, a dissertation, and a pre-doctoral internship. Some in-person components are required including some courses and one academic-year-long internship, which can be completed either on campus or at a nearby healthcare facility. To make the program more affordable, there are scholarships and assistantships available.

Program Highlights:

Doctor of Philosophy in Counseling Psychology

Credits: 91 credits
Length: About 4 years
Cost: $764.76/credit
Mode: Hybrid
Accreditation: Higher Learning Commission

Academic
CounselingYes
Career
PlacementYes
Student/
Faculty Ratio16/1
Online
Student %56%

4

Kansas State University

Manhattan, KS

Public

$$

1

Kansas State University offers a vigorous, online Ph.D. in counseling and student development. The ideal student would be someone who is interested in becoming a counselor in a university setting, given that many of the courses focus on counseling higher education students. Along with general coursework, 12 hours of research to complete a dissertation and six credit hours of courses outside of their specialization. Successful candidates will also be eligible for state licensure as a mental health counselor.

Program Highlights:

Doctor of Philosophy in Counseling and Student Development

Credits: 94 credits
Length: About 4 years
Cost: $428.90/credit
Mode: Online
Accreditation: CACREP

Academic
CounselingYes
Career
PlacementYes
Student/
Faculty Ratio19/1
Online
Student %45%
Adams State University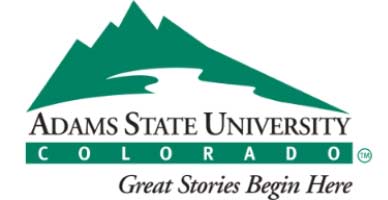 At Adams State University (ASU), students can earn their doctorate through the accredited online Counselor Education and Supervision PhD program. Graduates are well-suited for careers as supervisors, directors, researchers, advanced counselors, and faculty at institutions of higher learning. The curriculum consists of approximately 66 credit hours, with coursework broken down into three types. There are the traditional classes that teach students the necessary knowledge to become counseling professionals at the doctorate level. Then there are the classes that consist of a practicum and internships, where students have the opportunity to demonstrate what they've learned. The purpose of the practicum is to hone a student's clinical skills so that they may be applied in the education or supervisory setting. Finally, there are four dissertation classes which serve as the culmination of the program.
Whether a Colorado resident or not, all online PhD counseling students will pay the same tuition rate of $757.00 per credit hour.
Oregon State University

The PhD in Counseling program at Oregon State University (OSU) is accredited by CACREP and available online through OSU's Ecampus. Despite being an online program, students must complete certain in-person requirements. In addition to internship and practicum requirements, students must attend a face-to-face class in Portland, Oregon. This class only meets twice each quarter and lasts two days, from Friday to Saturday. This in-person program is part-time only, designed with the expectation that most students are already practicing as counselors.
To graduate, students must complete 94 credits. Despite the part-time curriculum, students can complete their PhD degree in just three years. However, most take three to five years to finish the program. For entry into the program, students must have a master's degree in counseling or a related field, with many of these master's degree credits applicable to certain PhD course requirements.
Regardless of residency, students will pay $590.00 per credit in tuition.
University of the Cumberlands

The University of the Cumberlands' online PhD in Counselor Education and Supervision program is fully accredited by CACREP and consists of 66 credit hours spread out among Leadership, Professional Research and Clinical, and Specialty Area Content coursework. It's this latter group of classes that helps UC's program stand out. Unlike many other online PhD counseling programs, students have the opportunity to choose among three areas of specialty: Addiction, Advanced Counseling, and Leadership. Each concentration consists of four courses and makes it easier for students to better tailor their education for their future goals, whether in management or advanced counseling practice. The application process is similar to many other related programs, but one unique feature is that applicants must provide their test scores from either the NCE or NCMHCE licensure exams.
The tuition at UC is very affordable, with online PhD counseling students paying just $400.00 per credit hour.
FAQs About Earning Your PhD in Counseling Online
Before spending the time and effort of applying and enrolling in an online PhD counseling program, you'll want to do your research. The more information you learn about a program, the more informed decision you'll be able to make about this critical next step in your professional career. Here's what you need to know.
What do you learn in a counseling degree program at the doctoral level?
Each online counseling PhD program will be different, but if the programs are accredited by CACREP, there will be some parallels with respect to topics covered and skills taught. For example, PhD counseling programs almost always require students to hone their research skills through the completion of the dissertation, a detailed and extensive research project. There will also be common learning outcomes that each curriculum will strive to meet, including:
Advanced counseling. Learn advanced clinical counseling skills and ethical considerations, then be able to apply that knowledge to improve the quality and availability of care provided to clients and patients.
Knowledge development. Create and cultivate new information through the analysis of existing research and statistical data for better understanding and application in the clinical and academic settings.
Management. A solid grasp of strategies and skills to better oversee counseling services provided to clients, academic training to students, and leadership qualities demonstrated to colleagues.
Advocacy. Be better able to promote the interests of co-workers, clients, students, and other internal stakeholders. These advocacy skills may be used in interactions with academic leaders, community leaders, and fellow practitioners.
Teaching. Prepare prospective counseling educators to make the most of their formal education within the higher education context and provide them with the skills and information necessary to make the largest contribution to their chosen profession.
Common PhD Counseling Courses
Counseling Leadership
Various leadership strategies and skills are covered in this class in an effort to prepare students to be more effective advocates for their clients and leaders for themselves and colleagues. It also focuses on how to address the issues and concerns of clients and professionals within the counseling profession.
Statistics
This introductory course examines various theories of probability and statistics. Topics include inferential analysis, testing hypotheses, regression, correlation, and probability. These topics are essential for effective implementation and completion of quantitative analysis and research.
Qualitative Research
This is where students acquire advanced understanding of qualitative research theories and practices. This includes an examination of the understanding of logical reasoning, logical fallacies, and forming conclusions. Other topics covered in this course include proper procedures for data collection and analysis.
Clinical Practicum
The clinical practicum allows students to apply their prior coursework to real world situations. In this course, students work under the supervision of a qualified counselor in a clinical practice setting. Often, students work with their supervisor for a set number of hours and then reflect on their practicum with a professor in their program.
Dissertation
Most online counseling PhD programs will break up the dissertation into two or more courses. In this first class, students work with their dissertation committee and/or supervisor to complete background research to choose a topic. Students will also begin the design of the research methodology for their primary topic of study.
What specializations or concentrations are available in online PhD counseling programs?
While some PhD counseling programs are more general, many online programs allow students to focus on a particular concentration. In some schools, the entire program might be dedicated to that specialization, such as the program at Adams State University, which focuses on how to work in a research or education setting. In other schools, students might take certain elective classes within their PhD counseling coursework, thus building their knowledge in a particular concentration. It's important to familiarize yourself with the most popular counseling specializations so you can choose the right PhD program.
Counselor Education & Supervision
This specialization is often a standalone degree program. Its curriculum prepares students for work in either an education or managerial setting. Individuals interested in teaching future counselors at the postsecondary level or taking on a supervisory role in their clinical practice will be most interested in this specialization.
Substance abuse and problematic behavior are common problems that many counselors see. Those who would like to increase their understanding of clients with these issues might find the concentration in addition quite helpful. In this specialization, students will learn about psychopharmacology, human motivation, and addiction treatment methods.
This is a popular concentration, especially for PhD students who are already practicing as licensed counselors but want to take a managerial or supervisory position within the clinical setting. In this concentration, students will learn about creating and evaluating treatment programs, personnel management, and grant writing.
Those who want to take their clinical practice to the next level will appreciate this concentration, which offers a variety of coursework that can serve as a first step into a new area of practice. Sample coursework includes learning about play therapy, trauma, and human sexuality.
Counselors with a desire to learn more about the theory and methodologies behind counseling techniques can look at this specialization, where they take an advanced look at both qualitative and quantitative forms of assessment in the counseling setting. This specialization is best suited for those interested in a career in research.
How long does it take to finish a PhD in counseling online?
When it comes to a PhD degree completion timeline, three to seven years is a solid estimate. Why the big discrepancy? The tremendous amount of self-pacing, especially for online degrees, allows for students to plan out their own timeline. There are full-time and part-time options, the opportunity to take some time off if necessary, and the variable the dissertation throws into the mix. For some, it can take a year or two, and for others it might take much longer. Typically, students complete their program in somewhere around four or five years. In some schools, there is a time limit on the program, meaning a student must complete all coursework and the dissertation by that point, such as seven years.
What are the admissions requirements for online doctoral counseling programs?
Admissions requirements can vary based on each school's own policies and procedures, as well as an applicant's prior educational background. However, most CACREP-accredited online PhD counseling programs will require all incoming applicants to provide:
Proof of a master's degree in counseling from a CACREP accredited program or completion of a CACREP equivalent curriculum
Provide all official transcripts since high school
A minimum GPA during the master's education
Some programs may also require National Clinical Mental Health Counseling Examination (NCMHCE) or National Counselor Examination (NCE) test scores, a resume or curriculum vitae, letters of recommendation, a writing sample, and admissions interview.
How much do online PhDs in counseling cost?
The exact cost of attending an online PhD counseling program will depend on a number of variables, such as the type of institution you're attending (public versus private), your residency status if attending a public school, the amount of financial aid you've obtained, and how long it takes you to complete your dissertation. The tuition rate examples below can provide a rough idea of what you should expect to pay:

Capella
University
PhD in Counselor Education and Supervision
Total Credits: 72
$710/credit

Michigan State
University
PhD in Rehabilitation Counselor Education
Total Credits: 77
$415.88/credit (in-state)

Grand Canyon
University
PhD in Counseling Education and Supervision
Total Credits: 62
$725.00/credit
Getting Help Paying for Your Online PhD Counseling Degree
One of the biggest challenges to completing a degree is finding a way to pay for it. While the cost of a PhD can be steep, there are a variety of financial aid options to make paying for schooling far more manageable.
Scholarships and grants are gift-based forms of financial aid, meaning they do not need to be paid back. You can find scholarships and grants in a number of places, including your school, charitable organizations, corporations, and government websites. To learn more about how to obtain one, refer to our scholarships guide.
While not as desirable a grant or scholarship, student loans are usually easier to obtain. Even though you need to pay back a student loan, you may qualify for special terms in the form of delayed repayments and low interest rates. Our student loan guide can help you make sense of all the various student loan options.
For those already working, an employer may offer benefits that include tuition reimbursement for employees who earn a more advanced degree. In hybrid online PhD programs where the curriculum will include on-campus requirements, paid fellowships and assistantships are possible. These provide opportunities for students to assist professors in teaching and research while at the same time learning more about their field and receiving compensation in the form of a stipend or reduced tuition. Finally, certain schools will provide discounts to students who are associated with certain organizations, such as specific employers or the U.S. military. Learn more about securing financial aid for your online counseling PhD.
Accreditation for Online Doctoral Counseling Programs
When choosing an online PhD counseling program, accreditation matters. Accreditation is the process where an independent organization reviews a school or program to ensure the education meets a certain level of quality. Without accreditation, your degree will mean little to future employers, clients, and regulatory agencies. Additionally, it will generally mean you are ineligible for financial aid, both from private sources and state and federal governments.
Accreditation usually applies at both the program and institutional level. Program level accreditation refers to a specific academic program or degree. In the case of PhD programs in counseling, the accrediting body is CACREP. In addition to programmatic accreditation, the school you choose should be accredited, too, from a national or regional accrediting organization recognized by the U.S. Department of Education (DOE). You can review a school's current accreditation status at this helpful DOE website, looking for an accreditation section on a school's website, or by contacting the school directly.
What's Next After Completing Your Online Counseling PhD
After you graduate, you may be ready to move full speed ahead into your new career. Perhaps you're teaching future counselors, psychologists, and social workers at a university. Or maybe you can engage in research relating to therapy. Others may wish to continue or begin counseling clients, now with a deeper perspective on how to help them.
Depending on your choice, you may have additional steps to take after graduation. One such example is the licensing or certification process.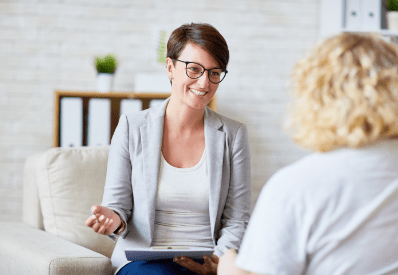 Do I need to earn a state license or professional certification before I start my PhD counseling career?
State licensure or certification will be necessary if you choose to work in certain areas. For work as a counselor, most states will require licensure. This typically includes completion of an exam, such as the NCE or NCMHCE, as well as having a relevant master's degree and a certain amount of supervised clinical experience (often at least 2,000 hours). However, many students entering a PhD counseling program will already have this licensure.
In other instances, a license or certification will provide an opportunity to expand your area of practice or become eligible to practice in an area similar to your current one. This could include becoming a nationally certified school counselor or obtaining a crisis intervention counseling certification.
What can you do with a PhD counseling degree?
A PhD provides greater access to additional counseling career fields, such as management, research, and teaching in higher education. That PhD can open doors for careers in private practice, colleges, universities, healthcare facilities, and government. It also allows for greater earning potential and compensation that easily exceeds the national average. Even when the pay increase is modest, there may be other advantages, such as being able to work fewer hours and receiving better benefits. Government and higher education are great examples of where this is possible. For more ideas of the professional opportunities that become more readily available with a doctorate degree, take a look at the following: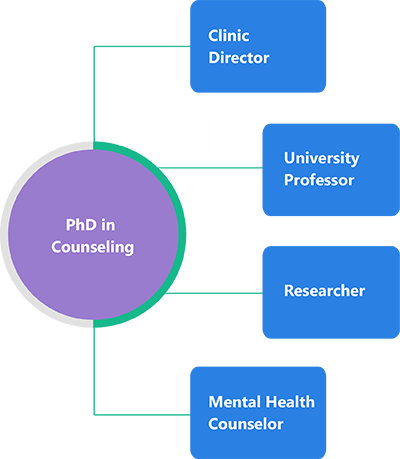 How much can you earn with a PhD in Counseling?
One of the advantages of earning a counseling PhD is the earning potential. While your salary can depend on a variety of factors, such as geographic location and prior work experience, you can still do some research to get a rough idea of what you can expect after you graduate. This chart should help get you started.
| Career | Median National Annual Salary (2019) | 10th Percentile | 90th Percentile |
| --- | --- | --- | --- |
| Postsecondary Teacher | $79,540 | $40,480 | $174,960 |
| School and Career Counselors | $57,040 | $34,380 | $96,090 |
| Substance Abuse, Behavioral Disorder, and Mental Health Counselors | $46,240 | $29,520 | $76,080 |
Related Degrees to Consider
If you're thinking about earning an online doctoral degree in counseling, it's worth taking the time to consider other degree paths. These may provide a better fit for your career goals. Here are few good alternatives to look into.
Online PsyD Programs (Doctor of Psychology)
The PsyD degree is ideal for those who really want to work as psychologists in clinical practice. With this doctoral degree, students will learn the most advanced and highest level skills, knowledge, and practices to help them provide the best care possible to their patients or clients.
A PhD in psychology is for those who want to obtain a more scientific and research-oriented learning experience. While a PhD curriculum will fully prepare someone to practice as a psychologist or otherwise treat clients, the theory-based curriculum will also open the door to a career in teaching or research. For those who want to teach at a post-secondary institution or engage in research, a PhD is probably a great option to consider.