Best Online PhD Counseling Programs in 2020
Online doctoral programs in counseling are a smart way for busy professionals to earn their PhD on a flexible timeline. But which ones are the best? To help you get started on their search for a quality online program, we researched colleges from across the U.S. to find the ones that deliver the best combination of affordability, quality, flexibility, and student support. Below, we've spotlighted three of the best schools offering online PhD counseling programs in 2020. All of our spotlight schools are CACREP accredited, ensuring they meet high quality standards. See if one of these programs meets your career and academic goals or simply use them as a springboard for researching additional programs.
Adams State University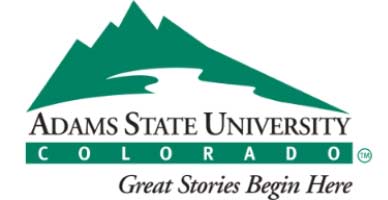 At Adams State University (ASU), students can earn their doctorate through the accredited online Counselor Education and Supervision PhD program. Graduates will be well-suited for careers as supervisors, directors, researchers, advanced counselors, and faculty at institutions of higher learning. The curriculum consists of approximately 66 credit hours, with coursework broken down into three types. There are the traditional classes that teach students the necessary knowledge to become counseling professionals at the doctorate level. Then there are the classes that consist of a practicum and internships, where students have the opportunity to demonstrate what they've learned. The purpose of the practicum is to hone a student's clinical skills so that they may be applied in the education or supervisory setting. Finally, there are four dissertation classes which serve as the culmination of the program.
Whether a Colorado resident or not, all online PhD counseling students will pay the same tuition rate of $757.00 per credit hour.
University of the Cumberlands
FAQs About Earning Your PhD in Counseling Online
Before spending the time and effort of applying and enrolling in an online PhD counseling program, you'll want to do your research. The more information you learn about a program, the more informed decision you'll be able to make about this critical next step in your professional career. Here's what you need to know.
What do you learn in a counseling degree program at the doctoral level?
Each online counseling PhD program will be different, but if the programs are accredited by CACREP, there will be some parallels with respect to topics covered and skills taught. For example, PhD counseling programs almost always require students to hone their research skills through the completion of the dissertation, a detailed and extensive research project. There will also be common learning outcomes that each curriculum will strive to meet, including:
Advanced counseling. Learn advanced clinical counseling skills and ethical considerations, then be able to apply that knowledge to improve the quality and availability of care provided to clients and patients.
Knowledge development. Create and cultivate new information through the analysis of existing research and statistical data for better understanding and application in the clinical and academic settings.
Management. A solid grasp of strategies and skills to better oversee counseling services provided to clients, academic training to students, and leadership qualities demonstrated to colleagues.
Advocacy. Be better able to promote the interests of co-workers, clients, students, and other internal stakeholders. These advocacy skills may be used in interactions with academic leaders, community leaders, and fellow practitioners.
Teaching. Prepare prospective counseling educators to make the most of their formal education within the higher education context and provide them with the skills and information necessary to make the largest contribution to their chosen profession.
Common PhD Counseling Courses
What specializations or concentrations are available in online PhD counseling programs?
Some schools provide opportunities to focus on a particular concentration during their online studies. In some schools, the entire program might be dedicated to that specialization; one good example of this is the Education and Supervision PhD counseling program. In other schools, students might take certain elective classes within their PhD counseling coursework, thus building their knowledge in a particular concentration. Below is a list of some of the more popular counseling specializations available to PhD students.
Counselor Education & Supervision
How long does it take to finish a PhD in counseling online?
When it comes to a PhD degree completion timeline, three to seven years is a solid estimate. Why the big discrepancy? The tremendous amount of self-pacing, especially for online degrees, allows for students to plan out their own timeline. There are full-time and part-time options, the opportunity to take some time off if necessary, and the variable the dissertation throws into the mix. For some, it can take a year or two, and for others it might take much longer. Typically, students complete their program in somewhere around four or five years. In some schools, there is a time limit on the program, meaning a student must complete all coursework and the dissertation by that point, such as seven years.
What are the admissions requirements for online doctoral counseling programs?
Admissions requirements can vary based on each school's own policies and procedures, as well as an applicant's prior educational background. However, most CACREP-accredited online PhD counseling programs will require all incoming applicants to provide:
Proof of a master's degree in counseling from a CACREP accredited program or completion of a CACREP equivalent curriculum
Provide all official transcripts since high school
A minimum GPA during the master's education
Some programs may also require National Clinical Mental Health Counseling Examination (NCMHCE) or National Counselor Examination (NCE) test scores, a resume or curriculum vitae, letters of recommendation, a writing sample, and admissions interview.
How much do online PhDs in counseling cost?
The exact cost of attending an online PhD counseling program will depend on a number of variables, such as the type of institution you're attending (public versus private), your residency status if attending a public school, the amount of financial aid you've obtained, and how long it takes you to complete your dissertation. The tuition rate examples below can provide a rough idea of what you should expect to pay:

Capella
University
PhD in Counselor Education and Supervision
Total Credits: 72
$710/credit

Michigan State
University
PhD in Rehabilitation Counselor Education
Total Credits: 77
$818.75/credit (in-state); $1,577/credit (out-of-state)

Grand Canyon
University
PhD in Counseling Education and Supervision
Total Credits: 62
$685.00/credit
Getting Help Paying for Your Online PhD Counseling Degree
One of the biggest challenges to completing a degree is finding a way to pay for it. While the cost of a PhD can be steep, there are a variety of financial aid options to make paying for schooling far more manageable.
1 Scholarships & Grants
Scholarships and grants are gift-based forms of financial aid, meaning they do not need to be paid back. You can find scholarships and grants in a number of places, including your school, charitable organizations, corporations, and government websites. To learn more about how to obtain one, refer to our scholarships guide.
Accreditation for Online Doctoral Counseling Programs
When choosing an online PhD counseling program, accreditation matters. Accreditation is the process where an independent organization reviews a school or program to ensure the education meets a certain level of quality. Without accreditation, your degree will mean little to future employers, clients, and regulatory agencies. Additionally, it will generally mean you are ineligible for financial aid, both from private sources and state and federal governments.
Accreditation usually applies at both the program and institutional level. Program level accreditation refers to a specific academic program or degree. In the case of PhD programs in counseling, the accrediting body is CACREP. In addition to programmatic accreditation, the school you choose should be accredited, too, from a national or regional accrediting organization recognized by the U.S. Department of Education (DOE). You can review a school's current accreditation status at this helpful DOE website, looking for an accreditation section on a school's website, or by contacting the school directly.
What's Next After Completing Your Online Counseling PhD
After you graduate, you may be ready to move full speed ahead into your new career. Perhaps you're teaching future counselors, psychologists, and social workers at a university. Or maybe you can engage in research relating to therapy. Others may wish to continue or begin counseling clients, now with a deeper perspective on how to help them.
Depending on your choice, you may have additional steps to take after graduation. One such example is the licensing or certification process.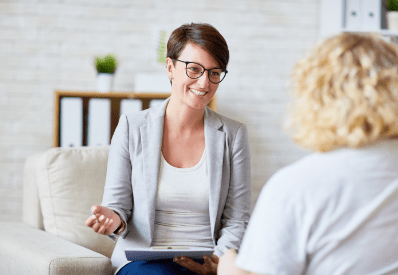 Do I need to earn a state license or professional certification before I start my PhD counseling career?
State licensure or certification will be necessary if you choose to work in certain areas. For work as a counselor, most states will require licensure. This typically includes completion of an exam, such as the NCE or NCMHCE, as well as having a relevant master's degree and a certain amount of supervised clinical experience (often at least 2,000 hours). However, many students entering a PhD counseling program will already have this licensure.
In other instances, a license or certification will provide an opportunity to expand your area of practice or become eligible to practice in an area similar to your current one. This could include becoming a nationally certified school counselor or obtaining a crisis intervention counseling certification.
What can you do with a PhD counseling degree?
A PhD provides greater access to additional counseling career fields, such as management, research, and teaching in higher education. That PhD can open doors for careers in private practice, colleges, universities, healthcare facilities, and government. It also allows for greater earning potential and compensation that easily exceeds the national average. Even when the pay increase is modest, there may be other advantages, such as being able to work fewer hours and receiving better benefits. Government and higher education are great examples of where this is possible. For more ideas of the professional opportunities that become more readily available with a doctorate degree, take a look at the following: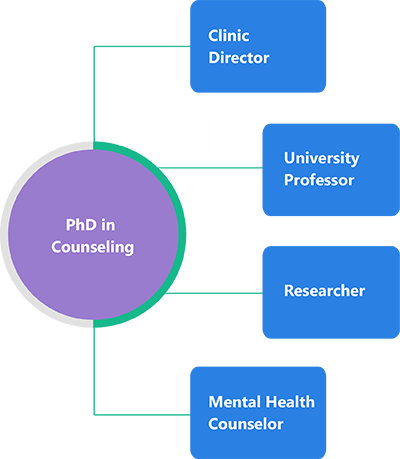 How much can you earn with a PhD in Counseling?
One of the advantages of earning a counseling PhD is the earning potential. While your salary can depend on a variety of factors, such as geographic location and prior work experience, you can still do some research to get a rough idea of what you can expect after you graduate. This chart should help get you started.
| Career | Median National Annual Salary (2019) | 10th Percentile | 90th Percentile |
| --- | --- | --- | --- |
| Postsecondary Teacher | $79,540 | $40,480 | $174,960 |
| School and Career Counselors | $57,040 | $34,380 | $96,090 |
| Substance Abuse, Behavioral Disorder, and Mental Health Counselors | $46,240 | $29,520 | $76,080 |
Related Degrees to Consider
If you're thinking about earning an online doctoral degree in counseling, it's worth taking the time to consider other degree paths. These may provide a better fit for your career goals. Here are few good alternatives to look into.
Online PsyD Programs (Doctor of Psychology)
The PsyD degree is ideal for those who really want to work as psychologists in clinical practice. With this doctoral degree, students will learn the most advanced and highest level skills, knowledge, and practices to help them provide the best care possible to their patients or clients.
Online PhD in Psychology
A PhD in psychology is for those who want to obtain a more scientific and research-oriented learning experience. While a PhD curriculum will fully prepare someone to practice as a psychologist or otherwise treat clients, the theory-based curriculum will also open the door to a career in teaching or research. For those who want to teach at a post-secondary institution or engage in research, a PhD is probably a great option to consider.