Written By


last updated

02/18/2021
Best Online Mental Health Counseling Master's Programs for 2021
When you think of online degree programs, mental health counseling may not be the first subject that comes to mind. However, many accredited, top-tier schools now offer mental health counseling master's programs that combine convenient online coursework with in-person clinicals, fieldwork, and other curriculum components that require close interaction.
With so many options to choose from these days, it can be challenging to find the online program that's right for you. It's important to spend time researching programs to find the one that best fits your career and academic goals while still fitting your budget. To help get you started, we identified and spotlighted three of the best online mental health counseling degrees currently available. Each is accredited by the Council for Accrediting Counseling and Related Educational Programs (CACREP), the primary accreditor for counseling programs and a signal of high quality. Take a closer look at the schools offering these top-rated counseling programs and see if they have the qualities to make your college shortlist.
Northwestern University

Northwestern's online master of arts in counseling prepares you for a career as a mental health counselor by combining technical counseling theories with evidence-based practices. The 60-credit program offers all classes entirely online through innovative, flexible delivery methods that most students complete within six quarter terms. During their second year of the program, students can pursue an optional emphasis in child and adolescent counseling. This concentration builds additional expertise in working with youth and responding to the unique challenges they face.
This program accepts students on a traditional, part-time, or accelerated basis to accommodate a wide variety of needs and circumstances. The school uses an expert field placement team to help candidates select a viable internship in their area. These placements involve 800 hours of real-world, on-the-job experience. Additional residential requirements include two immersion experiences that take place on Northwestern's main campus in Chicago. The program concludes with an integrative capstone component rather than traditional comprehensive exams.
New York University

New York University offers an online master's in mental health counseling that qualifies you for initial licensure and eventual employment in private practices and addiction treatment centers. Many candidates complete all program requirements in as few as 21 months, selecting one of NYU's three state dates throughout the year. The program involves 60 credits of classroom instruction, a 100-hour practicum, 600 hours of supervised internship work, and a counseling lab experience.
NYU offers internship and practicum placements at approved sites in your own community. The counseling lab occurs virtually and gives you the opportunity to practice behavioral health skills in roleplaying scenarios with a peer partner. All coursework is administered in an interactive learning environment through synchronous class sessions. This environment also provides tools to connect with faculty and peers outside structured class time. The curriculum covers a diverse array of topics like counseling theory and process, behavioral evaluation, human growth and development, and abnormal psychology.
Regent University

Regent University's School of Psychology and Counseling grants a master of arts in clinical mental health counseling ideal for those interested in obtaining licensure. This online program requires 60 credits and two week-long residency experiences on campus. These experiences include orientation sessions, networking and mentoring opportunities, and peer discussions.
Regent's curriculum develops vital knowledge in human growth with a special emphasis on crisis and trauma. Candidates practice prominent counseling techniques and learn how to treat and diagnose people with mental or emotional health disorders. All courses are taught by seasoned faculty with terminal degrees in their field. Candidates receive interactive instruction entirely online and can choose from three different progression methods to develop an individualized plan of study. Coursework offerings may include family systems theory, group counseling, assessment techniques, and professional ethics. The program concludes with a comprehensive exam that evaluates acquired skill and anticipates state-level licensure.
FAQs About the Online Master's in Mental Health Counseling
There's a lot to consider as you look at online mental health programs. Whether you're wondering about typical curriculum offerings, overall costs, or common learning objectives, the best decision is an informed one. Below we discuss some frequently asked questions and provide key answers to help you select a program that make sense for you.
What specializations or concentrations are available in online mental health counseling master's degree programs?
Most online mental health counseling programs offer areas of specialization. Some students select a specialization that correlates with their career goals. Others may select something that complements their main interests or lends itself to interdisciplinary application. Either way, these concentration opportunities are a great way to focus your skills in one area or develop additional areas of expertise.
Child/Adolescent Counseling
This concentration prepares students to respond to the mental health needs of children and adolescents. It looks at useful evidence-based treatment models and examines how factors like divorce, parenting style, and family violence contribute to emotional development. Some schools extend this specialization alongside a family and marriage counseling focus.
Trauma and Crisis Counseling
If you are interested in helping people recover from trauma and other crisis-related disasters this may be a good fit. It focuses study on intervention strategies and treatment plans designed to facilitate health and wholeness in the wake of distressing events. Students learn how to apply core counseling skills in these situations, supporting individuals and families.
Forensic Mental Health Counseling
This specialization brings mental health counseling into the fields of criminal justice and law enforcement. It looks at how to resolve open cases and develops skills in negotiation and conflict management. It also looks at mental health law and examines those laws may interact with treatment plans.
A concentration in addiction counseling equips you to address the unique challenges faced by people struggling with addiction. It surveys common addictive behaviors and examines popular treatment plans. It prepares future counselors for work with the families of those suffering from addiction, including effective intervention models that support group healing and healthy behavior.
What do you learn in an online mental health counseling degree program?
While each program is different and brings its own perspective, most online mental health counseling degrees share similar curricula designed to achieve shared learning outcomes. Most schools develop these outcomes in accordance with standards set by accrediting agencies like the Council for Accrediting Counseling and Related Educational Programs (CACREP). If you enroll in one of these programs, you can expect to graduate with:
A clear understanding of how major counseling and psychotherapy theories interact and with treatment plans and contribute to preventative care.
The ability to analyze group dynamics and identify how interactive processes hinder or enhance the emotional health and mental well-being of individual participants.
An empathic and informed perspective on how issues pertaining to culture, race, gender, sexuality identity, socio-economic status, and family history impact psychological development.
The capacity to sharply examine known personality differences and related your findings to deviant, abnormal, and psychopathological behaviors.
Competence in generating individual and group behavior assessments as well as interpreting their results for application in treatment, therapy, or intervention.
Common Mental Health Counseling Degree Courses
This course introduces students to human development across the lifespan and covers major social and emotional theories. The class surveys common approaches and typically focuses on issues related to grief and loss. Students come away with an understanding of how developmental stages contribute to psychological issues and how transitions between the stages affect mental health work.
Students in this course look at the main theories and concepts that inform counseling and psychotherapy. These typically include cognitive and behavioral approaches along with psychoanalysis and neuroscience. Students work to develop their own counseling theory in conversation with these sources and often work in groups to hone their technique.
This class develops working knowledge in the research methods specific to psychology and other social sciences. The course looks at prominent case studies and works to apply both statistical approaches and the scientific method to the counseling process. Students learn to assess and evaluate scientific literature while striving to integrate the literature's findings in their own practice.
Assessment and Evaluation
This course looks at how to locate viable assessments and evaluate them for strengths and weaknesses. Students use this data to inform their own assessments and better understand the role assessment plays in individual sessions, intake, treatment, and diagnosis. Some iterations of this course may also cover program evaluation.
Internship and Practicum Experiences
Most schools will have some version of this capstone course. Through this experience, you work to apply gained skills and knowledge in settings that prepare you for future practice. Many schools supply placements in a variety of locations. Students must report to an approved site supervisor throughout the process who evaluates their progress.
Can you earn an online mental health degree completely online?
Most programs require at least some form of in-person component such as an internship, residency, or clinical fieldwork. Schools often accommodate requests for internships and clinical placements in your own local area. Some may require participation in 1-3 residential experiences on campus with all coursework components occurring online. This is the more common approach and ultimately gives you more opportunity for networking and hands-on application.
How long does it take to earn an online master's in mental health counseling?
Timeframes for completion vary widely and depend on enrollment status and outside professional responsibility. Many schools report that most students finish their online master's in mental health counseling in three years or less. This figure is based on full-time enrollment with a normal course load and few outside obligations. Part-time students with additional work commitments will likely take longer. Some school may also offer an accelerated path. This route significantly reduces your time in school but may be more expensive in the long-run, depending tuition rates.
How much does an online mental health counseling degree cost?
This depends on the type of school you attend, where you live, program length, and available funding. In some cases, you may be able to pay a flat tuition rate as an online student regardless of location, but this is not a universal policy. The best rule of thumb is to check current rates for potential schools ahead of time. Below are three examples to give you a sense of the costs.

North Carolina State
University
Online Master of Education in Clinical Mental Health Counseling
Total Credits: 60
$462/credit in-state;
$1,311/credit out-of-state

New York
University
Online M.A. in Mental Health Counseling
Total Credits: 60
$1,795/credit

University of
Alabama
M.A. in Rehabilitation Counseling
Total Credits: 60
$420/credit
What are the admissions requirements for mental health counseling program?
Most schools share the same admissions requirements as other graduate programs and many forgo standardized tests. If you're planning to apply to an online mental health counseling program you will likely need the following:
A relevant bachelor's degree from a regionally accredited institution.
Official transcripts for all previous academic work indicating a competitive GPA.
A statement of purpose that discusses your academic background, professional goals, and fit within the program.
1-3 letters of reference from previous supervisors or mentors.
A current resume or CV.
These are minimum requirements shared by a majority of programs. Other program-specific requirements may also apply, so pay close attention to the details.
Financial Aid for Your Online Mental Health Counseling Degree
Paying for higher education can be costly and it's important to make sure you have the expenses covered before you enroll. Fortunately, there are a number of financial aid opportunities out there, you just need to know where to look. These include institutional scholarships, federal grants, student loans, and other program-specific opportunities.
These awards are a great way to fund your education and do not need to be repaid. Some schools may offer their own scholarships to qualified candidates. Many organizations and nonprofits in the mental health space extend similar opportunities. See our helpful scholarship guide for more information on where to find them and how to apply.
Unlike scholarships and grants, funds secured through student loans must be repaid following graduation. Many students use this option to cover additional costs not met by other means. Some student loans come from federal agencies. Others can be found through private entities and some schools may offer their own student loan opportunities.
Depending on your school and program of choice, you may be able to secure additional forms of financial aid. Opportunities like fellowships, graduate assistantships, and internship placements sometimes often offer reimbursements or tuition waivers in exchange for service. These services often involve teaching, research, or other work that supports the school and its mental health endeavors.
Accreditation for Mental Health Counseling Degree Programs
The best schools out there will hold one of two forms of institutional accreditation, regional and national. Regional accreditation is the more prestigious of the two, but both are signals that a college has been properly reviewed by an independent organization, so long as the organization is recognized by the U.S. Department of Education (and secondarily by the Council for Higher Education Accreditation).
Some mental health counseling degree programs may also possess programmatic accreditation. This is a supplementary credential providing additional backing and demonstrates that the program meets field-specific standards. In mental health counseling, the main accreditor is the Council for Accreditation of Counseling and Related Educational Programs (CACREP). Some programs may alternatively hold accreditation from the Master in Psychology and Counseling Accreditation Council (MPCAC).
Getting Your Professional License and Certification After Your Online Mental Health Counseling Master's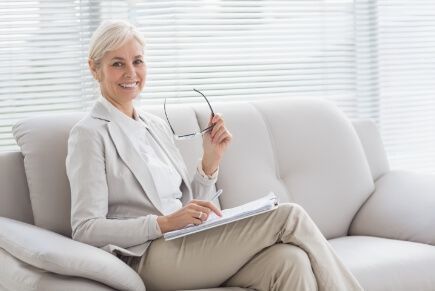 Mental health counselors need additional credentials beyond a master's degree in order to practice, including earning a license in the state you plan to work in. This process generally involves completing education requirements, a certain number of supervised work hours, and an exam. Afterwards, you will be able to use titles specified by your state, such as Licensed Mental Health Counselor (LMHC), Licensed Professional Counselor (LPC), Licensed Clinical Professional Counselor (LCPC), or Licensed Professional Clinical Counselor (LPCC).
Specific details vary by state. The American Counseling Association provides a helpful list of all licensing boards by state. Let's take California as an example. The Board of Behavioral Sciences oversees licensure for that state and grants credentials for clinical counselors and therapists. This process requires earning a master's degree, getting a background check, completing 3,000 hours of supervised experience, and passing two exams, one of which is specific to state regulations.
Your state will have a comparable process managed by a similar licensing board. Most states will require that you pass the National Counselor Examination for Licensure and Certification.
In addition to licensure, mental health counselors who want to stand out and can earn voluntary board certification from the National Board for Certified Counselors. The most popular option is becoming a Certified Clinical Mental Health Counselor. Earning certifications like this can be a great way to show potential clients and employers that you are at the top of your field, and may lead to higher earnings potential.
Career and Salary Outlook for Mental Health Counselors
You probably have a few additional questions about what will happen after you graduate. Below we discuss some FAQs concerning career and salary prospects for graduates with an online master in mental health counseling.
Are mental health counselors and related careers in high demand?
The U.S. Bureau of Labor Statistics (BLS) projects that jobs in mental health counseling will increase by at least 22% in coming years, much faster than average for all occupations nationwide. These trends are due to a sustained increase in local demand across the country. As people continue to turn to professionals for help, more jobs in mental health counseling and related fields will likely open up.
How much do mental health counselors make?
According to recent BLS data, substance abuse, behavioral disorder, and mental health counselors receive earnings above the national average. In 2019, the median annual wage for these professionals was $46,240, with the lowest and highest percentile earners taking home $29,520 and $76,080, respectively. The highest-paying industries for mental health counselors include government agencies, hospitals (state, local, and private), and individual and family services facilities.
Continuing Education & Related Degrees
Earning this degree qualifies you for most mental health counseling jobs, but it also acts as a solid stepping stone for further academic and career advancement. Below are a few degree options that may be good options. Each one takes a master's in mental health counseling as a starting point and develops additional expertise.
We've also listed a few alternative master's degrees to consider, which are worth looking into if you're not locked into earning a mental health counseling degree.
Continuing Education Opportunities
PhD in Mental Health Counseling
This is the highest terminal degree in mental health counseling. Designed for those interested in education, research, or continued practice, it develops advanced scientific knowledge and expert clinical skills. It prepares you for postsecondary teaching and to conduct cutting-edge research that broadens the field's horizons.
Online PsyD (Doctor of Psychology)
This course of study is similar to a Ph.D. in terms of educational attainment but focuses on clinical work in psychology rather than research and teaching. It deepens evidence-based applications and usually involves an original project that explores a specific clinical problem. Graduates with this degree often work as clinical psychologists in private practice.
Online DSW (Doctor of Social Work)
A DSW applies mental health counseling knowledge in practice-based social work contexts. DSW candidates learn to assess and implement social welfare programs and focus on how mental health concerns interact with that space. The highest degree in social work, this credential qualifies you for work as an advanced practitioner or a postsecondary professor.
Related Degrees to Consider
Online Master's in Social Work (MSW)
All social workers must earn this degree before commencing practice. It complements graduate work in mental health counseling by looking at how individuals, groups, and societies enable or impede collective well-being. It develops hard kills in case management, public health, and advocacy. Graduates stand fully prepared for work in social service centers, community health facilities, and government agencies.
A master's in psychology develops social science research knowledge and additional expertise in treating and diagnosing mental health issues. If your mental health counseling degree focused how on to interact with patients in psychotherapy situations, this degree teaches you how to bring insights gleaned from those situations into a strong research focus.
Online Master's in Applied Behavior Analysis
This degree focuses on how people learn new behaviors and identifies the influential factors that contribute to behavior development in groups and individuals. Candidates use empirical techniques and scientific experimentation to gain a greater understanding of human behavior and how certain behaviors can be modified to support mental and emotional health.
Additional Resources for Mental Health Counseling Students and Professionals
American Counseling Association
American Mental Health Counseling Association
American Psychological Association
National Alliance on Mental Illness
National Association for the Dually Diagnosed
National Association of Cognitive-Behavioral Therapists
National Board for Certified Counselors
Psychiatric Rehabilitation Association