Written By


last updated
01/18/2022
Top Online PsyD Programs in 2022
One of the highest qualifications in its field, an online PsyD helps prepare you for expert-level work in psychology and mental health. This degree enjoys broad practical applications with encouraging job trends and salary potential. Recent data provided by the U.S. Bureau of Labor Statistics (BLS) indicates that work for degree-holders will continue to increase much faster than average as people continue to turn to qualified professionals for assistance.
If you're interested in earning a PsyD online, you have a number of schools and programs from which to choose. But which schools has the cost structure that works with your budget, and which program has the curriculum and learning outcomes you need to further your career? The following three schools offer students some of the best combinations of cost, quality, and flexibility today. See who stands out for online PsyDs in 2022.
Ashford University

Ashford University's online doctor of psychology builds a solid knowledge base in the history of psychology and its contemporary applications. Candidates can choose from one of the program's six specializations to support their interests and career goals. These include criminology and justice studies, educational leadership, health and wellness psychology, industrial organizational psychology, mediation and conflict resolution, and sport and performance psychology.
The program requires 62 total credits delivered in course terms that last 6-9 weeks. These courses cover psychology fundamentals, applied research methods, and organizational leadership. Near the end of their course of study, candidates complete an integrative capstone component in the form of a dissertation or an applied doctoral project. This component encourages original research contributions in each candidate's area of specialization.
Ashford administers all courses in a flexible, asynchronous learning environment that can accommodate most busy work schedules. You can access material and complete assignments anytime you choose within specified times frames. The school also offers 24/7 technical support to all its students, including those in the online PsyD program.
Touro University Worldwide

Touro University Worldwide (TUW) offers an online doctor of psychology with an emphasis on human and organizational psychology. It combines scientific insights in psychology with interests in improving workforce conditions to increase profitability and productivity. Designed to equip professionals for evidence-based practice in industrial and organizational contexts, TUW's program involves 66 credits and no residency requirements.
These credits are allocated across four main clusters: core courses, applied theory and research, proposal development, and the doctoral dissertation. Most full-time candidates complete all program requirements in 3 years using TUW's flexible and convenient learning interface. This platform delivers all coursework entirely online through 8-week sessions with 6 different start times throughout the year.
Core courses and applied theory and research classes include quantitative research methods, applied cognitive psychology, and organizational leadership. Once candidates complete these courses they move to develop and implement a dissertation project that makes original contributions to psychological research. They first develop a proposal under the supervision of a dedicated faculty advisor and then move to present and defend their research findings.
Capella University

Capella University extends an online doctor of psychology to qualified candidates interested in work as clinical psychologists and postsecondary educators. The program administers all coursework online and uses hybrid methods for internship and clinical practicum requirements. Students complete 145 quarter credits and can bring in up to 15 transfer credits earned at a regionally accredited institution.
This PsyD program uses a guided-path format for all courses. This means that all classes come in 10-week online sessions complete with weekly assignments and discussion threads where you connect with peers and receive feedback from faculty. These classes focus on clinical applications and cover topics like diagnostic interviewing, treatment planning, crisis intervention and risk assessment, and lifespan development.
After completing all coursework requirements candidates move to residency and internship experiences. These components take place in face-to-face formats where faculty assess gained skills and evaluate candidates' readiness for professional work in clinical settings. Each experience requires supervised, on-the-job clock hours, including professional training and client interaction.
Inside the Online PsyD
It's important to get to know available programs before you apply and begin study. This section answers several common questions to help guide your decision-making process. It looks at popular curriculum offerings, discusses tuition rates, and details what to expect once you graduate and begin to consider job prospects.
What will you learn in an online PsyD program?
Although every program is different, most look to satisfy similar learning objectives. They offer their own unique approach while developing a common knowledge base. Once you decide on a solid school and enroll in its online PsyD program you can anticipate learning outcomes like those listed below, bearing in mind that specific requirements may vary. As a graduate you will be able to:
Develop and implement clear, evidence-based solutions in both research and practice that solve pressing problems related to clinical psychology and your own area of expertise.
Apply and assess appropriate principles, theories, and concepts derived from peer-reviewed social science literature when assessing problems and developing measurable solutions.
Design new, innovative, and rigorous research methods grounded in established best practices that make original contributions to clinical psychology, mental health, and emotional wellness.
Integrate and communicate insights drawn from scholarly research and clinical practice that broaden the field's knowledge base and expand its horizons in interdisciplinary terrain.
Adhere to a discipline-wide code of conduct and professional ethics that both safeguards the privacy of clients and patients, and upholds the rigors of clinical psychology in research and practice.
---
Popular Doctorate of Psychology Courses
This offering looks at human development across the lifespan and focuses on significant transitions and events that may affect mental and emotional wellness or lead to abnormal behaviors. Students consider the age-old nature versus nurture debate and assess common responses informed by cognitive, biological, social, and cultural theories.
Child and Adolescent Psychopathology
Students in this course engage in a comprehensive examination of prominent disorders or pathological states specific to youth and children. The course develops an advanced understanding of theory, etiology, and diagnosis in these areas and begins to build the skills necessary for assessment and research.
This class surveys the ways that human biology and psychology often overlap and affect one another. Students develop a working understanding of the nervous system and practice identifying how disorders in that system may influence behavior, cognition, and overall mental health. It also looks at proven pharmacological methods of treatment and intervention.
Advanced Psychology History and Systems
In this course students cultivate comprehensive, expert-level knowledge of the history of psychology, its development over time, and its contemporary applications. Material includes the scientific, philosophical, and empirical origins of the discipline as well as the significant paradigm shifts that contribute to new knowledge and research.
Assessment and Intervention
Students in this class learn how to conduct robust program assessments and implement strong intervention models for treatment. The course looks at cultural factors that should be considered throughout this process and examines how certain barriers and contemporary issues may affect both group and individual outcomes.
What PsyD specializations are available online?
Specialization is the name of the game at this level. A PsyD degree is already one way of concentrating your focus by further advancing the skills and knowledge developed in your master's program. Beyond that, most programs encourage additional specialization in areas like those listed below as means of expanding your expertise.
Clinical Health Psychology
This specialization focuses study on client health and looks at a range of strategies used to address those needs. These include psychotherapy in one-on-one contexts, preventative care designed to reduce unhealthy behaviors, and positive behavior adoption. Most students who specialize in this area go to provide services as clinical psychologists and often work alongside other medical professionals in healthcare centers.
Those who specialize in forensic psychology work at the intersection of mental health, civil disputes, and criminal law. They use their expert knowledge to help solve cases and may be asked to serve as expert witnesses in legal proceedings. They often perform risk assessments and behavior evaluations for criminal offenders. They may also make recommendations on how to treat those offenders with the aid of corrections officials and law enforcement officers.
Specializing in neuropsychology prepares you for work laboratories, testing centers, and other research settings. This concentration focuses on brain science and how the human nervous system affects behavior and interacts with cognition. It develops applied treatment and experimentation skills designed to address medical, psychiatric, and neurological problems in high-risk individuals.
Industrial or Organizational Psychology
This area looks at how psychology and psychological concerns influence human behavior in the workplace and other organizational settings. It focuses on the more social aspects of psychology and works to improve efficiency and worker morale. Experts in this sub-field are often tasked with evaluating organizational productivity and developing training programs that support those concerns.
Experts in educational psychology look at how human behavior and cognition affect learning and information acquisition, particularly in children and youth. Specialists in this area often look to improve education by designing curricula, counseling students, and implementing program assessments. Sometimes they may facilitate training sessions to help teachers improve classroom management and better support their students.
A concentration in geropsychology applies mental and emotional health concerns in elder-care contexts. It builds solid expertise in addressing the needs of older adults by examining useful tools that help this population cope with the physical and behavioral aspects of aging. It also looks at how individuals and families can better support their elders within the family unit and other group settings.
How long it takes to finish an online PsyD program
This depends on individual circumstances, but for the most part, you should be able to move through requirements at your own pace. Many schools offer a recommended window for completion, but factors like enrollment status and employment can affect those time frames.
Because this is a terminal degree and tends to attract working professionals already established in their field, many programs extend accommodating options and flexible progression methods. These include but are not limited full-time, part-time, accelerated paths to completion. Individual policies vary by school, however, so it will be important to research and select one that fits your circumstances.
Can you get into an online PsyD program?
Admission requirements are both competitive and restrictive at this level, and most programs use a process comparable to doctoral programs in other disciplines. You will likely need the following items:
A master's degree in psychology or a closely related field.
Official transcripts for all previous academic work. Some schools may require a specific GPA range for these.
2-3 letters of reference. These letters should come from mental health professionals who can speak to your readiness for study.
A current CV or professional resume. Most schools do not require professional experience, but they do look to see how you career relates to the program.
An extended statement of purpose. This document should speak to your professional goals and your intent in pursuing the degree.
An academic writing sample. Some programs may ask for a piece of original research or scholarship in psychology.
Recent standardized test scores. Some schools don't require this, but others may ask for GRE or MAT results.
Remember to consult individual admission department for specifics. Policies vary and some programs may not implement the same requirements as others.
How much does an online PsyD program cost?
Tuition costs fluctuate quite a bit at this level and individual schools often change their rates year to year. Things to consider in this respect include the type of school you plan to attend, how long the program lasts, and available funding or financial aid. You will also need to factor in your current location, even though this is an online degree. Some schools may charge a flat rate for distance education, but many use different rates for in-state and out-of-state residents. Below are three examples to give you a sense of the costs.

Touro University
Worldwide
Doctor of Psychology in Human and Organizational Psychology
Total Credits: 66
$700/credit

California Southern
University
Total Credits: 66
$545/credit

Capella
University
Total Credits: 145 (quarter credits)
$540/credit
Paying for Your Online Doctorate in Psychology
How will you cover all these costs? If you've made it this far in your academic career, then you know higher education is not cheap and that securing solid financial aid can make a big difference in the expenses you may have to shoulder. It all depends on knowing what's out there and where to look first. Here are three solid financial aid options to help you reduce the costs.
At this level your admission application may automatically qualify you for scholarships and grants offered by your school of choice. This isn't always the case and even when it is the opportunities may be competitive. Other good places to look include independent organizations and scholarly outlets that support professionals in psychology. These awards do not need to be repaid and are often applied to tuition-related expenses.
If you are unable to secure scholarships or if your scholarships won't cover all the costs, then you may be able to rely on student loans. These awards must be repaid following graduation and are often offered by individual institutions and federal entities. For more information on these opportunities and where to look for them, see our student loan guide.
Additional financial aid options include graduate fellowships, research assistantships, and some field placements. These opportunities typically involve some sort of research or service component that both relates to your course of study and supports your program's broader work in psychology and mental health. Since you will likely be conducting scholarly research as a part of your studies, this could be a great way to reduce your costs while also supporting your studies. Learn more about securing financial aid for your online degree.
Accreditation for the Online PsyD
You're probably already aware of higher education accreditation at the institutional level and its use an independent quality assurance measure. Reputable schools with a rigorous academic focus receive regional accreditation, while for-profit colleges and those with technical or vocational programs usually obtain national accreditation. These credentials are administered by bodies recognized by the Council for Higher Education Accreditation or the U.S. Department of Education.
Individual programs sometimes enjoy programmatic accreditation in addition to institutional accreditation. This supplementary credential accompanies regional or national accreditation and demonstrates that the program in question meets or exceeds discipline-specific standards of quality and excellence. Not all online PsyD programs will hold programmatic accreditation, but those that do receive it from entities like the American Psychological Association (APA).
Charting Your Path: After the Online PsyD
This section looks at some common opportunities available to you after graduation (if you don't have a position lined up already). Now that you have earned your online PsyD, you can take full advantage of job prospects and earning potential. What next steps should you take? Will you need additional credentials or education? We answer these and other pressing questions below.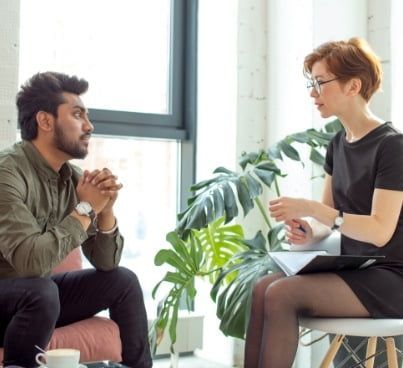 What can you do with an online doctorate in psychology?
Immediately entering the workforce or advancing an existing career are among the most popular paths, but they aren't the only options. The chart below maps out several different trajectories that loosely follow two different paths: research or practice.
If you are interested in working as a practitioner then an online PsyD is really all you need other than state-level licensure. Professionals on this path often work as clinical, forensic, or school psychologists. They provide health services to individuals and other entities, and often work in nonprofits, mental health facilities, corrections agencies, and education outlets.
Just because an online PsyD is a practice-oriented degree doesn't mean you can't work in research settings, but it will require an additional step. If you are interested in using your expertise as a practitioner to inform other scholarly endeavors, you can pursue additional advanced degrees in psychology. Some degree-holders do this to become teachers or professors in postsecondary settings. Others may pursue it because it qualifies them for work as applied scientists and in laboratories, hospitals, and other research facilities.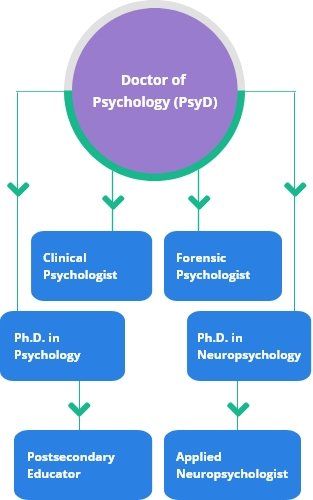 How much do online PsyD holders make?
Salary prospects for this degree are commensurate with its status as a terminal degree and one of the highest levels of educational attainment in psychology. For example, BLS reports that clinical and school psychologists earn a median annual wage of $87,450. Both salary profiles exceed the national average for all occupations by more than 50%. Industrial and organization psychologists see an even greater boost, earning up to $92,880 each year on average. The table below lists additional careers along with their salary potential.
Related Degrees to the PsyD
Many people earn an online PsyD as one of the last steps in their academic career. That said, there are still plenty of opportunities even though this is a terminal degree. In fact, if you are interested in interdisciplinary work or developing expertise in areas adjacent to psychology, this could be a good option. You can explore other disciplines or specialization in an additional psychology sub-field. Below we list a few possibilities for both.
This degree supplements the skills gained in your PsyD program by bringing the study of psychology into sharper research focus. Most professionals pursue this program because they are interested in producing original scholarly work or teaching psychology at a major college or graduate school.
This program draws on the same broad knowledge base as a PsyD but channels its applications in areas that promote social well-being, community development, and public health. Professionals with this degree often go on to work in clinical practice or nonprofit administration. They sometimes manage a staff of qualified case managers and may take on their own case load at times if it fits their skill profile.
PhD in Clinical Neuropsychology
Professionals in this course of study build additional expert skills that relate psychology to neuroscience. Graduates conduct experiments and engage in scientific research using innovative neuroimaging tools to develop new methods of diagnosis, treatment, and rehabilitation. Additional specializations may include neuroanatomy and neurobiology, psychopharmacology, and neuropathology.
PhD in Behavioral Neuroscience
This degree is similar to the previous one, but focuses on the more behavioral aspects of neuroscience. It applies principles derived from both biology and psychology to determine how normal and pathological behaviors develop and take hold. Degree-seekers often focus on sense perception, biological sleep rhythms, motivated behavior, and learning and memory.
Resources for PsyD Students
American Board of Professional Neuropsychology (ABN)
American Board of Professional Psychology (ABPP)
American Psychological Association (APA)
Associate for Behavioral and Cognitive Therapies (ABCT)
Association for Psychological Science (APS)
Association of State and Provincial Psychology Boards (ASPPB)
National Board for Certified Counselors (NBCC)