Written By


last updated

01/18/2022
The Best Online MSW Programs in 2022
Do you see yourself working in a professional role where you can help people, families, and children overcome short-term and long-term challenges? Do you have an interest in researching or treating behavioral, emotional, or mental issues for a diverse population of patients? A master's degree in social work may be an excellent choice for you.
In this guide, we identify some of the top online masters in social work programs that are both affordable and flexible. We also ensure that these programs have the necessary accreditation so you can earn the credentials you need to begin a rewarding career in this field. We've spotlighted three of the best programs below to help you start your search. This guide also features an in-depth exploration of the details of earning an MSW degree online and the careers you can pursue upon graduation.
University of Illinois

U of I is a public institution with regional accreditation from the Higher Learning (HLC). Established in 1867, the school today serves approximately 50,000 students. Distance students can take advantage of its excellent online master's degree in social work.
Full- and part-time online students choose between fully online or hybrid formats to pursue their degrees. U of I offers the hybrid advanced clinical concentration for social workers that prepare students for work in hospitals, schools, adoption agencies, mental health facilities, and child welfare offices. Learners in this program complete fully online classes and attend weekly evening collaboration centers at the school's Urbana campus or at its Illini Center in downtown Chicago.
The leadership and social change masters in social work is available entirely online. Learners in this program without a bachelor's degree in social work need to complete 72 credit hours of coursework and complete two semester-long internships. Required online classes include inequalities in a diverse society, advanced research methods, social welfare policy and services, and leadership and social change. Students usually need 2-3 years to complete the program.
Prospective master's students need a bachelor's degree from an accredited Institution with a 3.0 or higher GPA. U of I also expects applicants to have experience working or volunteering in the field and at least 20 hours of coursework in the social and behavioral sciences, biological sciences, and humanities.
University of Southern California

Located in Los Angeles, California, USC is a private nonprofit institution with one of the top online master's degrees in social work. The school today holds regional accreditation from the WASC Senior College and University Commission and boasts approximately 47,500 students.
Online students at USC choose between a traditional MSW and the advanced standing MSW. These programs are available to both full and part-time students. Advanced standing Learners can complete the 37-unit program in as few as 12 months if they already possess a bachelor's in social work.
The traditional MSW requires 60 units for graduation. The program provides training in prevention and wellness techniques, leadership and collaboration skills, early intervention, evidence-based practices, neuroscience topics, and more. With the help of Faculty members MSW students at USC design a personalized curriculum that focuses on adult mental health and wellness, children, youth, and families, or social change and innovation. The school also offers optional predetermined program tracks in military social work and school social work.
MSW degree-seekers at USC need at least 1,000 hours of in-person and virtual field education for graduation. Students can complete the program in as few as 16 months.
University of Nevada, Reno

UNR is a public institution serving approximately 21,500 students. Distance learners enjoy remote access to its online master of social work. Accredited by the Northwest Commission on Colleges and Universities (NWCCU), UNR offers both an advanced standing and traditional program.
UNR prides itself on its advanced generalist practice curriculum that prepares students for careers in areas such as family services, mental health facilities, homeless services, community organization, and public welfare. Required classes include social work administration, therapeutic interventions with families, and advanced multi-dimensional assessment. Upon completion of the program, social work graduates can demonstrate excellent leadership skills that affect positive change, engage and motivate others to promote social and economic justice, promote the well-being of children, families, individuals, and groups, and more.
Prospective social work students at UNR need a bachelor's degree from a regionally accredited institution. Applications need to include three letters of recommendation and official transcripts that reflect a 3.0 or higher undergraduate GPA.
In the Know: Inside Online MSW Programs
Course options and program strength vary among schools. It's important that you know the ins-and-outs of a program before you spend time on your application. It can be helpful for aspiring graduate students to get the answers to key questions regarding a school's curriculum, costs, and he careers they can expect to pursue when they finish. Here are some answers to questions frequently asked by prospective social work students.
What do you learn in an online MSW program?
Colleges and universities play to their specific strengths, which influences their courses and how its faculty teach their graduate students. In this way, every program is unique. Many online social work programs have similar foundational courses, however, that help their students build basic skills for careers in the field. As you search through online programs, you will find comparable courses and expected learning outcomes for all master's programs in social work. Let's take a look at some of the main goals and learning outcomes for MSW programs today.
Follow professional social work standards and conduct: Social workers often work with vulnerable populations who need support and consultation in times of need. You will learn how to be an advocate for clients while following standard ethics and protocols for treatment and advising.
Critical-thinking and communication: Social work graduates possess the ability to think through complex problems by using sound logic and scientific reasoning. You will also be able to communicate effectively with, and provide considered advice and guidance for, individuals, families, and groups.
Respect and engage with diverse populations: You will develop the necessary skills to understand human experience from an unbiased perspective. While working with clients of all backgrounds, social workers remain sensitive to others' life experiences, including poverty, addiction, marginalization, and oppression.
Understand and promote human rights: As an advocate for your clients, social workers have a duty to promote human rights, including social, economic, and racial justice. In this way, graduate students understand histories of oppression, injustices, civil rights, and social inequity.
Scholarly research and writing abilities: In a social work program, you will learn how to critically engage scholarly research and materials to better inform your own social work practices. Additionally, MSW graduates can conduct scholarly research of their own that contributes to their own work and the field as a whole.
---
Courses in Social Work Master's Programs
Nonprofits and Social Work
This class allows students to explore the various ways that nonprofit work benefits their clients and society. Faculty help students understand nonprofit structures and activities in the United States and around the globe. Ultimately, MSW students learn about the values and principles that guide professionals who do nonprofit work and how they affect positive change in communities and individuals' lives.
Social work students in this class engage with a wide body of academic research that examines issues of identity, discrimination, prejudice, poverty, homelessness, and more. Faculty spend time examining social constructions such as class, race, and gender to help MSW students deepen their understanding of social challenges that affect them and their clients on a daily basis. Learners develop more advanced interpersonal skills, cultural competence, and self-awareness that helps them interact with clients more effectively.
Social Work with Adult Clients
This class strives to prepare social workers with the essential skill set to best counsel and support older adult clients. Faculty ensure that students understand how to locate and access particular resources for this particular population. Additionally, the class examines how social workers can support caregivers and families who work to improve the lives of diverse aging populations.
Generalist Practice and Disability Studies
This class covers how social workers today need to support members of their communities with disabilities. This work includes promoting social justice and the inclusion of persons with disabilities. Students learn ways of counseling their clients while highlighting their contributions to society. MSW learners examine histories of related social topics that impact the disabled community, including government policies, service delivery, education, and legislation.
Politics and Social Welfare
This class gives you the chance to examine the political, ideological, social, and economic influences that factor into the social welfare system and government programs. Faculty assist students in understanding the historical aspects of social welfare systems. You will closely examine income security, poverty, and inequality as it affects diverse populations and social work clients today.
Specializing when earning a master's in social work online
Some bachelor's programs in social work today allow undergraduate students to take classes in a predetermined concentration area or a series of designated electives. With these classes, you can further define your skill set and stand out from the crowd in the competitive job market. Additionally, a social work specialization can help you hone in on particular careers upon graduation.
Direct Practice and Case Management
Social workers who specialize in direct practice often find careers working one-on-one with individuals, children, or families. They are often the first point of contact for clients and are tasked with assessing client needs for social services. This concentration helps BSW learners develop interpersonal, data collection, and communication skills.
BSW students can specialize in providing support and care for younger clients and children. Sometimes these programs are collaborative efforts between a college or university and its state department of child safety. Graduates of these programs understand how to provide effective advice and guidance for at-risk populations, vulnerable families, and children.
Bachelor's degree-seekers can prepare for careers working with clients who suffer from addictions, behavioral problems, and mental health issues. This concentration allows learners to develop sharp assessment and evaluation skills in order to provide clients with referrals to health professionals and related services as needed. They also learn how to educate their clients and clients' families about how to access resources, support groups, and job placement services.
With this specialization, you will learn how to provide emotional, spiritual, and social support for clients suffering from serious illnesses and debilitating conditions. BSW students develop a skill set that helps them assist clients in managing feelings of anxiety, depression, anger, and social isolation. Additionally, courses in this area may include training on how to assist clients with physical discomfort or pain, financial hardships, and family conflict.
Gerontology Social Work or Aging Services
A concentration in aging services will help you develop an understanding of the needs of elderly populations. You will prepare for extensive one-on-one time with clients, as well as how to navigate social work positions in nursing homes, community centers, in-home care, and more. BSW learners in this concentration focus on communication skills and learning how to help older populations access the necessary resources to live a full life.
Learn how to deal with behavioral issues, students emotional problems, bullying, social problems, and more. Additionally, students in this concentration also prepare to support special education students and ensure their needs are met on both an educational and emotional level. Learners interested in this concentration may need to earn an MSW to qualify for many school social workers positions, however.
How long does it take to earn an online master's degree in social work?
One of the primary factors that influences time to completion is whether you possess a bachelor's degree in social work (BSW) already. Incoming students with a BSW can enter advanced standing master's programs that require fewer credits than traditional-track programs. This allows advanced standing students to graduate more quickly. Full-time advanced standing students often complete the degrees in 12-16 months, while full-time traditional-track learners need 20-24 months.
Also, full-time students can finish the program more quickly than part-time learners. Enrolling as a full-time student, however, is not always an option, especially if you are an adult student with familial obligations or a job outside of school. If you have the ability to enroll as a full-time student, be on the lookout for full-time accelerated programs. In these cases, you may be able to complete a master's degree in approximately 16 months.
Can I get into an online MSW program?
Similar to other master's degrees, online MSW programs require applicants to possess a bachelor's degree from an accredited institution. These students can apply for advanced standing social work master's programs. If you have a bachelor's degree in another field, you will apply to online traditional-track social work programs. Even though you are pursuing an online degree, bear in mind that these programs are still highly competitive and require you to put your best foot forward in each application.
Regardless of the track, MSW applicants can expect to submit:
Official undergraduate transcripts
Personal statement
Letters of recommendation
Standardized test scores from the GRE
Social work master's programs often require additional application materials, including:
Transcripts reflecting a 3.0 or higher GPA
Documentation of sufficient undergraduate training and social welfare studies, social sciences, and humanities
Proof of volunteer experience or paid employment in a human services or social welfare organization
Outline of career goals and why you wish to pursue training in a career in social work
How much does an online master's in social work cost?
An online MSW is a significant investment. The overall cost of your degree depends on several program- and school-specific elements: whether the school is public or private, where you live, and the primary delivery mode. Additionally, how much you pay depends on the time it takes you to finish degree requirements and how much funding or financial aid you've secured to put toward your education.

Arizona State University
Online Master of Social Work
Total Credits: 60
$532/credit Arizona resident,
$809/credit non-resident

Fordham University
Online Master of Social Work
Total Credits: 66
$963/credit

Simmons University
Online Master of Social Work
Total Credits: 65
$1,100/credit
What are "field education" requirements for MSWs?
Field education in social work master's programs refers to hands-on clinical training and interactive online learning modules. This type of training is one of the foundational components of virtually every MSW program and allows students to apply your book and classroom knowledge in real-life. Depending on the program, schools may require MSW-seekers to complete a generalist field experience and additional fieldwork in a specialized area. The field education part of your degree may also be referred to as a practicum.
What is clinical social work vs. social work?
Social workers in both areas of the field perform duties and support clients in-person and in one-on-one settings. The master's degree, however, prepares you for clinical social work options where you have more professional authority and can offer diagnosis and treatments for mental and behavioral disorders. Clinical social work requires state licensure and includes positions such as substance abuse counselors, mental health counselors, and group therapists. Non-clinical social work, often referred to as direct services social work, typically requires professionals to possess only a bachelor's degree and includes career paths such as case manager, community health worker, and care coordinator.
Funding Your Online Master's Degree in Social Work
MSW applicants have a number of financial aid options to help fund their education. Any undergraduate or graduate student planning to take college courses should submit a FAFSA every year. This important government document ensures that you receive consideration for federal funding based on your financial situation and level of need. Additionally, you can consider:
Scholarships and grants are essentially free money that do not need to be repaid. Although applying can be time-consuming, you should submit as many applications for scholarships and grants as you can, provided you meet the necessary criteria. For a list of top scholarship opportunities you may be eligible for as an MSW student, check out our list of scholarships for social work students.
Student loans are another popular choice for students who need money for school. Loans, however, need to be repaid with interest. Federal loan programs typically offer students better deals and interest rates than private loans. Take a look at our student loan guide for more information on loan applications, refinancing, and repayment.
3 Graduate Assistantships
Online students pursuing a master's degree in social work can also find funding opportunities in the form of graduate assistantships through their departments. The duties for graduate assistants vary among schools. For online social work students, graduate students may assist professors in grading or teaching online undergraduate classes. Alternatively, online MSW programs may need graduate assistants to organize or carry out particular programs such as child welfare training or addiction recovery projects. In these cases, online students may be required to spearhead certain tasks in-person, depending on their location. In most cases, graduate assistantships for master's students include a tuition stipend and additional monthly stipend for living expenses.
Learn more about financial aid options for your online MSW degree.
Master's in Social Work Accreditation
There are both institutional and programmatic accreditations at play in social work. At the school level, regional accreditation usually goes to academically focused, nonprofit schools with a wide range of degree offerings. The school you choose for an MSW should have regional accreditation from a body recognized by the Department of Education.
Not all majors or departments of regionally accredited schools will seek out programmatic accreditation. Social work happens to be a field where programmatic accreditation is important and something you should consider a necessity. Master's programs in social work should hold programmatic accreditation from the Council on Social Work Education (CSWE), which is the primary accrediting association for higher education programs in the field.
What's Next? After Your Online MSW
After you earn your master's degree in social work, you can look forward to exciting career possibilities. Although an MSW degree does not guarantee you a job or a certain amount of income, there are many possible career paths you can take with your credentials. Depending on the particular social work career you wish to pursue, you may need to obtain a specific license in order to practice.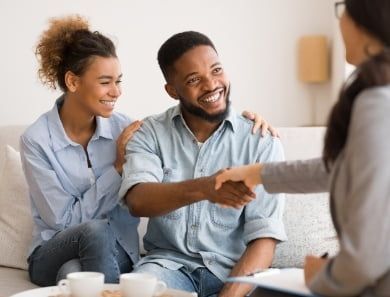 Do I need licensure with a master's in social work?
Yes, you will most likely need to become licensed in order to work in a specialized area of the field. The most common licensures for MSW-holders include licensed social worker (LSW), licensed clinical social worker (LCSW), licensed independent clinical social worker (LICSW), and licensed independent social worker (LISW). To obtain licensure, some states require that you possess an MSW and pass the designated exam for your desired area of the field. Other states require licensure-seekers to have 1-2 years of documented or supervised work experience before they can sit for the licensure exam. In addition to qualifying you to work in specialized social work roles, licensure also makes you a more marketable candidate in the competitive job market.
What can you do with an online MSW?
After you earn your master's degree in social work, you can pursue a variety of exciting careers as counselors, community and service social specialists, school social workers, and healthcare social workers, to name a few. Professionals with this degree often work in individual and family services, nonprofits, community centers, local and state governments, and ambulatory healthcare services. Social workers who specialize in behavioral disorders, substance abuse, and mental health counseling often work in outpatient mental health and substance abuse clinics, hospitals, and substance abuse facilities.
The job outlook for social workers with master's degrees looks bright across the board. According to the Bureau of Labor Statistics (BLS), professional social workers and a variety of specialty areas can expect a 5%-12% increase in available positions by 2028. If you become a professional working in substance abuse counseling, behavioral disorders, or a related area, BLS projects that jobs will grow by 12-22% by 2028.
In the diagram below, we offer a few possible career paths for those with a master's in social work. We also illustrate potential career choices for master's degree holders who wish to pursue a doctorate in social work.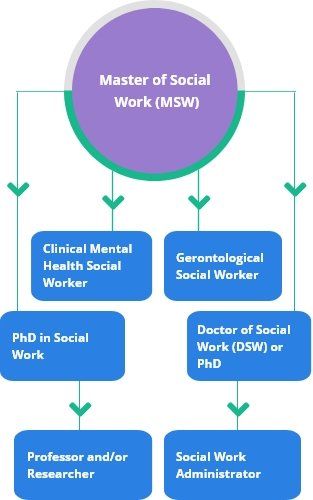 Salaries with a master's degree in social work
Graduate training in social work can prepare you for a variety of solid career opportunities working with children and families, clients with medical conditions and addictions, special populations, and more. Your overall salary potential will vary based on your level of experience, area of expertise, and location. Here's the national salary statistics for three popular careers for MSW degree-holders.
| Career | Median National Annual Salary (2019) | 10th Percentile | 90th Percentile |
| --- | --- | --- | --- |
| Child, Family, and School Social Workers | $47,390 | $30,870 | $78,230 |
| Healthcare Social Workers | $56,750 | $35,000 | $86,130 |
| Mental Health and Substance Abuse Social Workers | $46,650 | $29,540 | $80,900 |
Furthering Your Social Work Education
Your master's degree in social work means building a diverse skill set, including excellent counseling, communication, interpersonal, and research skills. After completing your program or working in the field for a few years, you may want to shift gears and pursue a role in a related field that still fits your training. There are many opportunities to advance your career and find an appealing job with continuing education and advanced degree programs in related areas that you can consider. Take a look at a few of the degree options below that may be a good fit.
Continuing Education with an MSW
One of the more common advanced degrees that MSW degree-holders choose to pursue is the doctor of social work. In addition to expanding your specialized skill set, the DSW allows you to develop advanced organizational leadership, decision-making, administrative, and communication skills. The degree can also prepare you for top jobs in the field such as nonprofit director, social work administrator, and college professor.
Doctor of Philosophy in Social Work (PhD)
Like all PhDs, this is an academically focused research degree that prepares learners for top academic and teaching jobs. Many students earn this degree in order to qualify for professorships at colleges and universities. Alternatively, PhDs can conduct research that helps inform and influence policies and practices that ultimately shape the ways social workers across the country carry out their job duties.
Degrees Related to the MSW
Similar to an MSW, a master's in psychology can position you for public and private sector careers where you work with clients one-on-one in schools, nonprofit organizations, group homes, healthcare agencies, and more. Additionally, psychology degrees can also prepare you for research and managerial jobs as a market researcher, research assistant, data analyst, project coordinator, and human resource manager.
This degree prepares you to help individuals and communities by improving environmental health and addressing economic and social issues like trauma and violence, food insecurity, access to healthcare, and more. The MPH is suitable for students from all types of backgrounds and is a viable option for most bachelor's degree-holders regardless of their major.
Master of Arts in Sociology
A sociology master's program helps you obtain the necessary skills to study social behaviors, collect data based on observations, and generate reports or educational documents. Professionals with this degree find themselves in a wide variety of roles since these skills are so widely applicable. The degree prepares you for careers in the public and private sectors, including academia, nonprofit organizations, and research institutions. Professionals with this degree sometimes work in educational and research roles as college lecturers and research assistants. They may also find work as data analysts, market researchers, policy analysts, statisticians, and grant writers.
Additional Resources for Social Work Students
American Association for Geriatric Psychiatry
American Clinical Social Work Association
Association for Gay, Lesbian, and Bisexual Issues in Counseling
Associated Clinicians for the Underserved
Council for Exceptional Children
National Association of Black Social Workers
National Association of Social Workers
National Board for Certified Counselors (NBCC)
National Council on Seniors Drug and Alcohol Rehab