Written By


last updated

09/15/2022
The Best Online Clinical Psychology PhD Programs in 2023
Clinical psychology PhD programs are available at several colleges and universities throughout the country; however, not all are created equal. Accreditation is an absolute must to ensure the program meets the standards that will allow for licensure. Other important points include flexibility in scheduling for those who are working while pursuing their doctorate, as well as affordability, as PhD programs can take upwards of seven years to complete.
Narrowing down these high-quality programs can be a challenge. To help make the research and vetting process a bit easier on you, we're shining a spotlight on the programs below to give you an idea of what you should be looking for in your search for the best schools available. Here's who stands out in 2023.
or
About the ranking
X
Base Methodology for EduMed's 2023 Online College Rankings
1. Create List of Eligible Schools and Programs
To be eligible for this ranking, schools were required to meet the following criteria based on government data provided by The Integrated Postsecondary Education Data System (IPEDS).
Institutional accreditation from an organization recognized by the U.S. Department of Education.
At least one program in subject area offered partially or fully online.
2. Assign Weightings
After creating the list of eligible schools, EduMed data scientists assigned weights and ranked schools based on a mix of affordability, support services, and online program availability metrics. Online program availability and overall affordability metrics received the heaviest weightings.
Online Program Availability
Number of online programs in subject area reported by school to the U.S. Department of Education.
Affordability
Cost

– Relative cost of attendance compared to peer schools on the list. Based on tuition and fees per academic year.

Students w/ Institutional Aid

– Percentage of students who receive financial aid from the school itself.
Support Services
Academic Counseling

– Existence of this service on campus or online.

Career Placement

– Existence of this service on campus or online.
About Our Data
EduMed's rankings use the latest official data available from The Integrated Postsecondary Education Data System (IPEDS). Most recent data pull: July 2022
#

School Name

Type

Cost

Online Programs

More Details

School Information

Online Students

Academic Counseling

Career Placement

Students w/Institutional Aid

Median Earnings 10yrs After Entry

Accreditation

1

Walden University

Minneapolis, MN

Private for-profit

$$$

5

The PhD in clinical psychology at Walden University draws upon faculty expertise and a history of pioneering online degrees. The PhD is a blended 143-credit program, combining online studies with in-person clinical requirements. Theoretical and experiential components are balanced. On-location requirements call for three practicums, a four-year residency,and five internships. The curriculum is comprised of foundation, core, specialization, research and capstone dissertation courses. Doctoral candidates typically have one or more faculty and support residencies. These have gone virtual as a response to Covid-19. Financial aid for the doctorate students includes federal student loans, grants, scholarships, Walden subsidies, and employer reimbursement programs.There is no cost to apply for this program. Applicants are assigned online chats with an enrollment specialist to guide the way through the process, and who will evaluate transcripts to accept transfer credits from previous university work.

Program Highlights:

PhD in Clinical Psychology

Credits: 143
Cost: $495/credit
Length: 8-year maximum
Mode: Hybrid

Academic
CounselingYes
Career
PlacementImplied no
Student/
Faculty Ratio19/1

Accreditation

HLC

2

Capella University

Minneapolis, MN

Private for-profit

$$$

11

Capella University's PsyD in Clinical Psychology is a 135-credit curriculum that blends online academic studies with face-to-face clinical experience.The program prepares graduates to become licensed psychologists through online courses, a comprehensive examination, and a dissertation.In all, graduation requirements are for completion of 13 core, 3 elective, 6 residency, 4 internship and 3 practicum courses. A comprehensive exam and one clinical dissertation are the final elements of the curriculum. The 25-credit didactic curriculum is in advanced psychopathology, psychological assessment, theory and evidence-based practice, neuropsychological assessment, and strategies of clinical supervision and consultation. Applicants to Capella's program may receive up to 15 transfer credits. Of the 6 required residencies, four take one week and two run for two weeks. Nearing completion, students may finish their dissertation in as few as four quarters.

Program Highlights:

PsyD in Clinical Psychology

Credits: 135
Cost: $545/credit
Length: 6 years
Mode: Partially online (residency, clinical practicum,and internship requirements)

Academic
CounselingYes
Career
PlacementImplied no
Student/
Faculty Ratio32/1

Accreditation

HLC
Fielding Graduate University

As the only distributed learning program accredited by the American Psychological Association, the doctoral program in Clinical Psychology at Fielding Graduate University is designed for busy professionals. This program offers a great deal of coursework online, as well as a one-month online New Student Orientation, but also requires in-person seminars, meetings with faculty, and weeklong residential sessions.
Graduation requires completion of all coursework, including practicum and dissertation, as well as 600 hours of attendance at in-person residency events. A clinical internship of one year is also a requirement, and students are encouraged to apply to a variety of organizations; given this, they might need to relocate during the internship period.
The program allows students to focus their studies in one of four concentrations: Forensic psychology, Neuropsychology, Health Psychology, and Social Justice and Diversity. Regardless of the concentration, the program is designed to be completed in five to six years. In addition to the typical transcripts and other items needed for an application, prospective students must also provide a writing sample, three recommendations, and a statement of purpose. The tuition for each term is $9,700 as of summer 2020.
Saybrook University

Saybrook University's Online PhD in Clinical Psychology offers an online experience that includes close mentorship during the program as well as hands-on training at residential conferences. Students are prepared for professional practice by developing skills in psychotherapy, developmental psychology, data analysis, multi-cultural psychology, child and adolescent psychology, and humanistic-integrative psychology.
The school holds regional accreditation through the WASC Senior College and University Commission but does not hold APA accreditation. In addition, it does not have in-residence requirements that some states require of graduates in order to become licensed; therefore, it's important for prospective students to check with their state licensing board to ensure graduation from Saybrook University's program will allow them to practice as a clinical psychologist in their state.
Students seeking the PhD in Clinical Psychology can expect to pay $1,275 per credit in tuition. The program will require 105-108 credits.
North Central University

The online Doctor of Philosophy in Psychology program at North Central University strives to offer the height of flexibility with not only the usual asynchronous courses found in online programs, but also weekly start dates that help any working professional choose the right time to begin their higher education pursuit.
The program offers eight specializations, including those in mental health policy and practice, general psychology, counseling psychology, gerontology, trauma and disaster relief, and psychology of gender and sexual fluidity. The Counseling Psychology California Licensure Track is the only option designed to help lead to licensure. All others are non-licensure programs that will require the student to continue on with their training by building up clinical hours and otherwise meeting all the licensure requirements in their state.
The program consists of 20 courses which equal up to 60 credit hours, which take about 41 months to complete. At a cost of $3,393 per credit hour plus fees, students can expect an approximate cost of $70,610 to complete the program. However, Northcentral University offers five full tuition scholarships to qualified applicants to help cover costs.
FAQs About Online Clinical Psychology PhD Programs
The best decisions in life are informed ones, particularly when it comes to your education and career. It's vitally important to understand every aspect of a degree program before applying. This includes the cost, what the curriculum includes, what is required of you for graduation, how well it prepares students for licensure, career prospects, and more. Let's dive into the most important points about online clinical psychology programs.
What do you learn in a clinical psychology PhD program?
Though every program is a bit different, there will be several courses and topics each will have in common, as well as similar learning outcomes. These outcomes reflect the knowledge and skills graduates should be well-prepared to take into the field. Common learning outcomes for online clinical psychology PhD programs include:
Depth of Knowledge: A stronger understanding of the scientific and theoretical areas of the field, including the history of psychology, best practices as honed over the years, bases of behavior among groups, communities, and individuals, and the like.
Critical Understanding of Research: A firm grasp of how to design, analyze, conduct, and communicate research and research methods, as well as how to conduct research in a culturally sensitive manner.
Application of Theory and Research: In addition to evaluating and understanding research, graduates will know how to assess, diagnose, and conceptualize plans for treatment based on the most current research.
Uphold Ethical Standards: Professionals will ensure that treatments plans, interventions, and further research adheres to the strict ethical standards of the APA, as well as consistency with legal and professional standards.
Supervisory Skills: Through clinical research and practice, internships, and practicums, students will learn the techniques and expectations when taking on a supervisory role, thus preparing them for further career advancement.
---
Common PhD-Level Clinical Psychology Courses
Courses at each school will be a little different, thanks to the different teaching methods of professors. But you will encounter some courses that are very similar across all programs. Here are some of those.
With an emphasis on the relationship between clinical practice and theory, students examine the factors in relational psychology, self-guided psychology, object relations, and ego psychology, among other points of psychodynamic psychotherapies.
Empirical Bases of Psychotherapy
Students will evaluate the processes and the outcomes associated with psychotherapy, especially the points that must balance to contribute to success, including the client, therapist, and system variables. Students will evaluate evidence-based practice as well as theoretical approaches and research.
Research and Application of DSM-IV
This course focuses on the diagnostic, clinical, research, and practical applications of the DSM-IV (the Diagnostic and Statistical Manual of Mental Disorders), while taking into account cultural differences, ethical concerns, and gender issues in the process.
Principles of Clinical Assessment
The doctoral program dives deeper into assessment and testing of clients, with a strong focus on how to use cognitive assessment as a diagnostic tool. This course looks not only at the practice of assessment, but also the emerging theories that could change those common approaches.
Research on Social Problems
Social problems are a significant issue that clinical psychologists will deal with throughout their career; as such, this course gets them started on that journey with topics such as eating disorders, mental health and altruism, trauma and terror, genocide, disabilities, and personal growth through dealing with these issues.
Do schools offer specializations or concentrations in their online clinical psychology PhD programs?
There are numerous specializations available to those who pursue an online PhD in clinical psychology. In some cases, the specialization begins at the start, with a clear program dedicated to it. In others, the student builds the specialization while taking certain electives that allow for them to choose exactly what they need for their future career. Here are a few common ones.
Child Clinical Psychology
Sometimes also known as Child and Adolescent Psychology, this specialty is exactly what it sounds like: it focuses on the psychology of minors, the unique problems they might face, treatment options that work best for this age group, and larger issues surrounding and contributing to their mental health, such as questions about sexuality.
This specialization focuses on the intersection of health, illness, and healthcare as they apply to the mental health of a patient. It looks at the psychological, cultural, behavioral, and mental health factors that can contribute to physical illness, and how all of those can combine to either help or hurt an individual.
This psychology specialization looks at the individual as part of the broader community and society, and the relationships that form among the three. This looks at the quality of life and struggles of certain groups and communities, society as a whole, the smaller atmosphere of community in institutions and organizations, and the unique approaches to assisting in each case.
This specialization looks at the brain and the nervous system as a way to explain certain behaviors and cognition among individuals. They quite often focus on traumatic brain injuries and illnesses that affect the brain, and how the aftermath of those incidents can affect the brain and thus, human behavior.
This specialization seeks to provide a deeper understanding of human behavior in the wake of trauma, and help clinicians work with those who have dealt with traumas that have transformed their lives and actions. Trauma psychology might focus on everything from personal, life-changing trauma to wider issues, such as community response to terror attacks or widespread genocide.
Students in this specialization will learn about the unique approach many people have to the world of sports, especially the players and coaches who are under pressure – self-imposed or not – to do their best on the court or field. Sports psychology can include counseling professional and amateur athletes on positive mindset and reinforcement.
Can you earn a clinical psychology PhD completely online?
At most schools, the vast majority of PhD classes in clinical psychology can be completed entirely online. This is a boon for those who are already working in the field and don't want to sacrifice their job to go back to a traditional classroom learning environment. Required field practicums and internships can often be completed where a person is already working, or at an appropriate institution in their local area. Some colleges do require brief campus visits on a semester or yearly basis to meet with the cohort and professors, as well as work on group projects.
How long will it take to earn my PhD in clinical psychology online?
Students tend to have great flexibility as they pursue their doctoral degree, as they can choose accelerated options, full-time, or part-time attendance. Some programs will also provide even more flexibility by simply requiring a student take a minimum of courses per semester – even as few as one at a time.
In addition, some programs will allow students to take a sabbatical during their program to focus on research projects and the like. The only caveat is that there is usually a time limit to get the degree, such as completion within seven years. Keep in mind that this completion deadline varies depending upon the school and other factors, such as whether taking a short leave will count toward the requirement.
What are the admissions requirements for PhD clinical psychology programs?
Clinical psychology PhD programs have notoriously competitive admissions; for instance, between 2010 and 2018, Boston University received about 700 applications per year and only chose about eight students out of that number. You could boost your odds of acceptance by meeting every aspect of the admissions requirements, which usually include:
Undergraduate transcript
Personal essay or letter of intent
At least two letters of recommendation
Resume or CV
Though many schools require GRE scores for admission, others do not, and instead look at the applicant's experience, volunteer work, and strength of their overall application. Remember to meet every admission requirement, and do it well before the deadline.
Will earning an online PhD in clinical psychology prepare me for state licensure as a psychologist?
All states require clinical psychologists to be licensed. The rules for licensure vary from one state to another; however, one constant will be graduating from an accredited program. Before committing to a program, it's a good idea to contact your state's Board of Psychology to get familiar with the educational requirements for licensure and make sure the program meets them.
Beyond that, contact specific schools and look at their online program pages to determine whether they are designed to prepare students for licensure in the state you wish to practice in. Keep in mind that a school might not offer "prep courses" but instead, will incorporate prep materials into the other courses students will take during the program. When reaching out to the school, ask how well previous students have done when seeking licensure – for example, what is the pass rate for that particular school?
How much does it cost to earn a PhD in clinical psychology?
It's impossible to provide a precise dollar amount of the overall cost of earning a PhD in clinical psychology. That's because costs will vary depending upon the type of school (such as private versus public), your location (even if you're an online student), whether you choose full-time or part-time programs, and what kind of funding you have available to you. Here's a look at tuition costs at three popular schools with online clinical psychology PhD programs to give you an idea of the price range to expect.

Walden
University
Online PhD in Clinical Psychology
Total Credits: 163-223 quarter credits
$495/quarter credit

Nova Southeastern
University – Florida
Total Credits: 118 credit hours
$1,160/credit hour

Pacific University –
Oregon
Total Credits: 133
$35,685/academic year
Where to Get Help Paying for Your Online Clinical Psychology PhD Program
Before entering a program, make sure you can afford it. Start looking at financial aid options well before you begin the application process, so that by the time you receive your acceptance, you will have an idea of how you're going to pay for the education. Though it might seem difficult to dig up the tuition needed for these programs, there are numerous financial aid options that can be a tremendous help.
These financial aid awards are among the most sought-after, as they do not need to be paid back. Most grants are awarded based on financial need; scholarships might be awarded based on financial need as well as merit or demographic. It's important to apply early, as the competition for these awards can be fierce. To learn more, take a look at our scholarships guide.
Students loans are a popular way to pay for what scholarships and grants don't cover. These loans are often available with low interest rates and might not accrue interest or need to be paid back until months after graduation. Student loan options are available through the federal government and financial institutions. Learn more our student loan guide.
Sometimes it pays to think outside the box. Paid internships, fellowships that cover the cost of tuition, graduate assistantships that allow students to work with professors while pursuing their degree, and work study programs available on campus can help students work their way through their doctoral program and not be saddled with as much debt at the end of it.Some students might have employers willing to pay for the program in exchange for the employee agreeing to work for the company for a certain period of time. Keep in mind that not all of these options will be available for online students; for instance, work study programs might require a student to actually be on the campus on a regular basis.
Accreditation Standards for Online Clinical Psychology PhD Programs
The American Psychological Association (APA) accredits clinical psychology programs on the doctoral level and is considered the gold standard in the psychology field. APA accreditation ensures the program meets the standards of a quality education and prepares students to move into work as clinical psychologists (or related specialties).
However, not all online programs will have APA accreditation. In that case, it's imperative to ensure the college or university has regional accreditation. This accreditation covers the school itself, not the program; regardless, it is still considered a sign of a high-quality education, and will be accepted in most states as a degree that allows a graduate to apply for licensure. To learn more about accreditation, check out the APA Accredited Program Lists and this online database from the Department of Education.
Career Opportunities After Your Online PhD in Clinical Psychology
Once you've earned your PhD in clinical psychology, it's time to think about your career options. What areas can you go into that you might not have considered at first? Will you need to get licensed or certified? What might your salary be like? Let's look at the answers to these questions.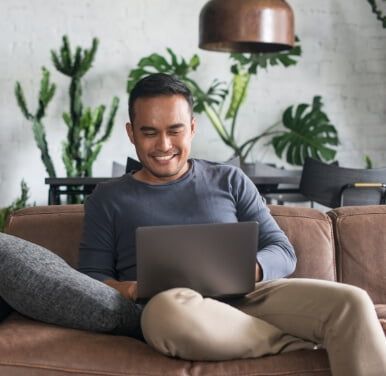 Do I need certification or a state license to work in the clinical psychology field?
If your goal is to become a professional psychologist after graduation, most state licensing boards will require you to become licensed before you can call yourself a psychologist and work with patients. If you intend to work only in research or for a private corporation, licensure is optional. Licensure can take a great deal of time and effort in collecting the proper information, putting in the required hours, passing the necessary tests and more. To learn more about licensure, visit this page at the APA.
What can you do with a clinical psychology PhD?
A clinical psychology PhD opens doors to clinical, research, and counseling work. In most states, a doctoral degree is required to obtain licensure and the honor of calling yourself a psychologist. Those who earn a PhD in clinical psychology might choose to work in private practice, focus on research at a nonprofit, join hospitals as a consultant, or work in a school, prison, or other institution that allows them to deal with broad populations.
The Bureau of Labor Statistics reports 15% projected job growth for clinical psychologists and similar psychologists from 2018 to 2028, which is much higher than the average for all occupations. Better opportunities are expected for those in school settings, as well as those who specialize in rehabilitation psychology or working with the elderly. Below is an example of what you might do with this degree.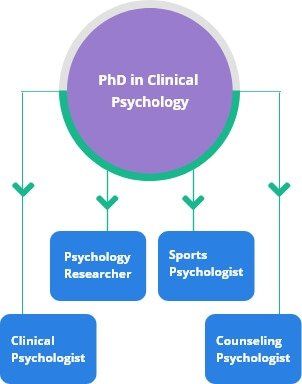 How much can you earn with a clinical psychology PhD?
As with most doctoral degrees, the completion of it – and finding a job that requires it – can lead to a big boost in pay. How much can you earn with a clinical psychology PhD? A great deal of that depends upon where you work, geographic location, and more. Given that, here's what you might expect to earn with your PhD in clinical psychology.
Related Doctoral Degrees
Though a clinical psychology degree might seem right for you, it pays to take the time to explore similar options. Perhaps one of the following would get you closer to your ideal career scenario. Let's take a look at these closely-related degrees.
Online PsyD Programs (Doctor of Psychology)
While the PhD is focused more on the theory and research behind psychology, the PsyD focuses more on putting that theory and research into action by working hands-on in communities, businesses, organizations, and with individuals. Earning the degree takes roughly the same amount of time, but each school usually has a higher acceptance rate for applicants. Potential jobs with this degree include counseling, social work, and consulting.
Those who want to work directly with patients through counseling can take this career path, which prepares them for hands-on work in their own private practice, clinics, and other settings where individuals, couples, or groups seek therapy. An online PhD in counseling can lead to a variety of jobs in the field after the proper training, including that of marriage and family counselor.
Online PhD in Applied Behavior Analysis
Applied behavior analysis, also known as ABA therapy, can be a powerful tool in helping those with behavioral issues, such as autism. Therapists with this training can work as supervisors in clinics, run private practices, help create programming for assisting patients with particular needs, and conduct assessments to create new treatments for individuals. Though this degree can open doors to hands-on work, as a PhD it naturally lends itself to research-oriented careers.
Additional Resources for Clinical Psychology PhD Students and Professionals
American Academy of Forensic Psychology
American Association for Marriage and Family Therapy
American Psychological Association
American Psychological Association: Resources for Students
Association for Behavior Analysis International
Association for Behavioral and Cognitive Therapies
National Association of School Psychologists
Organization Development Network
Society for Industrial and Organizational Psychology
Society of Clinical Child and Adolescent Psychology